SAG Ballot #3
I have two SAG members joining me this week, one of whom is a local broadcaster here in Cleveland, and the other is not only a SAG member, but an Academy member, as well, in the acting branch. The former will be known as SAG voter 4, while the latter will be known as SAG voter 5, let's dive in. 
Joey Gentile: Welcome, and thank you for doing this today.
SAG Voter 4: Thank you for having me.
SAG Voter 5: I'm honored to do this, thank you.
JG: So, let's start with Best Supporting Actor. Break down to me your thoughts of the nominees and who you will be voting for.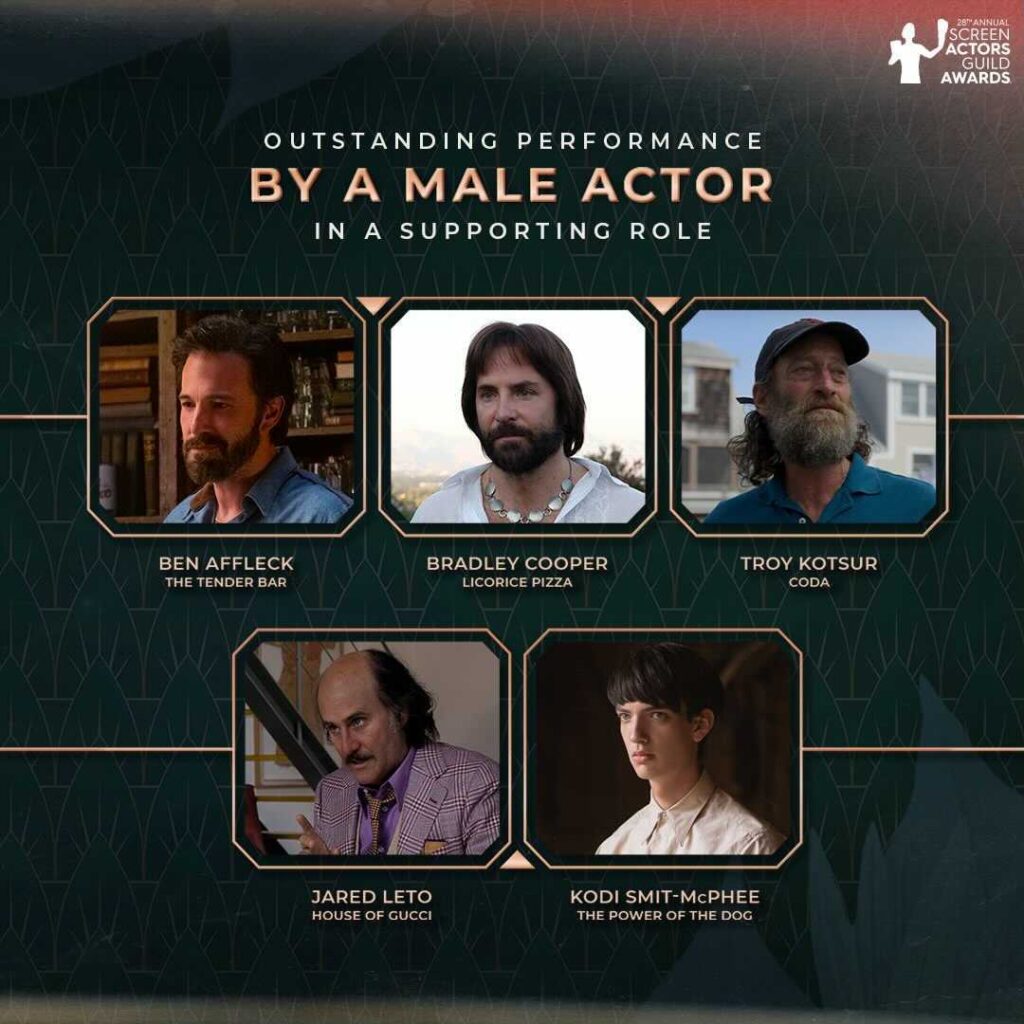 SV4: Supporting Actor- 
Bradley Cooper, Licorice Pizza: Bradley is so much fun here and you can tell he's having a blast. His role is the shortest of the bunch here but that doesn't mean he's not giving his all. He's really enjoyable. 
Ben Affleck, The Tender Bar: I also really enjoyed Ben in this film.I really have liked his work over the years, most notably in Argo and this is no exception for me. I think what he's bringing to the table is the type of acting that is not only fitted to him like the perfect suit but one that all in all feels just right. I fell for him in all the best ways and he makes you look forward to him in his next scene. 
Kodi Smit-McPhee, The Power of the Dog: This is the type of nomination that is head scratching to me. Kodi is not bad at all in the film but there's not a whole lot of material for him to work with here, and that disappointed me. He's mainly lurking in shadows or in the back most of the time and walks in some lanky pants. 
Jared Leto, House of Gucci: This feels like the type of role Al Pacino would've played had this movie been made in the 70s. I remember discovering Jared Leto for myself back in the 90s in the film Urban Legend and of course he's won before and was nominated again last year but I don't know if this is any good? I'm genuinely on the fence because it feels like Leto is in his own movie and ignoring the assignment. I remember being at the theater seeing this in November and the woman behind me saying out loud "Mario needs to lay off the salt", and that's stuck with me ever since. 
Troy Kotsur, CODA: I really enjoyed this movie, and this performance is the complete standout. Troy is able to take his character from the "dad role" and really layer it with drama, comedy, and humanity. It's so nice to see a new discovery this year with this type of nomination in the same way we were able to discover Paul Raci last year during awards season. 
I'm voting for BEN AFFLECK in The Tender Bar. I just love his performance there and it would be fun to see him get his due.
SV 5: Supporting Actor- 
Troy Kotsur, CODA: There isn't enough love to go around for me with Troy Kotsur, and I haven't talked to one person who doesn't love this nomination. What sold me on this performance was the clinic scene where he's explaining and reacting to the diagnosis of his jock itch, absolutely hysterical. 
Kodi Smit-McPhee, The Power of the Dog: What a powerhouse of a performance that stayed with me for days, post watch. I haven't been able to see this a second time, mainly because I know for a fact that the film will not have the same effect on me as a first watch, but boy am I loving this nomination. 
Jared Leto, House of Gucci: I adore this one as well, Jared is so good here and I really enjoyed the film. I was at the Academy premiere of this movie and the crowd went nuts for it. Jared is having a blast and it really comes off screen as such.
Ben Affleck, The Tender Bar: This is good, but for me is the obvious "something doesn't add up to the others" in this category. I never felt once that Ben was challenged with this role and that's unfortunate. He's much better in The Last Duel from the same year. 
Bradley Cooper, Licorice Pizza: I am not a size queen, meaning if you gave an amazing 13 second performance and earned yourself a nomination and I loved it so much, you'd have my vote. This is the reason this category is in existence because of roles like thi,s so I find it interesting that I've seen articles complaining about the size of this role. With that said, he's hysterically funny in this role and does better work here than let's say something like American Sniper. 
TROY KOTSUR gets my vote, and I am so proud to cast that one. 
JG: Love these, how about Supporting Actress?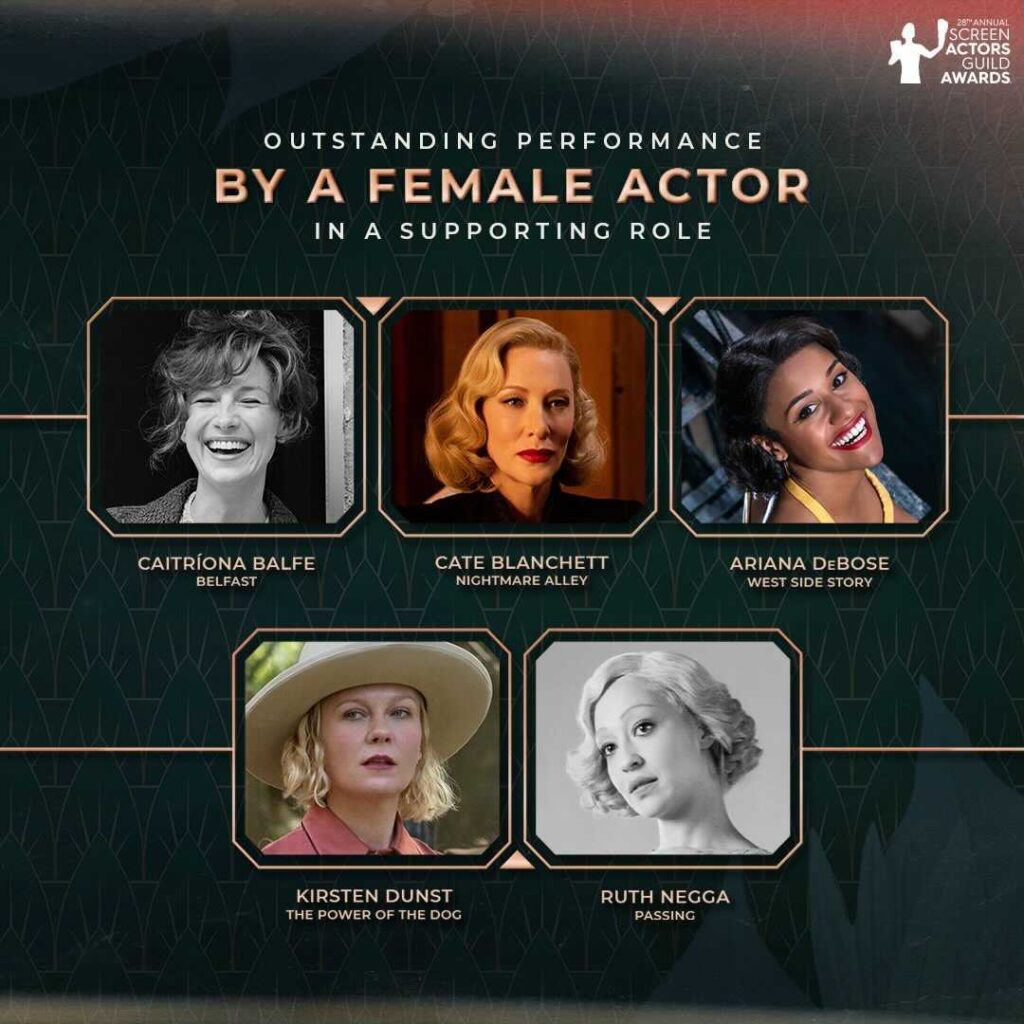 SV 4: Supporting Actress-
Ruth Negga, Passing: I am floored with her work here, not only is it haunting but it's extremely sad and yet I can understand why her character is doing what she has to do to survive. Negga is really able to capture the moment in time and bring it to life here and I tip my hat to her. 
Ariana DeBose, West Side Story: I wasn't sure that someone could ever top Rita Moreno as Anita and yet here we are. Not only does she steal the film but she is truly a marvel in every sense. I wish I liked the film better as a whole but she is the obvious standout for all the best reasons. 
Caitriona Balfe, Belfast: I loved Belfast for its runtime and Balfe and Dench and that's really it. Balfe is really tugging at the heart strings and, as a child of a single mother, I really saw what a lot of my mom went through on Balfe's face. (Obviously she's not a single mother in the film but she really is) 
Cate Blanchett, Nightmare Alley: Woof. That's the only thing I can say about this trainwreck of a movie. 
Kirsten Dunst, The Power of the Dog: As someone who grew up on Drop Dead Gorgeous, I am ecstatic to see Dunst get some love here and I am loving that it's for her sublime performance in this film. Like Negga, Dunst is haunting and the character I really wanted more from when she left the screen during this movie, unlike McPhee who doesn't really have a lot to do, Dunst really shines with so much to do here from level headed woman to absolute mess. 
CAITRIONA BALFE is getting my vote here, this was the hardest vote for me to give as it really should be a tie between Balfe and Dunst but Balfe just pulled ahead as it felt personal to me. 
SV 5: Supporting Actress- 
Ariana DeBose, West Side Story: She is a delight and I like her in this. I am more keen on Rita Moreno in the movie as yet again she shines brightest in West Side Story but I am not against this nomination. I will say that Moreno made my nomination ballot over DeBose though, so I have my fingers crossed. 
Cate Blanchett, Nightmare Alley: I really like her work here and I think Cate would have made an amazing actress in the Double Indemnity era of filmmaking but I do think she's a lot better in Don't Look Up than she is here. 
Ruth Negga, Passing: I voted for Ruth Negga in 2016 for Loving at the Academy, I am so floored that she didn't win that to this day as she is just magnificent and nothing changes here. I continue to be wowed by her work as the years go on, I just wish we got MORE of her in things. 
Kirsten Dunst, The Power of the Dog: Yet again another great performance by Dunst in a film as I mentioned above that I cannot bring myself to watch again just yet. I wanna truly let this experience soak in for me and Dunst is a big part of that. Pity and hopeful is what she's displaying throughout this performance and I'm here to buy the ticket to the show. 
Caitriona Balfe, Belfast: What a joy this performance is, there isn't one beat she's missing and she really makes you feel warm on the inside. Not to mention that the scene where she sees her son has stolen the detergent is really funny for the few moments it plays as a comedy. 
RUTH NEGGA is getting my vote here though. She must pull through this time. 
JG: Alright, and moving onto Actor-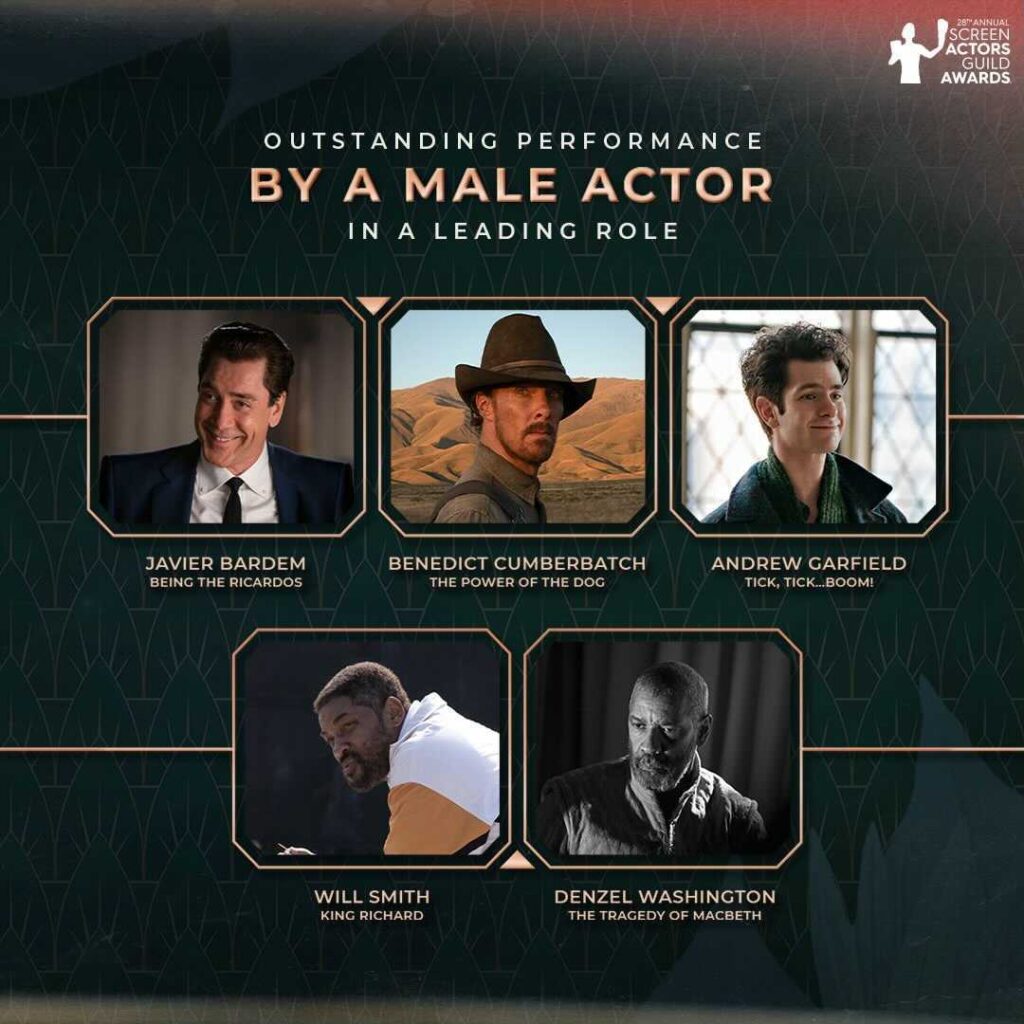 SV 4: Actor- 
Denzel Washington, The Tragedy of MacBeth: I love Denzel Washington but this ain't it for me. There's nothing else to bring to this story that someone hasn't already done, and this includes Denzel. 
Javier Bardem, Being the Ricardos: He's good here but that's all I got. 
Will Smith, King Richard: Will is doing solid work here, and I do like the film as a whole, but as a whole when I think of this film I think of Aunjanue Ellis, who plays his wife. She has the better performance, in my humble opinion, and outshines Will at every moment. I will say the scene that stuck with me the most with Will is the scene where he wants to shoot at his attackers and then is "saved by the bell".
Andrew Garfield, tick…tick…BOOM!: As a lifelong fan of RENT, I was so excited for this movie and it truly didn't disappoint. This is one of those nominations that just feels correct, like you look at the film and the performance and you get it. Andrew is working his butt off here and it shows, never a dull moment with his performance. 
Benedict Cumberbatch, The Power of the Dog:  This film is really carried by Dunst and Cumberbatch and it shows because WOW, what a revelation he is. The brooding, internalized homophobia, the cruelty, and yet you are left to pity the man. Benedict is marvelous here and is so damn good. 
BENEDICT CUMBERBATCH is getting my vote.
SV5: Actor- 
Benedict Cumberbatch, The Power of the Dog: He is very good here, and I like him in this film just as much as I did in The Imitation Game. I can't help feeling that he is overshadowed by his co-stars and that's just because it feels like Jane Campion really focused the film more on their trauma than Phil's story. 
Will Smith, King Richard: I really enjoyed this performance and take it for what it is. I don't feel like this is a stretch of a role at all for someone like Will Smith and in fact I find this to be lesser than his last nomination for The Pursuit of Happyness but better work than Ali, so it falls right in the middle for me. 
Javier Bardem, Being the Ricardos: I don't know why I like this performance as much as I do, it's funny I like him and Nina Arianda who plays Vivian the most in the film out of everyone. While not Bardem's strongest work, I'm not necessarily against this nomination.
Andrew Garfield, tick…tick…BOOM!: I'm sorry but this one is a big yikes from me. Everything feels so forced and it just doesn't work. No thank you.
Denzel Washington, The Tragedy of MacBeth: Denzel is a master of his craft and that cannot be disputed. But if anyone is going to be nominated for this film in acting it needs to be Kathryn Hunter. 
JAVIER BARDEM gets my vote. There's something just too charming about his work here in the film.
JG: Moving on to Best Actress.
SV4: Best Actress it is-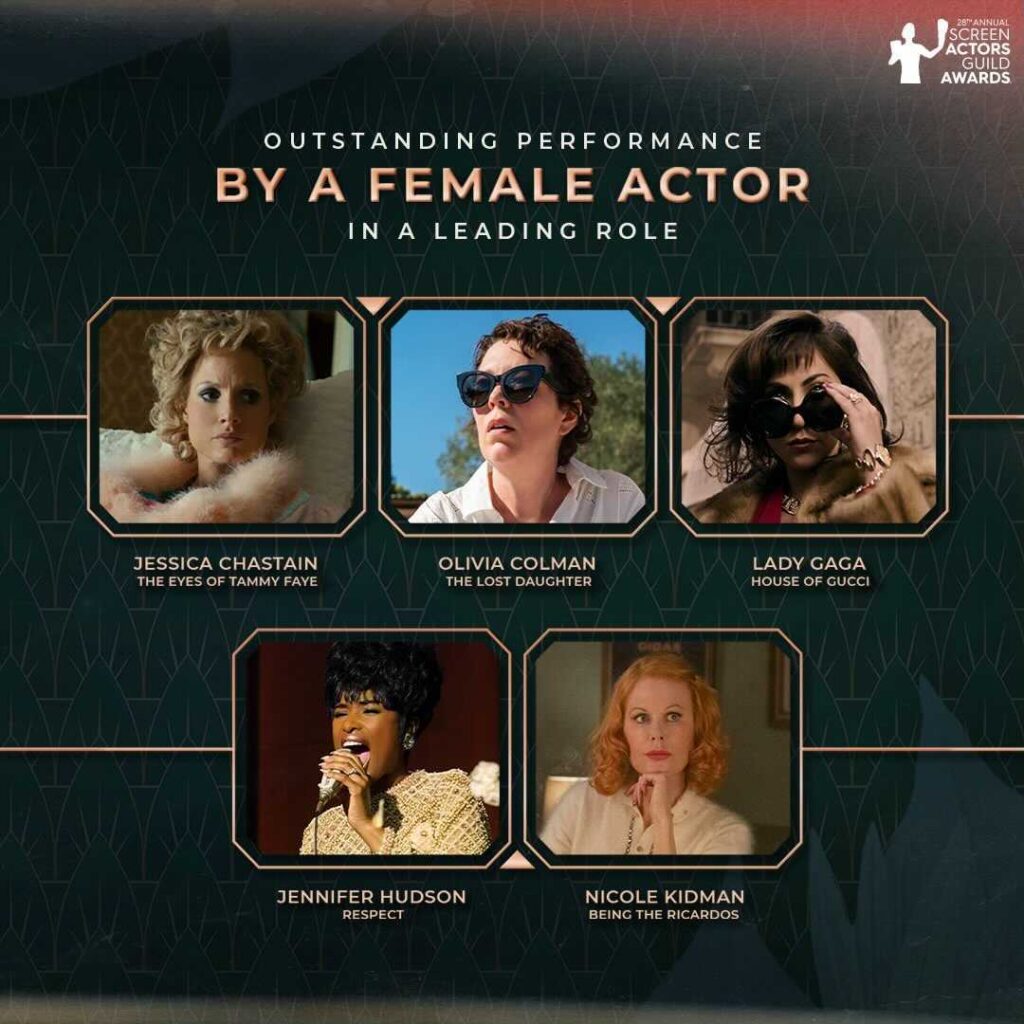 Nicole Kidman, Being the Ricardos: Nicole has done so much better work, I actually cringed during most of her time on screen. That awful makeup work is so, so bad.
Lady Gaga, House of Gucci: She just doesn't click for me as an actress, she wasn't good in A Star is Born and she isn't good here, she really should just stick with music. 
Jessica Chastain, The Eyes of Tammy Faye: Okay, this joins the ranks of the bad Kidman makeup this year, but what Chastain does that Kidman doesn't is give a really good performance. There is not one moment where you see Chastain, she's always Tammy Faye and honestly, Kidman could take a few pointers here because Jessica is doing it right. 
Olivia Colman, The Lost Daughter: As a fan of Colman's since Hot Fuzz, I have absolutely adored the rise of success over the last few years of Olivia Colman. She's really good here but it's just too subtle for my liking coming from such a powerhouse like her. 
Jennifer Hudson, Respect: This movie is a mess, Hudson is really good though so you have a weird balance power dynamic. While she is much better here than she was in Dreamgirls, she is easily in the top two of this category for me, her Aretha Franklin is so on point. 
JESSICA CHASTAIN  gets my vote barely over Jennifer Hudson.. 
SV 5: Best Actress
Jessica Chastain, The Eyes of Tammy Faye: I continue to be astonished by the consistent work Jessica Chastain does, and this is just as good as her work in something like Zero Dark Thirty. She truly became Tammy Faye Bakker here and her passion for the project shows. 
Nicole Kidman, Being the Ricardos: As I said earlier, I really liked Bardem and Arianda's work in the film. Kidman is fine, but she's not super memorable nor is this her best work she's ever done. 
Jennifer Hudson, Respect: I really liked this movie and her performance, it's nice to know she's back on the circuit and wasn't a one and done from her first time. She's really strong here and I like her a lot. 
Olvia Colman, The Lost Daughter: I didn't like this one at all, the movie is very dull and truly we have seen so much better from Colman. This one is a hard pass from me.
Lady Gaga, House of Gucci: Gaga is giving us a full show, not only in the film but on this campaign trail, and you cannot fault her at all. She's really enjoyable here in the film and, like her costars, you can tell she's having a good time. 
JENNIFER HUDSON gets my vote here, while I do like her here, Lady Gaga or Jessica Chastain is going to win this and so I'm throwing my vote to Hudson because someone has to.
JG: How about Ensemble?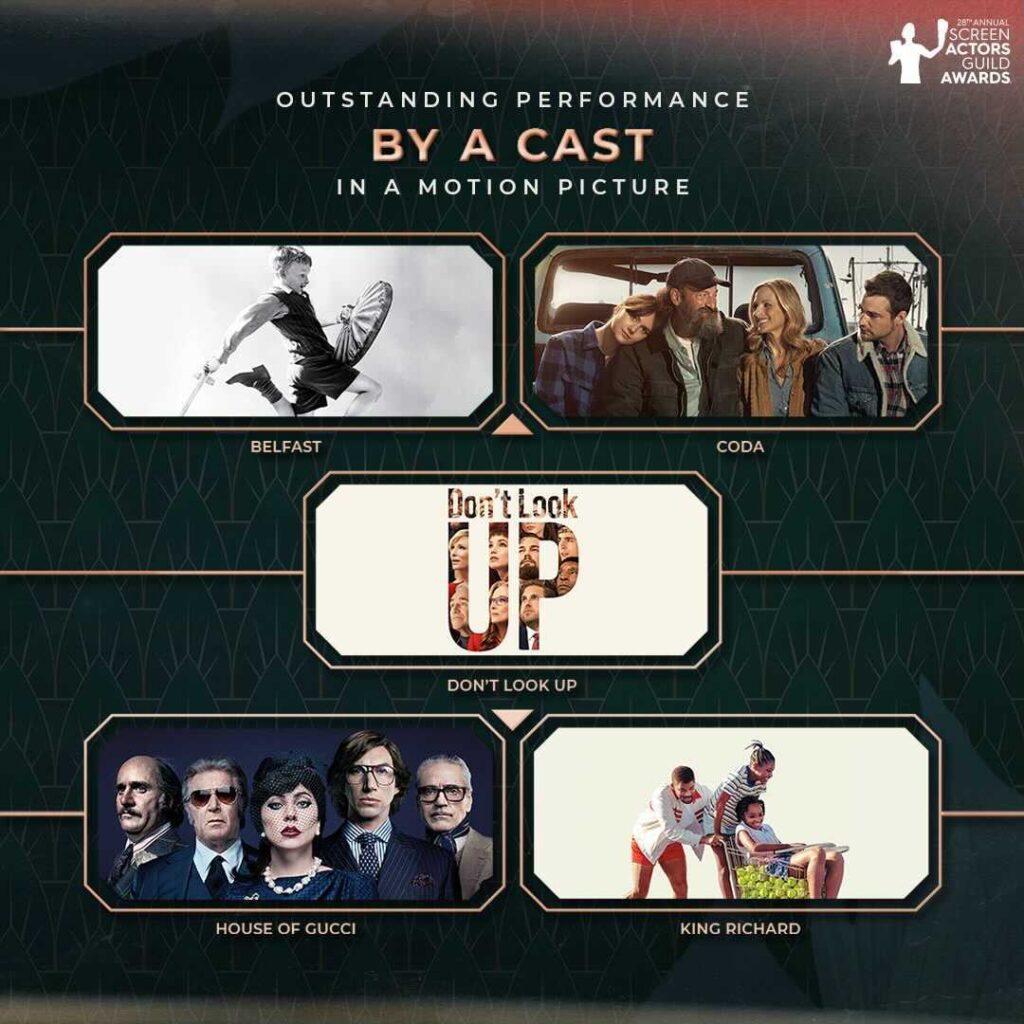 SV 4: Ensemble- 
I'm giving the vote to Don't Look Up, that cast is sublime and on a whole different level than the others. 
SV 5: Ensemble- 
House of Gucci is getting my vote, it's easily the best film in the list and it's a way to reward them all. Adam Driver, Lady Gaga, Jared Leto, and Salma Hayek all made my (Oscar) nomination ballot and I want to reward them all at once here too. 
JG: How about the TV categories? 
SV 4: TV- 
Stunts: Dune 
Drama: Squid Game 
Drama Actor: Lee jung-Jae
Drama Actress: HoJeon Jung
Comedy: The Kominsky Method 
Comedy Actor: Michael Douglas 
Comedy Actress: Sandra Oh 
Actor TV/Limited: Michael Keaton 
Actress TV/Limited: Jean Smart 
Stunt TV: Squid Game 
SV 5: 
Stunts: Dune 
Drama: The Morning Show 
Drama Actor: Billy Crudup 
Drama Actress: Elisabeth Moss 
Comedy: The Great 
Comedy Actor: Steve Martin
Comedy Actress: Elle Fanning 
Actor TV/Limited: Ewan McGregor 
Actress TV/Limited: Jean Smart 
Stunt TV: Cobra Kai 
JG: Thank you both! Much appreciated.