Chasing the Gold: How Did THAT Get Nominated for Best Picture? (2019)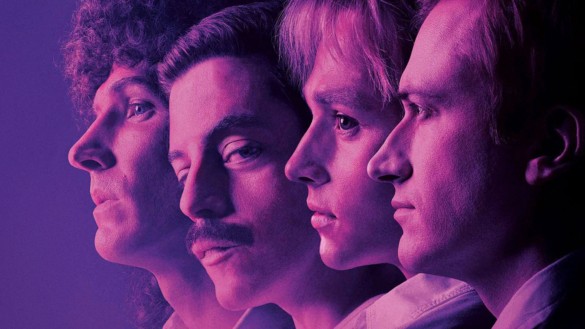 After celebrating the much-deserved win of the beloved Parasite, it is difficult to recall the horror that was the Academy Awards of 2019. Yes, I am referring to the year that Green Book took home the prize for Best Picture. While I would love to spend hours extolling the virtues of what I believe the Best Picture should have been (BlacKkKlansman), the purpose of this series is to point out the worst nomination of each year. It will come as little surprise that the film that has firmly cemented itself as being undeserving of all the Oscars it received, let alone a nomination for Best Picture, is Bohemian Rhapsody.
What is there to say about this film that hasn't already been said? Rami Malek gives a mediocre performance of one of the most iconic rock stars of all time.  Freddie Mercury had charisma for days, and I don't envy anybody having to step into that role. However, when the most prominent thing about Freddie in this film is his hideous prosthetic teeth, that's not saying very much.  I had to go back and look at photos and videos of Freddie Mercury to see if his teeth were as grotesque as in the film if they really were THAT distracting, but they weren't.  I agree with the decision to have the actors lip-synch, as nobody can truly match that incredible, distinctive voice Mercury possessed. 
The big issue with the film is that it didn't give any depth to any aspect of Freddie's life. It lightly touched on where he was born, how he changed his name, how he met the band, his love life, AIDS, and the epic live performance at Live Aid. While I understand that the film wasn't supposed to be a documentary, it still could have offered much more depth to this great performer.  It seemed as though the film-makers were scared to talk too much about his sexuality, his relationships, or of anything important that might tarnish his image with fans. There is one part of the film that I feel compelled to mention.  When Mike Meyers, playing music producer Ray Foster, tells the band that "Bohemian Rhapsody" isn't the kind of music people put bang their heads while listening to it in the car, I fully admit I chuckled. But then it made me think of Wayne's World, and how much more entertaining that film was than the one I was currently watching. I did enjoy how the movie ended with the Live Aid performance, and the recreation of that set was VERY accurate (I know this because I, of course, watched the Live Aid performance on YouTube immediately after watching the film). Malek did have many of the mannerisms down when performing, and that is to his credit. There is just nothing truly wonderful or special about this film. It is a very bland biopic of a man who could be described as anything but bland. It truly baffles me that this film earned a Best Picture nomination.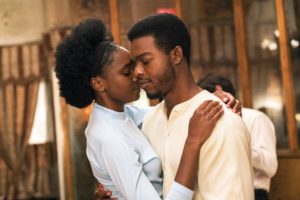 And now, a film that absolutely should have been nominated for Best Picture. If Beale Street Could Talk is more than a film, it's a visual poem. I'm ashamed to say that the only James Baldwin novel I've read is Go Tell It on the Mountain. If you haven't read it, please do your brain a favor and read it. Baldwin has such a unique writing style. It's more than poetic, it's deeply moving.  He weaves in and out of time and experiences with a deft hand. A reader floats through his writing, and just… experiences it. And because of this, adapting that poetry into a film is close to impossible. Well… impossible for any film-maker that isn't Barry Jenkins. Jenkins uses the same magic he used in Moonlight in If Beale Street Could Talk. He uses colors like a paintbrush. The colors shine brightly, like the yellow sweater Tish wears early in the film. The imagery of water used with intense and gorgeous music when Tish is giving birth is particularly striking. Jenkins makes the cruel reality of the lovers, Tish and Fonny, lush and beautiful.  Fonny has been falsely accused of rape, and Tish, pregnant with their child, is doing everything she can to set her lover free. Kiki Layne plays the role of Tish with strength and delicacy.  Tish and Fonny are each other's first love. You can hear that rush of affection in the voiceover work when Tish breathlessly tells the story of how she grew up with Fonny. You believe she will fight for her love, to get him free, but also has an innocence about her that makes you want to protect her from the evil that surrounds her.
The performance that is particularly remarkable, however, is Regina King, who won Best Supporting Actress for this role. As Tish's mother, she is supportive of the two young lovers and will go to any length to help these young people become the family they deserve to be. The scene in which King's character, Sharon, defends Tish from a verbal attack from Fonny's family who sees her pregnancy as a curse, gave me the chills. You know that with a. mother like that, Tish will be able to find her own inner strength.  While the movie shows the injustice and racism of its time, the movie focuses on these characters not as passive victims, but people with great character, who can survive anything. They are a great example of the power of love and family. If I had the money, I'd personally finance Barry Jenkins to adapt all of James Baldwin's novels into films. He is one of the few truly poetic film-makers in the world.