Chasing The Gold: Best Adapted Screenplay Nominees Analysis (2021 Oscars)
The category for Best Adapted Screenplay at this year's Academy Awards feels a little like a gimme for Chloé Zhao. The director of critical hit Nomadland is likely to walk away with a number of Oscars come April 26th, and Adapted Screenplay would be near the top of the list of ones you should expect to see her take. But what of the other contenders? In a year of strong original screenplays, can the same also be said of adapted screenplays? Did Regina King's adaptation of the play One Night in Miami deserve a mention? How on Earth did Borat get in there? Below we take a look at the contenders for Best Adapted Screenplay and analyze their chances of winning the big gold statue.
The Nominees:
Nomadland – Chloé Zhao's stunning Nomadland has collected an impressive six nominations at this year's Academy Awards, and it's easy to see why. Its beautiful tale of survival and hope in an America suffering through late-stage capitalism has captivated audiences and critics alike, winning it several awards from Golden Globes and Critics Choice, as well as BAFTA nominations. It's also pure Academy catnip, making it the most likely winner of the evening across most of the major categories, including this one. Couple that with an incredible performance from Frances McDormand and an excellent use of non-actors to highlight a very real issue, and what you have is often jaw-dropping. It deservedly leads the way and will likely win the night.
The Father – Based on Florian Zeller's play (Zeller also directs here) of the same name, The Father is a dark horse contender which could cause some upset on the evening. With stellar performances from both Olivia Colman and Anthony Hopkins, it's got all the trappings of an Academy winner. However, of the last 25 Adapted Screenplay winners, only three were from plays. Considering that The Father is up against another play, One Night in Miami, it's possible the two might just cancel each other out as the Academy goes with its preferences of novel based adaptations. However, The Father also has six nominations, making it possible that it takes the award here as compensation for missing out on the others.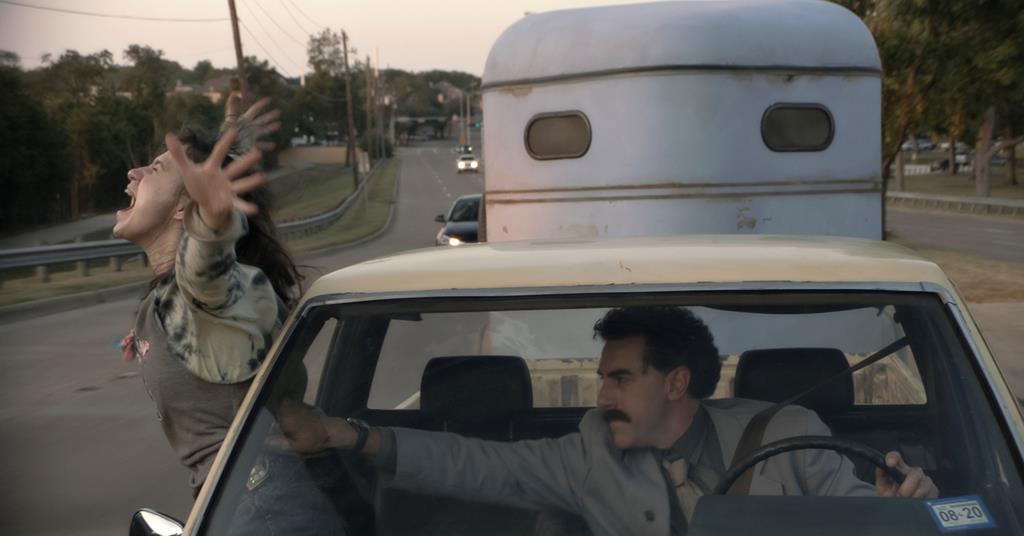 Borat Subsequent Moviefilm – This one came out of nowhere. Recently winning the WGA award for Best Adapted Screenplay, Sacha Baron Cohen's triumphant return as the hapless Kazakhstani journalist beat out such luminaries as Ma Rainey's Black Bottom and News of the World. While remaining true to its farcical roots and political potshots, Borat Subsequent Moviefilm manages to mine from real sentiment and pathos from its content. It's likely this strange turn of events that has endeared awards bodies towards it, despite the fact you could argue against its inclusion as an adapted screenplay given it hasn't actually adapted its source material from anything other than the original character of Borat. In any event, Borat is unlikely to come away with a win at the Academy and its inclusion can be seen as more of a nod to its outstanding achievements within its field.
One Night in Miami – Regina King's adaptation of Kemp Power's, ahem, powerful stage play about four iconic black activists – Martin Luther King Jr, Muhammed Ali, Jim Brown, and Sam Cooke – who gather to discuss their roles within the civil rights movement of the 1960s, is pure, uncut Academy bait. It deals with the Big Issues, features incredible performances from up-and-coming actors such as Leslie Odom Jr, and Kingsley Ben-Adir, and is a debut directorial effort by a woman in a field sorely underrepresented by them. It's got everything you would want in an nomination and had this been a less strong year for the Academy, it wouldn't have been surprising to see One Night in Miami lead the pack as the favorite. Alas, strong competition means it's unlikely to take home the gold.
The White Tiger – Of the last 25 Adapted Screenplay winners, nine were from novels. This makes The White Tiger something of an outlier considering it is the only screenplay adapted from a novel in this category. Up against two plays, a non-fiction, and something which defies the Adapted Screenplay categorization, The White Tiger is historically the safest option of the bunch. Aravind Adiga's scorching novel is kept mostly intact in the big screen translation, and Ramin Bahrami's direction ensures the dialogue, the wordplay, and the feel of the novel comes across perfectly. It is an excellently done adaptation and a shame it's up against such strong competition. With this being the only category it's nominated in, it's hard not to feel like The White Tiger is little more than a token nomination – a nod to the Academy preference of novel adaptations. Still, it deserves to be named on this list.
Who Will Win?
Nomadland is almost a dead cert in this category now. It's also the bookies' favorite and considering the other nominations in the category, it seems very likely Chloé Zhao will walk away with a few of the awards. It's very likely Mank will beat out Nomadland in some of the other categories but given it's not a contender here, it's fair to say the Academy might give this one to Nomadland in recompense for losing out to Mank in a different category.
Who Should Win?
Take your pick, they're all great nominations. The Father and One Night in Miami are both well-established and well-received plays which have expertly adapted and acted, while Nomadland's semi-improvisational style and use of non-actors is inspired and gives a real grounding and intimacy that would not have otherwise. Elsewhere, The White Tiger is an excellent and true adaptation of a great novel and manages the difficult trick of evoking the sense and style of the novel without losing the voice. Each of the above would be worthy winners, but Nomadland perhaps squeaks ahead of the rest for the pure ingenuity and originality of Zhao's script and execution.