Bee Goes West: 'The Ox-Bow Incident'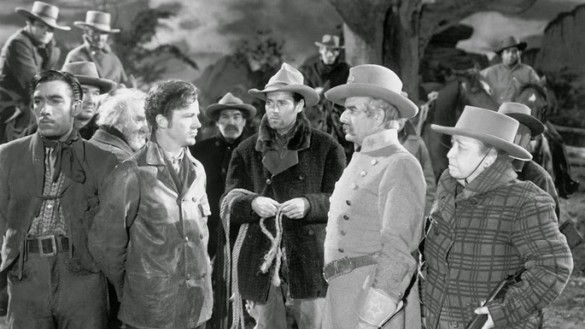 According to the Oxford English dictionary, Herd or Mob mentality is defined as "The tendency for people's behaviour or beliefs to conform to those of the group to which they belong." It's the driving force that can turn seemingly ordinary people into a violent mob. Throughout cinema there have been various films such as 12 Angry Men, To Kill a Mockingbird and even Assassination Nation, that discussed the perils of herd mentality. However perhaps the most impactful film I have come across is the 1943 Western, The Ox-Bow Incident. A film that seems uncanny in its relevance to the mob mentality and cancel culture that thrives in the online world of social media.
The Ox-Bow Incident is an eye-opening experience that I think many of us would benefit from watching, especially younger people in an educational setting. This is a film which demonstrates how quickly the sense of morality, compassion and empathy for others can deteriorate when a group of people feel threatened. It shows the power and gravitational pull of conformity, the compelling need to fit that lies inside all of us. It's a Western that is only a Western in terms of its visual aesthetics and setting. It's a film which could take place at any point throughout the history of mankind, a timeless story that we can always draw and learn from.
Adapted from the 1940 novel of the same name, written by Walter Van Tilburg Clark, The Ox-Bow Incident, takes place in Bridger's Wells, Nevada in 1885. From the very get-go, the viewer is placed into a state of uncertainty and anxiety, as we follow the characters of Art Croft (Harry Morgan) and Gil Carter (Henry Fonda) as they ride into town and enter Darby's Saloon. There's something odd about these two, the other drinkers don't seem practically friendly towards them and you could cut the atmosphere with a knife. It quickly becomes knowledge that there have been recent incidents of cattle-rustling in the nearby area. And, as Art and Gil are rarely seen in Bridger's Wells, they are suspected to be rustlers. Gil doesn't make things easy for the pair when he gets into a petty fight.
The tension is escalated when a man enters the saloon and announces that a rancher named Larry Kinkaid has been murdered. This news sends shockwaves throughout the town, and pThe immediately a posse is formed in order to pursue the murderers, who they believe are cattle rustlers. Judge Tyler (Matt Briggs) informs the mob that they must bring the suspects back for trial. Arthur Davies, (Harry Davenport) is at first opposed to forming the posse, but also joins in an attempt to talk some sense into the townsfolk. They're led by "Major" Tetley (Frank Conroy) who drags his son Gerald (William Eythe) along with him, in some perverse act of 'making a man out of him'. In order to avoid raising even more suspicion, Art and Gil join the posse.
At Ox-Bow Canyon, the posse finds three men sleeping, and they believe these are the guilty culprits.These men are Donald Martin (Dana Andrews); a Mexican, Juan Martínez (Anthony Quinn); and an old and possibly senile man, Alva Hardwicke (Francis Ford, the older brother of director John Ford). Believing that these three men are responsible despite the lack of proof, the posse decides to hang them  at sunrise.
The film's events slowly unfold over the course of 75 minutes, with director William A. Wellman building on the tension continuously until the inevitable occurs. Hope is only a fleeting thing, offered to us briefly before being snatched away. In the end, there are no winners in The Ox-Bow Incident, only losers. As outsiders we can clearly see how severe the lack of evidence is against the three men, but we are powerless to stop the force that is the mob. If we are to take anything away from The Ox-Bow Incident, it's the importance of having the evidence to hand, and to step away from the herd in order to reach your own judgement.
Ultimately, while The Ox-Bow Incident is an astounding piece of cinema and storytelling, it is also a film that leaves you uncomfortable as the viewer finds themselves being confronted with the reality of how dangerous herd mentality can be. This isn't to say that the mob can't be a force of good, when people unite behind a sole cause they can promote change for the greater good. If unchecked, it can also strip people of individuality, and it can act as a way for people to hide away from responsibility. You can find the entire film on YouTube, if you have seen it already then I highly recommend you watching it, it just might well be the most important film you watch this year.