An Ingrid Bergman Potluck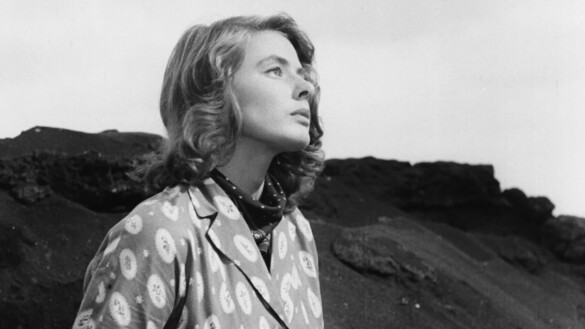 Famed for her international beauty, classic films, and then scandals as well as awards – Ingrid Bergman's talent is well known even to the movie layman, thanks to a big name picture or two. Her career, however, is more than just tent pole pieces. Here's a varied countdown highlighting some of Bergman's appetizing repertoire.
Joan of Arc
Jose Ferrer (Cyrano de Bergerac), John Ireland (Red River), Ward Bond (Wagon Train), and many more join Bergman in director Victor Fleming's (Gone with the Wind) final 1948 spiritual opus. A Cecil B.- esque narration adds grandiose scope alongside angelic choirs, lofty candles, big church art, fancy scrolls, and colorful sets. However, some of the design is forties facade apparent and the costumes are surprisingly plain – acerbating slow, dry sequences and an often windblown, bloated heavy handedness. There are also several versions with a poorly edited 100 minute choice or the fully appreciated and recently restored two and a half hours plus. Fortunately, the battle scenes are well paced and our lovely Best Actress nominee is on form reverent. Although Bergman battled to have this biopic made for some time, eventually at 33, she was far too old to play a teenage saint. Her personal scandals and Hollywood shunning over her relationship with Roberto Rossellini also overshadowed the onscreen spectacle. Thankfully, there's enough grace and gravitas here for fans of more famous Biblical epics or history enthusiasts.
Murder on the Orient Express
This 1974 Agatha Christie adaptation directed by Sidney Lumet (Dog Day Afternoon) also features Albert Finney, Lauren Bacall, Anthony Perkins, Jacqueline Basset, Sean Connery, Michael York, Vanessa Redgrave, Richard Widmark, John Gielgud, Everyone, and Your Grandmother alongside Supporting Actress winner Bergman. The understandably hectic, on the move pace may bother some viewers while others may find the criminal deduction too talkative with not enough action compared to those other all-star seventies disaster flicks. However, trans continental flair and mixed languages set off the sublime Art Deco design, tunes, and locomotive charm. The interconnected caper analysis is pleasing and intelligent – a step above those aforementioned star-studded, cliché disaster yarns. Suspenseful flashbacks, shrewd performances, and sharp editing reveal the layered Poirot procedural. To those who have seen more recent remakes, this may seem old hat, but the whole family can delight in the sophisticated Christie clues.
Fear
Hypnotic credits and eerie music give way to classic cars and noir furs in this black and white 1954 downward spiral. The spoken Italian, English subtitles, and German setting may be confusing to some, but the opening voiceover is unnecessary thanks to the illicit guilt, torn love letters, tearful phone calls, and nasty arguments. Bergman comes and goes, up and down, in and out – visualizing her internal hectic and hurried state far better than the narration. Perilous point of view driving and her white knuckles gripping the wheel acerbate absent jewelry, denials, and confessions. Contrasting white rooms, dark figures, and stairs layer the foreboding poisons and science experiments amid silent angst, shame, love, and disappointment. Our classy Mrs. Wagner runs a post-war laboratory yet she can't handle the scandal or her scoundrel. Rather than coming clean, high and low intermingle thanks to hotels, money, and lies that don't fool anybody. Despite red herrings and a somewhat abrupt end, the life imitating art, real life couple neorealism from director Roberto Rossellini (Open City) makes up for any derivative Bergman Gaslight or Hitchcockian Spellbound feelings. This remains a suspenseful psychological character study on opposing forces and taboo female perceptions.
Anastasia
Expatriate mercenary general Yul Brynner (The King and I) presents asylum patient turned titular impostor Ingrid Bergman to the exiled Dowager Empress Helen Hayes (A Farewell to Arms) in this romantic 1956 what if. Based upon Marcelle Maurette's play about real life pretender Anna Anderson, opening scrolls fill in the Bolshevik history before the princess training suggests our actress may indeed be the Romanov heiress. Sweeping red velvet staircases in CinemaScope accent Alfred Newman's (State Fair) sentimental Oscar nominated score as the coordinated appearances progress with aristocratic grace, headstrong shouting, and play within a play chemistry. Poised yet acerbic Hayes hangs on to the past grandeur, however Brynner takes pride in the fast talking subterfuge. Unfortunately, he's thought of everything except the possibility of their ruse being true. Bounine falls in love with his charge in a stern but warm journey of self-discovery matching Bergman's bittersweet, Oscar winning melancholy. Rehearsed lies or not, her troubled, on the run fear and inability to remember endears the audience. Anna mixes both "I" and "she" thanks to lingering traumas and tormenting confusion. Though fifties overdone, her desolate Parisian scenes are a stunning on the edge time capsule. Anna coughs, hunching and meager but blossoms with regal elan and the confidence to choose what she really wants. Even when knowing the Romanov reality, such charming performances, memorable meta, and self-aware reflection lets viewers choose which truth to believe.
Casablanca
"Play it!" Yes, there's not much left to be said of this most famously if erroneously quoted 1942 Michael Curtiz (White Christmas) Best Picture starring Humphrey Bogart (The Maltese Falcon), Claude Rains (Notorious), Paul Henreid (Now, Voyager), and more. Cigarette smoke haze, excellent shadow and lighting schemes, and California for Moroccan arches set off the scrumptious interiors as Rick's Cafe Americain physically represents the tense, claustrophobia atmosphere. Local authorities, Resistance, and Nazis whisper at every table. White jackets, assorted uniforms, and military decorum are suave yet the sweat upon the brow adds heat and suspense. The international ensemble comprised of expatriates and refugees fleeing World War II deepens the tragedy, danger, and spirit alongside rousing anthems, tearful singalongs, and quintessential jazz standards. It's easy to be swept up in the romantic flashback as well as drown in the bottle with brokenhearted Bogie thanks to Bergman's hypnotic sparkle and tender conflict. The fedoras, the fog, the airplane…It's amazing such a turbulent production with an unfinished script turned out as Oscar worthy as it did thanks to a crisp attention to detail, delightfully subtle performances, and of course, those memorable quips. Although the Ultimate Collector's Edition blu-ray is delicious, I had the chance to see this in a sold out movie theater several years ago and there was not a dry eye in the house. "We'll always have Paris."