In support of independent theaters temporarily closed due to Covid-19, Kino Lorber put forward its responding streaming service, Kino Marquee, in March for stay-at-home North American audiences. Since then, Kino Marquee has been teaming up with local venues in launching virtual cinemas that screen foreign arthouse films. CineCina, a Chinese film venue in New York, has just joined forces with Kino Marquee in adding internationally award-winning Chinese documentaries and curated double features of prestigious Chinese auteurs to the platform's continuously expanding repertoire.   
CineCina opened its first week on Kino Marquee with the enthralling Hooligan Sparrow from Sundance 2016's official selection of its World Documentary category. This debut feature of director Nanfu Wang established her as an internationally acclaimed filmmaker with one of the most incisive political voices in contemporary China. The film centers around the advocates and ordeals of Ye Haiyan, a trailblazing feminist activist at the forefront of the Chinese women's rights movement. 
Wang's seamless integration of the participatory documentary-style parallels the film's precarious narratives that capture Ye's unimaginably eye-opening human rights endeavors and struggles. In turn, the film becomes a singular demonstration of a rare, perfect alignment – between such self-reflexive political cinema's effective and affective storytelling – and its sensational viewing experience attributed to Ye's real-life story of courage and persecution more captivating than any fiction. 
From now on, CineCina will bring a new curation of Chinese arthouse films each week to Kino Marquee. This week, a double feature of the indie master Jia Zhangke's I Wish I Knew (2010) and A Touch of Sin (2013) is on schedule for screening.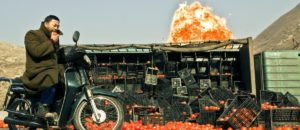 Even though every film of Jia Zhangke is a realist masterpiece on its own, A Touch of Sin – nominated for Cannes 2013's Palme d'Or  – still stands out from his filmography because of its extraordinarily stylized audiovisuals and complex, non-linear narrative structures. An emotional rollercoaster saturated with thrills and melodramas, this film especially appeals to North American audiences. With Jia's aesthetical experimentations of Tarantino-esque violence, the film renders the magical-realist sociopolitical landscape of contemporary China's class struggles. 
I Wish I Knew – Jia's lesser-known yet poetically and poignantly picturesque documentary about the histories and transitions of Shanghai – illustrates the cultural multitudes of humanities within the optical depths of the cityscape's architectural lines, strokes, and forms. The cityscape sketches a meditative framework for audiences to perceive their own subjective, personal sense of awe and angst towards the cruel erasures of Shanghai's cultural histories and the displacing modernizations of its economic developments.
CineCina is also in collaboration with another virtual cinema platform – Big World Pictures, where audiences will access a double feature of the Taiwanese "Second New Wave" pioneer Tsai Ming Liang's two classics – Rebels of the Neon God (1992) and The Hole (1998).
Timely for the ongoing Covid-19 dilemmas, the most relevant and relatable viewing experience among CineCina's virtual cinema lineup will be The Hole – about a man and a woman's romantic fantasies entangling each other in an evacuated building during a virus outbreak in Taiwan. In this film, Tsai showcases his fluid and almost ethereal mastering of cinematic voyeurism's subtlety and vulnerability, and in turn, manifests the melancholy beauties of both solitude and bonding that transcend the tunnel vision of restrictive human conditions. This film will be a particularly interesting watch if paired and compared with Charlie Kaufman's latest I'm Thinking of Ending Things (2020), as both films explore similar themes of longings and loneliness while adopting similar aesthetics of dance numbers shuttling through spatial misalignments. 
Not only is the Covid-19 crisis in the US threatening the financial viability of local independent theaters that had limited resources before the pandemic, but it is also denying homebound cinephiles their only access to seeking pleasure and solace in arthouse world cinemas. This bleak duality derived out of the film industry's general recession has compelled both distributors like Kino Lorber and exhibitors like CineCina to work together – in keeping each other alive – and offering an escapist safe space for audiences who have their own niche tastes for cinema. 
For more info, please visit https://kinomarquee.com/venue/cinecina, http://bigworldpictures.org