Movie Review: To the Wonder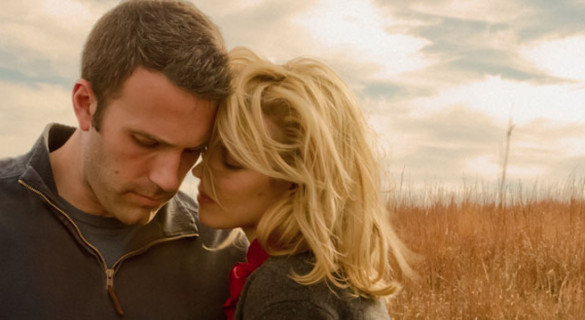 Director: Terrence Malick
Writers: Terrence Malick
Stars: Ben Affleck, Olga Kurylenko, Rachel McAdams, Javier Bardem
Synopsis: After visiting Mont Saint-Michel, Marina and Neil come to Oklahoma, where problems arise. Marina meets a priest and fellow exile, who is struggling with his vocation, while Neil renews his ties with a childhood friend, Jane.
DIRECTION
It's pretty crucial to separate Terrence Malick, the director, from Terrence Malick the screen writer when watching To the Wonder. Malick's direction is very good. His shots are stunningly gorgeous using sun backdrops and lighting to portray an absolute gorgeous feel to the movie. I love Malick's use of natural sounds, lighting and rhythms to bring out the natural beauty of what he's shooting. The tracking shots of his actors and actresses as they are moving around and romanticizing is amazing. He also uses a great score to counter his natural sounds to bring a great sound to the film. Visually, this film is very Malick-esk and is what you would expect from him.
Grade: A-
SCRIPT
Malick, the writer, isn't quite as good in this film, however. The narrative is hard to get behind and the characters are dull and un-inspired. It's really hard to get behind Affleck's character and the story becomes very somber and depressing with no emotional uplift at all. And since there isn't tons of dialogue, the actors can't really do much to amplify or uplift the story at all. I do, however, like the use of religion and Christianity in the film. Bardem's character of the priest is used well and in a film like this, it's very appropriate. The story is about broken relationships and the difficulties and casualties that come with that. The use of Christianity and how that incorporates with relational pain is done well. But it's a small part of the script and doesn't carry the film. It's not Malick's best script by any means.
Grade: C+
PERFORMANCES
Despite a lackluster script, I think the performances are exactly what Malick, the director, was wanting out of them. He gets good emotion out of the characters and Affleck does a great job of being the..well let's just say guy he's supposed to be. Bardem is my favorite though and once again does a fantastic job. He most likely won't get any recognition for the film, given it's not Malick's best movie overall, but Bardem gives another outstanding performance. I think the girls, McAdams and Kurylenko, do a great job given the somber nature of the roles. There's not much too them, but they are fine.
Grade: B
SCORE
Hanan Townshend does the score and is familiar with Malick as he worked on the soundtrack for The Tree of Life. The score is actually pretty good and is a key role in the film. There's not tons of dialogue so the sound and tones of the film are more amplified. The score adds a nice touch to a movie that is already depressing. While I may not want to listen to it a ton outside of the movie, it fits it well and gets the job done for the direction this movie takes.
Grade: B+
Overall Grade: B-