Movie Review: The Great Gatsby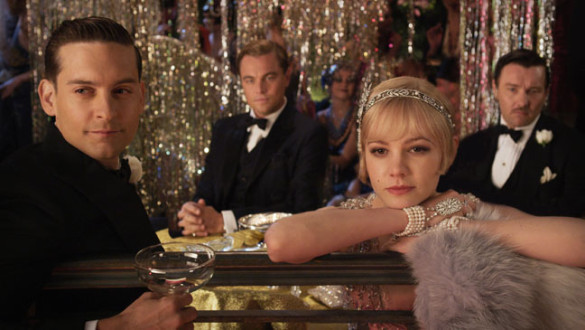 Director: Baz Luhrmann
Writers: Baz Luhrmann (screenplay), Craig Pearce (screenplay), F. Scott Fitzgerald (novel)
Stars: Leonardo DiCaprio, Joel Edgerton, Tobey Maguire
Synopsis: A Midwestern war veteran finds himself drawn to the past and lifestyle of his millionaire neighbor.
DIRECTION
Before I get into the direction for Baz Luhrmann here, I wanted to lay some foundation. Regardless of what you may think of Luhrmann, you need to look at this from the perspective of the film itself and not your opinions of him. Lay down your expectations and live in the moment as this is Luhrmann at his very best. If you're a fan of the book, you'll like the direction of this film as it stays pretty straight forward to F. Scott Fitzgerald classic novel. I love the narration by Tobey Maguire's character, which the story is through the lens (or in this case pen) of Nick Carraway. The camera movements are fast but elegant and with purpose. The transition shots are fantastic and perfectly executed which puts you right into the brilliant pace of the film. Everything is in rhythm. People walking out the doors, wind blowing curtains, music playing and natural elements you see in real life; all in a perfect and intentional rhythm that is beautiful and graceful. Luhrmann uses slow motion to capture certain emotions and moments in the movie to lure in the viewer to be apprehended by the drama. The music unbelievable and executed perfectly. This is probably going to be the biggest criticism Luhrmann gets, especially if you're not a fan of Jay-Z or modern elements being incorporated into classics. To me, it was perfect. A green light leading the way with gorgeous visuals and a Baz Luhrmann style that's uniquely his.
Grade: A+
SCRIPT
F. Scott Fitzgerald's classic masterpiece has been revered for a long time and for good reason. It's a great story filled with drama and love with layers and layers underneath. The script makes the characters interesting, flawed and full of drama, not unlike many stories today. The parallels written back then are very prominent and just as relevant today than ever before, which makes the transition to big screen very easy. Luhrmann and Craig Pearce's screenplay is well written, keeps to the novel well, and re-creates the story in a beautiful way. The humor was great for the most part and the emotions were real and raw. Two and half hours goes by and you hardly notice it.
Grade: A
PERFORMANCES
Leonardo DiCaprio as Jay Gatsby is passionate and perfectly casted. He brings lots of emotion and life to that character whom by the end you can't help but pull for. As love being the driving force for everything he does, he brings charisma, appropriate awkwardness, anger, and passion. Tobey Maguire is also great in this film, although I feel like his performance drops in certain scenes. He's intentionally drawn internally in some parts while showing his wild side in one scene. Overall though, as the story narrator, writer, and main element to Gatsby's story, Maguire brings it. Joel Edgerton is at his best as Tom Buchanan. A cocky, selfish millionaire whose morals are always in question is a tough character to play, but Edgerton does it with ease and attitude. Carey Mulligan will probably get some criticism, but I loved her as Daisy Buchanan. She's cute, innocent and plays the role magnificently. She gets a little cheesy at times with some of her quirks but it worked for the most part. She was big in drawing in the love and emotion that character needed. Jason Clark, Isla Fisher and the other supporting roles I thought were good too.
Grade: A-
SCORE
The Great Gatsby is perhaps the best soundtrack of 2013 so far. Scored by Craig Armstrong and produced by Jay-Z, the musical elements lift this film into a whole new level. Modern hip hop in a 1920's era piece doesn't make sense on the surface and it some places it's pretty strange, but what would expect from a Luhrmann film? But it works so great amazingly well for me. Jay-Z rapping over a bright-lighted crowded New York City is perfect. A fun hip-hop beat mixed with some dubstep even (Yes, dubstep in The Great Gatsby) during a party scene shot in slow motion was fun, energetic and exactly what it needed. Throw in some jazz and some french horns and you have a classic 1920's feel that is modernized in a way that could of only been done by Shawn Carter (that's Jay-Z folks). I haven't even mentioned that while Craig Armstrong is in the background on this movie, his score is very fitting and is very good. It's emotional, raw, and brings the right gracefulness you need a story like this.
Grade: A+
Overall Grade: A