Movie Review: Star Trek Into Darkness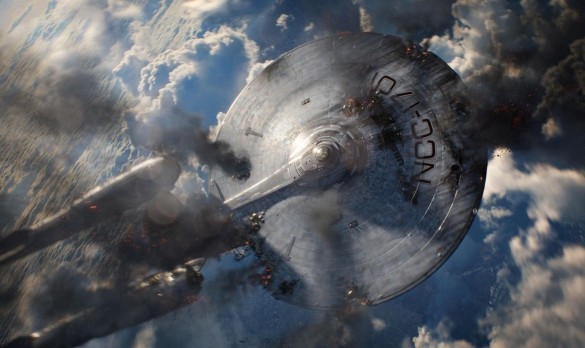 Director: J.J. Abrams
Writers: Roberto Orci, Alex Kurtzman, Damon Lindelof
Stars: Chris Pine, Zachary Quinto, Benedict Cumberbatch, Zoe Saldana
Synopsis: After the crew of the Enterprise find an unstoppable force of terror from within their own organization, Captain Kirk leads a manhunt to a war-zone world to capture a one man weapon of mass destruction.
DIRECTION
J.J. Abrams revitalized Star Trek with his 2009 reboot, giving a new generation a glimpse into these awesome characters. He continues that with Star Trek Into Darkness, a fitting sequel that gives us more of a glimpse into these awesome characters as well as even more action. Abrams did an amazing job casting this series and each character gets a moment to shine, whether it's a small conversation, a little comic relief or doing something badass in the many action sequences. And speaking of action sequences, Abrams shoots them very well, particularly a sequence in which two characters are flying through a debris-filled space to get from one spaceship to the next. And the visuals are amazing throughout (even with all the lens flares). Whether it's the Enterprise crashing to Earth or warping through space or characters running through a red jungle, everything looks so good. If Abrams can do for Star Wars what he did for Star Trek and give us good characters, good story and good action, be ready for something special.
Grade: A-
SCRIPT
The story for Star Trek Into Darkness may not be as streamlined as the one for Star Trek but it still gets the job done. There's no need for introductions to the crew this time around, so the film wastes no time letting us see these characters in action. The story this time around is very fast-paced, going from one set piece to another. But there are some nice character moments throughout that really add to the film. There's a lot more focus on Captain Kirk and him becoming the captain he's meant to be and there's a lot more focus on the relationship between Kirk and Spock – all of which is done really well. There's also a lot of mystery throughout with the villain and his motivation. And there's a twist with the villain, which anybody who's paid attention to the film over the past year will know (it's not as bad as the villain twist in Iron Man 3, that's for sure).
Grade: B+
PERFORMANCES
The cast continues to bring it in Star Trek Into Darkness. Chris Pine and Zachary Quinto are excellent as Captain Kirk and Spock, respectively, and their relationship continues to grow in this film. The two have great chemistry together. And they have their hands full with newcomer Benedict Cumberbatch, who plays a pretty menacing villain. Cumberbatch (who is absolutely incredible as Sherlock on the BBC's Sherlock series) owns every moment he's on screen. Karl Urban (as "Bones") and Simon Pegg (as "Scotty) provide most of the comic relief and Urban, in particular, does a great job with it. Zoe Saldana (as Uhura), Jon Chu (as Sulu) and Anton Yelchin (as Chekov) have their moments.
Grade: A
SCORE
Michael Giacchino's score for Star Trek was incredible with many of the main themes continued to be listened to over the years since then. Giacchino's score for Star Trek Into Darkness is also incredible – because of those main themes. While many of the new additions to the score are solid, those main, recognizable, themes from the first film are what's remembered.
Grade: B+
Overall Grade: A-