Movie Review: Pain & Gain different for Michael Bay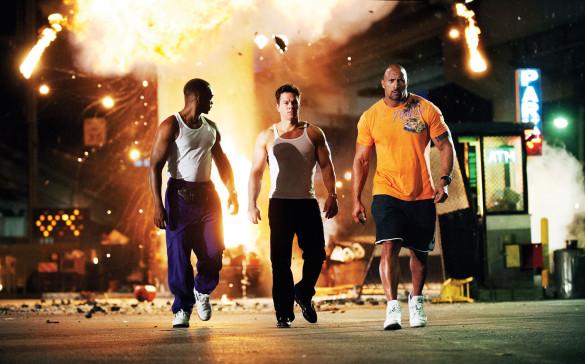 Director: Michael Bay
Writers: Christopher Markus and Stephen McFeely; based on the magazine articles by Pete Collins
Stars: Mark Wahlberg, Dwayne Johnson, Anthony Mackie, and Tony Shalhoub
Synopsis: Bodbybuilders Daniel Lugo (Wahlberg) and Adrian Doorbal (Mackie) team up with ex-con Paul Doyle (Johnson) to live the American dream by stealing someone else's life (Shaloub) and making it their own.
DIRECTION
Pain & Gain is not exactly an ineptly directed film, but it walks too fine a line to say so with certainty. Michael Bay is neither in nor out of his element with this film. Pain & Gain appears to be Bay's first attempt at a legitimate dramatic film, one he hopes the critics won't scoff at; unfortunately, no scoffing has been avoided. Bay graduates his film shots and editing techniques in Pain & Gain (by actually keeping scenes on a screen for longer than 3 seconds), yet the movie still doesn't know what it is. Is Pain & Gain a docudrama? Is it hyperbole? Is it satire? Is it good? Is it crap? The answer for each question: yes! Pain & Gain is too varied in quality and technique for it to work as a comprehensive film. There are scenes that work phenomenally on their own (e.g. the opening sequence, Doyle's backstory, Ken Jeong's scene). But a movie cannot hold up based just on the strength of a few of its parts. Unfortunately, Pain & Gain is a movie to watch highlights of on YouTube rather than watch in a linear fashion.
Grade: D
SCRIPT
As poor a job as Bay directed Pain & Gain, not all blame lies on his shoulders. Much of the film's fault is its writing. The script was penned by Christopher Markus and Stephen McFeely, who attempt to tell a black comedy version of horrific (and idiotic) real-life events a la Fargo. The story is was written for them and it is a fantastic story! Mostly, though, Markus and McFeely just give it an angle, a fresh spin. However, when the film comes together, much of what they intended as satiric or piercing just falls flat and leaves the viewer with a sour stomach. The other flaw of the script is the dialogue. Pain & Gain's script teeters between grace and  chaos, as if part of a half-done infinite monkey experiment. Pain & Gain may have been a better movie if it was told in a routine dramatic style but unfortunately the wrong creative lens taints it.
Grade: C
PERFORMANCES
A stronger point of Pain & Gain is its performances. Despite being fed inane lines and given bipolar direction, the lead actors go out in a blaze of glory. Mark Wahlberg as Lugo is a trip to watch. He is utterly convinced he is this character. From his accent to his mannerisms to his muscles, Wahlberg is Lugo. Dwayne Johnson makes a valiant effort as the lovable, morally torn sidekick. Although his character becomes flat by the end of the film, some of his early scenes, Johnson portrays a range previously unseen in film going from action mode to comedy to tenderness to rage. Anthony Mackie's portrayal of Adrian Doorbal is also notable. Mackie is a veteran yet mostly unknown actor. Similar to Wahlberg, he is his character. He has little emotional range, but he's convinced that he doesn't have any. Tony Shalhoub also gives a stellar performance as Victor Kershaw, the film's antagonist. Despite all of the torture Kershaw is put through, Shalhoub plays the character so deftly that you still have no sympathy for Kershaw even though moral wisdom says the audience should. Supporting performances by Ken Jeong and Rob Corddry are two of the best in the film, playing well against and with type, respectively. Pain & Gain is also not always helped out by its performances. Rebel Wilson's one-note role as a nurse specializing in male anatomy falls flat when she should be riotous. Additionally, Ed Harris is too low key for his role. The performances in Pain & Gain help to redeem what would have otherwise been a disaster of a film without them.
Grade: B+
SCORE
Steve Jablonsky's score is the only true brillance in all of Pain & Gain. (I like it so much, I'm actually listening to it right now as a write this review.) The score keeps a consistent dramatic tone even when the movie does not. Jablonsky's use of electronic drum beats and far off strings create an unsettling feeling for the listener and heighten much of the unpleasant nature of the film. The opening piece "I'm Big" captured my ears and heart so fully that I knew I didn't care how good or bad Pain & Gain was I would at least watch the movie with my eyes closed. And that's my advice to viewers: the best way to experience Pain & Gain is buy the soundtrack!
Grade: A
Overall Grade: C