Movie Review: Mud offers stellar performances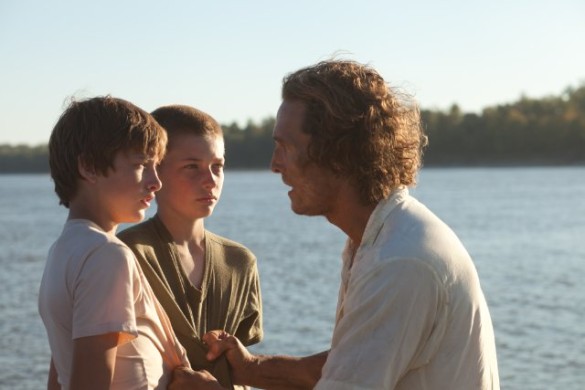 Director: Jeff Nichols
Writers: Jeff Nichols
Stars:  Matthew McConaughey, Tye Sheridan, Jacob Lofland
Synopsis: Two teenage boys encounter a fugitive and form a pact to help him evade the bounty hunters on his trail and to reunite him with his true love.
DIRECTION
Jeff Nichols is just one of those directors who really knows how to tell a story well on screen. The aesthetics of this film are amazing. Nichols does a great job of making you feel like you are in the deep south and creating an environment that is raw and real. The movie is shot similar to To the Wonder in terms of it's gorgeous visuals, but also has that Beasts of the Southern Wild rawness to it. I love how Nichols uses the nature of Arkansas and the Mississippi River to bring you into the world he's drawing us to. Nichols does a great job of getting amazing performances out of his actors which is what carries most of this film. His music choices are perfect in bringing the southern, working hard lifestyle that's in the film. The biggest knock on this film, is that he takes a long time to get where he's going. Some of the scenes aren't necessary and the Michael Shannon character is pointless. For the most part though, Nichols is on his game though.
Grade: B+
SCRIPT
The script is also written by Nichols. The dialogue in Mud is my favorite part of the script. The conversations between Tye Sheridan and Jacob Lofland are incredible. For young teenage boys, there's some pretty colorful language, but it's so realistic. The dialogue for McConaughey's character is also great and actually a crucial part to his character. The story itself though is a little lackluster, which left me a little disappointed. There isn't any depth to the story. I expected there to be more layers and drama, but Mud is more straight forward and surface level. Little pieces of it started to feel unrealistic in some places, but overall was very believable. While the story wasn't deep, I did love the theme of the film and how relationships and love is such a driving force for our lives. It was somber in many way but it left you with the feeling that love is worth fighting for, which I thought was a great touch. There is a lot of foreshadowing in this movie, which makes things a little predictable toward the end, but at the same time, it leaves you with that feel-good experience.
Grade: B
PERFORMANCES
This is probably my favorite McConaughey character I've ever seen and one of his best performances. You don't get the goofy, wacky, shirtless McConaughey you see in most of his films. In Mud, he's isolated, quiet, and is ironically superstitious about having his shirt on. His character is driven by love and doing whatever it takes to be with the people he loves. And for the personality that McConaughey has, this is such a different character that I could have seen it being a little difficult for him. Simply, it's the best McConaughey I've seen in film. Tye Sheridan and Jacob Lofland are just as good and fun to watch. Their chemistry is amazing and really make you believe they've been best friend their whole lives. Sheridan's character is gullable and inexperienced, yet knows what he's fighting for at the same time. Michael Shannon (while I love him) and Reese Witherspoon's performances are forgettable. They aren't in the film a ton though so it doesn't really detract from the film as a whole. McConaughey, Sheridan, and Lofland carry the film and make Mud one of the year's best films so far in 2013.
Grade: A
SCORE
The score was done by David Wingo, whose work I'm not 100% familiar with, but I loved this score. It's kinda similar to Beasts of the Southern Wild but more laid back and serious. I love the southern draw it has with it's strings which keeps the film and the aesthetics where it should be. The music is perfectly executed here and while it's not my favorite to listen to, it's got me interested.
Grade: B+
Overall Grade: B+