Op-ed: Legendary Estates Of Hollywood's Greatests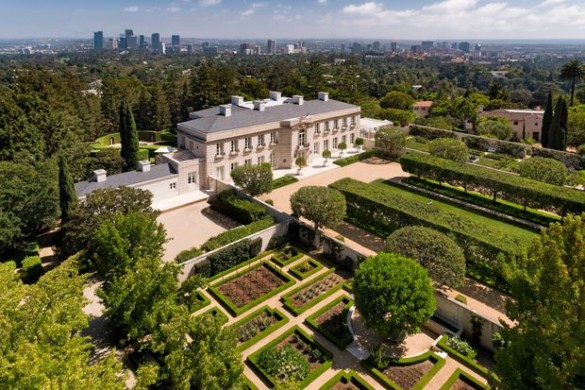 It's not just about living in a multimillion-dollar home. For A-listers, it's about being in a big secure home that gives a statement to who lives there and how powerful they are. Many go for modern homes, others go for these historic houses, some of which are still in private use today. Going back to the 1920s, actors and moguls lived in these glamourous estates, putting their wealth on display and sometimes built to do bigger than other homes nearby. And with these houses comes the rich history that makes them widely known for its architecture and status in the industry. Here are a few of these legendary estates.
Falcon Lair
One noted Hollywood star built and resided in his own mansion, but it was a highly noted philanthropist that made the estate well-known. Rudolph Valentino, the Italian sex symbol of the 20s, bought it for $2.5 million in today's money while married to his second wife at the time. Valentino decorated it with antiques from his global travels and had a stable for his own horses. After his sudden death in 1926, the home was sold to pay off Valentino's debts. In 1952, Doris Duke, heir to major tobacco company head, bought the home as an LA residence along with homes in Hawaii, Rhode Island, and New Jersey. A jazz aficionado, she hosted jazz concerts for her Hollywood friends, including nearby neighbors Sharon Tate and husband Roman Polanski, and would remain a residence until her death in 1998.
In 2005, the main house was demolished with a new mansion built on top of it, leaving only the stable, front gates, pool pavilion, and a large garage converted into a guest house. Also importantly kept was the concrete wall built by Valentino to keep out snoopy invaders, which made the house very valuable for those who want privacy. As of 2019, the home was up for sale for $4.95 million; for the extra four acres as part of the original property, buyers would need to pull out $29.5 million. One caveat to Falcon Lair: visitors have said Rudolph Valentino's ghost still haunts the front gates.
Greenacres
With the massive fame and wealth from his silent comedies, star Harold Loyd bought a plot at Benedict Canyon and built his own fifteen-acre estate that dwarfed the homes of many other stars. Described as a "modern Eden of groves and gardens" from The Los Angeles Times, it featured 44 rooms, a private nine-hole golf course, a 900-foot canoe stream connected with a 100-foot waterfall, a four-room miniature old English house for kids (built for Lloyd's daughter), and a lot more. It took five years to build at a cost of $2 million, or $30.3 million in 2020. When Lloyd retired, he stayed for the rest of his life at Greenacres with his three children, hosting athletic and social gatherings. Up-and-coming actors visited Lloyd for advice and film historians helped keep Lloyd relevant with publications about this life and work.
By the time of his death in 1971, Lloyd gave what was left of his estate to his surviving children while the property was bought for $1.6 million. While the mansion and five acres were saved, the golf course, canoe pond, large pool, and other features were demolished and divided into multiple separate lots. Millionaire film producer Ted Field later bought the mansion, renovated it extensively, and reinstalled a large pool. In 1998, the home was bought by its current owner, billionaire Ron Burkle, for $20 million, while the value of the mansion has tripled since then. In 1984, the mansion was listed on the U.S. National Register of Historic Places.
Jack Warner Estate
Constructed in 1937, the home built in Jack Warner's name at Benedict Canyon as well is a 13,600-square-foot Georgian mansion with large terraces, gardens, a guesthouse, tennis court, swimming pool, nine-hole golf course, and its own service garage. All the way until his death in 1978, Warner and his second wife (who rebuilt the facade without her husband's permission) would stay to host large parties to important actors and politicians who Warner had an influence on. After falling into disrepair following the death of Warner's widow, music producer David Geffen bought the home in 1990 for $47.5 million and renovated it from top to bottom, one of the area's few large estates that did not get subdivided. In February 2020, Geffen sold the estate to Amazon's Jeff Bezos for a record of $165 million, making a trio of powerful media figures to own the historic mansion.
Pickfair
This estate is no longer standing because of either termites or ghosts. More on that later. When this was bought by Douglas Fairbanks and his future wife, Mary Pickford, it was a simple lodge that would be built extendedly to be a four-story, 25-room home complete with stables for horses, tennis courts, a guest wing, and an in-ground swimming pool. Inside, Pickfair chose to decorate and furnish with early 18th-century English and French period furniture and antiques, a large art collection, ceiling frescos, parquet floors, and wood-paneled hallways. Every major Hollywood star and noted celebrity attended their large parties and Life Magazine said Pickfair was, "a gathering place only slightly less important than the White House… and much more fun." The parties ended in 1936 when Fairbanks and Pickford divorced and she kept the home when she remarried.
By then, her career had wained and Pickford chose to live in seclusion while raising her children. When she was presented with an Honorary Oscar in 1976, it was from her living room in Pickfair. After her death in 1979, the home was sold to actress Pia Zadora and her billionaire husband, Meshulam Riklis, who then demolished it all in 1990. The couple defended the decision, stating that the house was in a state beyond repair and that termites had infested the main structure. But in 2012, Zadora said the real reason was that they encountered ghosts of women who had affairs with Fairbanks. Whatever the reason, the house was gone, but a new Georgian-style manor was built with the original gates to the house, the pool, and remnants of the interior that was saved.
Samuel Goldwyn Estate
Located at 1200 Laurel Lane, the home, now owned by Taylor Swift, was built in 1934 for the famous producer. A 10,982-square-foot Georgian Revival mansion with seven bedrooms, Swift bought the place in 2015 and proceeded to restore it close to when it was first made including its original wooden fencing, pool cabana, and library. It also helps that she was aware of its historical heritage and got the Beverly Hills City Council to unanimously vote it as a historic landmark. Like Jack Warner, Goldwyn used his fancy place for major parties, as well as major business deals. Katherine Hepburn said having dinner at the Goldwyn estate, "You always knew where your career stood by your position at the Goldwyn table." Goldwyn also received the Presidential Medal of Freedom at his home, presented by President Richard Nixon. After he died in 1976, his son moved in and lived there until his own death in 2015.
Follow me on Twitter: @brian_cine (Cine-A-Man)