Op-ed: Revisiting Sean Connery as James Bond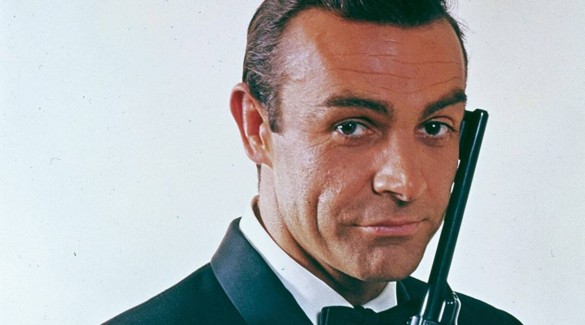 The late Sir Sean Connery first brought Ian Fleming's MI6 Agent 007 James Bond to the big screen in 1962. Despite an uneven and interrupted tenure, Connery's smooth portrayal sets the bar for those that would subsequently don the tuxedo and drink the martinis shaken, not stirred. Here's a breakdown of his spy works – good, bad, and exceptional.
Dr. No
Sean Connery's iconic 1962 debut based upon Fleming's 1958 novel places 007 in Jamaica – invoking foreign intrigue and local superstition thanks to rumors regarding the mysterious Dr. No, his so-called dragon, and whispers of a secret organization called SPECTRE. That's SPecial Executive for Counter-intelligence, Terrorism, Revenge, and Extortion, yowza. Bond and his CIA allies must infiltrate Dr. No's hidden lair amid radioactive samples, spider scares, rockets, and Cape Canaveral conspiracies. Radios, reactors, and boats look the high-tech part for the early sixties – even if that flame thrower dragon is silly now. Original Bond Girl Ursula Andress (Clash of the Titans) as Honey Rider is dubbed, too – her appearance in the latter third of the film being more about her white bikini than the quiet moments explaining her sad backstory. Joseph Wiseman (Detective Story) as Dr. No is also hampered by cliché Asian stereotypes, hokey fake hands, and a mad man complex. The gun barrel opening, swanky titles, theme music, famous quotes, and martinis here lay the foundation for all things Bond, however, Connery's debut style and delivery is uneven. 007 is a patriarchal archetype, a veteran spy who knows how to handle a woman, but Connery's accent and suave waver as if he or early franchise director Terrence Young can't decide on a Cary Grant flair or Connery's decidedly Scottish spin. Fortunately, despite rookie flaws and datedness, the provocative action, international espionage, and eccentric world domination make for an interesting start for the film franchise to come.
From Russia with Love
Cat and mouse chess escalates to suspenseful train-bound conversations and perilous water escapes in this second 1963 Eon produced James Bond picture adapted from Fleming's fifth novel. 007 faces revenge for unwittingly destabilizing covert global operations and SMERSH meets SPECTRE amid Russian, Turkish, and Bulgarian us versus them Cold War intensity. Villainous preparations and perspectives mirror our MI6 hallmarks and gadget orientations while the stolen typewriter-esque Lektor MacGuffin keeps the action moving. Map overlays and transportation montages capture Bond's dangerous European trek, but the pursuit is relatively linear – a streamlined mano y mano with close-quartered hand-to-hand and hidden knives. Assassin Robert Shaw (Jaws) contrasts Bond as the largely silent, cold, and bleached SPECTRE henchman Red Grant. His antithesis adds wonderful tension as confined hotel rooms and train cars keep the global intrigue personal, intimate, and dangerous. These villainous leanings, however, mean it takes almost twenty minutes for Connery to appear as Bond – fashionably late to his MI6 briefing in tiny sixties shorts. Fedora or not, 007's wry delivery is swift and smart. He's juicy with excellent quips for the saucy bedroom scenes and post-innuendo cigarette smoking as well as rough and tumble in the one-on-one outwitting wordplay. Fast paced truck chases, helicopter thrills, and fiery speedboats accent the defections, double agents, and dalliances – making for an excellent, all around complete action picture from start to finish.
Goldfinger
From Pussy Galore and aviation ruses to death via gold suffocation and elaborate heists, this memorable 1964 installment provides a quintessential dose of Bond iconography thanks to gun toting babes, a tricked out Aston Martin, and a killer hat wielding henchman. 007 trails Auric Goldfinger in order to stop his Operation Grand Slam plot to blow up Fort Knox – battling wits thru rummy, golf, horse farms, and mint juleps. The sexy golden symbolism and alluring monetary obsessions are more relevant today than ever thanks to the complex, layered screenplay peppered with frank one liners and naughty quips. While Goldfinger does fall back on the woman needing the man or switching sides for love tropes, Honor Blackman's (The Avengers) multidimensional Pussy has strength and sixties sex appeal to give Our Man James a rough and tumble run for his haystack romp. Connery's settled in as 007, confident about taking down the bad guys and mixing business with pleasure in the perfect balance of sex, humor, and action. His banter's easy even during tense car chases or while strapped to a precarious laser. Bond laughs at the over the top nature of his secret agent world – but we know his weakness for the ladies and it costs him. Although he likes gold for its pretty color, we don't doubt Goldfinger's ruthlessness. Veteran actor Gert Frobe (Chitty Chitty Bang Bang) is a wonderfully insane genius who's thought of everything except Bond getting under his skin. Be it enticing Swiss locales or Fort Knox shootouts, viewers craving solid action and intelligence can watch the intricate, clock ticking suspense again and again.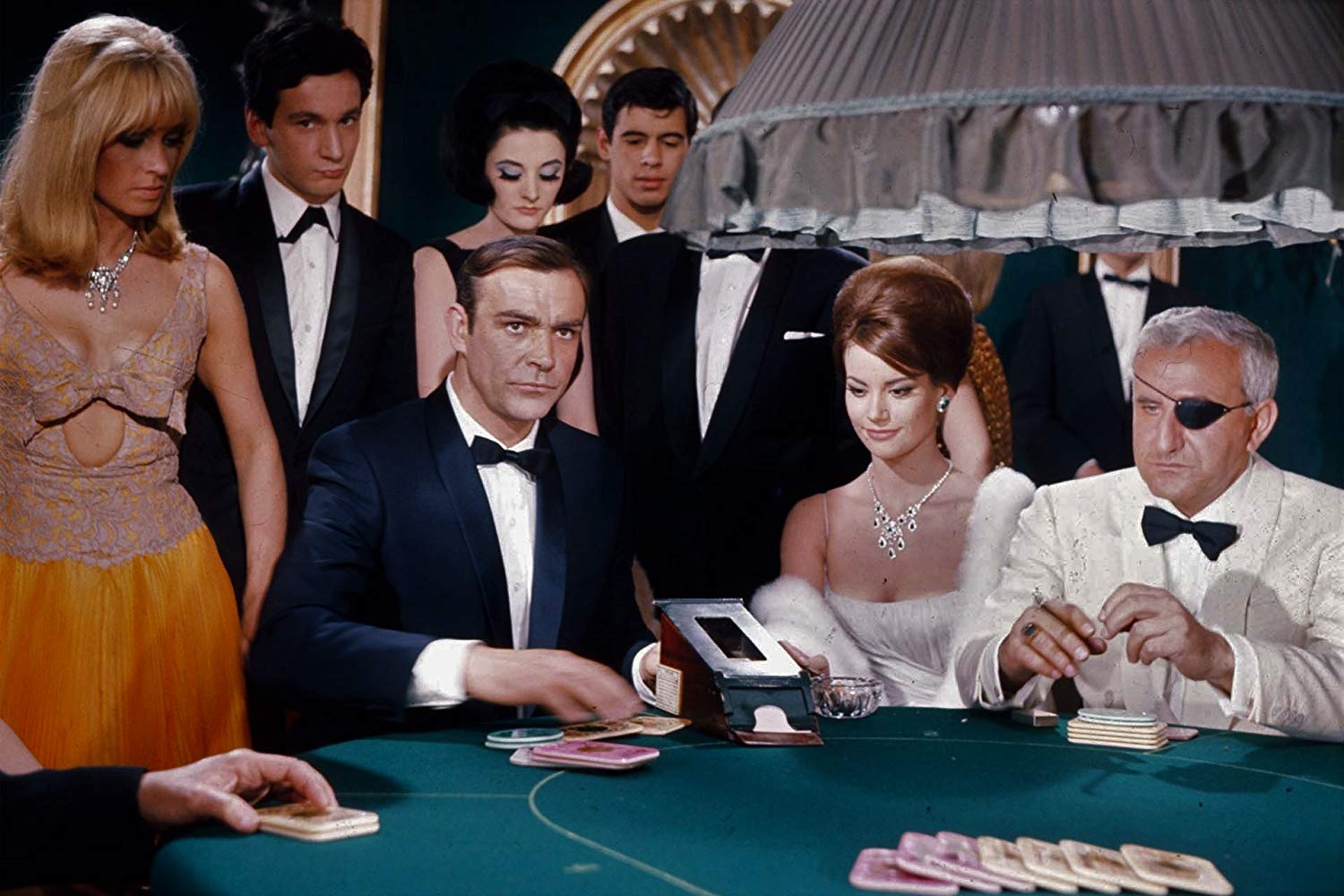 Thunderball (and Never Say Never Again, too)
In Connery's fourth 1965 entry, 007 recuperates at the spa before mixing romances and luxury ships with atomic weapons. The extensive underwater sequences and then award-winning effects, however, are ill choreographed and dark. Connery's tight little orange wet suit and the international dames' friend or foe are rare bright spots amid confusing action with no sense of layout or who is who. Fortunately, the blu-ray release revitalizes the aquatic effects with vivid colors, dynamic water photography, and lush Bahamas visuals. It's ironic this was such a fought over screenplay with lawsuits from writer Kevin McClory against Fleming and producer Albert Broccoli as the weak script takes too long with plodding, dry stretches of silence, and unnecessarily finite aquatic maneuvers dragging to the end. Of course, Sean Connery reprises his role as Bond in the illegitimate 1983 remake of Thunderball Never Say Never Again – competing in the so-called "Battle of the Bonds" with Eon and Roger Moore's Octopussy. Like its forerunner, Never Say Never Again also looks very dated with poor underwater sequences, old computers, lame cruise ship headquarters, and clunky onboard equipment. Hot and violent Barbara Carrera (Dallas) as Fatima Blush can't overcome the typical exotic nor the ridiculous villainous plans we know Bond will nonetheless defeat, and Oscar winner Kim Basinger (L.A. Confidential) as leotard wearing Domino is meek under 007's thumb. It's tough to believe Bond will retire with her and have any long lasting relationship no matter his age. Never Say Never Again is unique in acknowledging Bond as old and not necessarily up to snuff, but Connery indeed lacks edge in this return – out of practice and not Bond as we knew him.
You Only Live Twice
Blofeld petting his white kitty in his volcano lair is a la Austin Powers today, but the Asian locales faked death in Hong Kong, Tokyo investigations, and spacecraft over the Sea of Japan turmoil anchor Connery's 1967 fifth turn as 007. Little of Ian Fleming's tale is here, but Roald Dahl's (also screenwriter on Fleming's Chitty Chitty Bang Bang) story utilizes deception, cloak and dagger tactics, and undercover ninjas. Donald Pleasence (Halloween) knows what he's doing as the at last seen head of SPECTRE Ernest Stavro Blofeld and isn't afraid to be ruthless with Bond or his own agents. Even with poor rocket footage, cliché American versus Russian angst, silly volcano tricks, and slightly goofy Little Nelly helicopter sequences, there is a sense of peril keeping any datedness at bay. Unfortunately, the ladies are treated as easily replaced exoticals for Bond to bed or massage – stereotypically dubbed while 007 himself has "plastic surgery" complete with eye folds and a comb-over to make him look Japanese. Are you &#$%!&@ kidding me? Despite a complex hour and a half build, the overlong finale is weak with too many ninja montages and redundant volcano destruction. Thankfully, Bond is both in on the saucy innuendo and a capable secret agent with a titular theme from Nancy Sinatra to match. Connery immerses himself in all of Bond's skills, utilizing multiple talents to escape SPECTRE assassins, suspicious cargo ships, and crashing planes. Though flawed with racist moments, the solid intrigue here outweighs the ills.
Diamonds are Forever
The 1971 final official appearance of Sean Connery as 007 is a satirical mixed bag, uneven between camp, flashy settings, and illicit diamond heists. Despite explosions, superb car chases, and over-the-top jewel smuggler Jill St. John's (Come Blow Your Horn) cheeky micro cassette; the garish Sin City time capsule hasn't stood the test of time. There's no panache thanks to the inexplicably absent James Bond Theme, and the obsession of wealth or any peripheral political commentaries aren't as good as Goldfinger. Previous Bond Director Guy Hamilton's approach is arid with no wink nor Bondian hallmarks amid circus elephants and distasteful racist undertones. Are the diamond, oil, and water statements supposed to be taken seriously? Are we supposed to be laughing at the villain who put so much terror in his numbered subordinates just a few films ago? Charles Gray (previously an ally in You Only Live Twice) works the incognito kinky, but the back and forth plastic surgery decoys and confusing lookalike switches hinder his performance. It's odd to see Blofeld the head of SPECTRE reduced to a simplistic one-man oil rig operation with all over the place henchman, yet Q's casino scenes and the in disguise Moneypenny make viewers wonder why they didn't get out of the office more. Of course, the rechristened and now gray Connery fittingly has less personal action. This 007 gets out of the fiery close calls via his wits despite a meandering, unfocused script and a lack in chemistry dampening Connery's swanky. This tries to stand out in what was a difficult time for the franchise, however the unintentional humor, confusing plot, and falling flat jokes will be tough to enjoy for those expecting a return to Connery's earlier sophistication.