Op-ed: More True Crimes That Inspired More Movies
After the first list of crimes, I found plenty of more from unlikely places and converted into movies. One of them was first published into one of the biggest best-selling books of the 1990s, another was based on declassified documents from Britain's MI6. Another became a play and inspired an idea from the Master of Suspense, one was an unheard serial killer, and the last being, oddly enough, a rom-com. You'd be surprised (or not) that these heinous crimes were converted into films for our entertainment, but the acts remain a part of notable criminality.
Rope (1948)
Alfred Hitchcock's psychological thriller was set in one place almost taken line-for-line from the stage. This was an experiment by Hitchcock, forming the film from long takes, just Alfonso Cuaron and Alejandro Inarritu would do later on. There are ten cuts, some of them hidden; the longest take being 5:38 in length and the longest being 10:06. While the film was received to mixed reviews, people were more familiar with the story that inspired it. In 1924, two students from the University of Chicago, known as Leopold & Loeb, kidnapped and murdered a 14-year-boy as a test of their own intelligence if they could get away with murder. Instead, the police caught them, and were sentenced to life imprisonment.
Vengeance Is Mine (1979)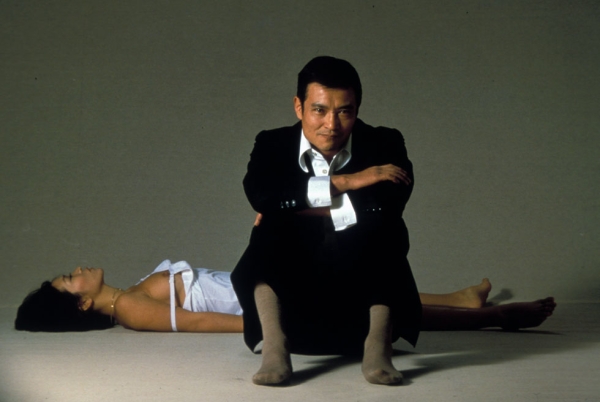 Shohei Imamura, a two-time Palme d'Or winner for The Ballad of Narayama and The Eel, brought the true story of Akira Nishiguchi to life. Nishiguchi had a rap sheet of being a fraudster and served time in jail before returning to his old ways but murdering five people as he steals from them. The police struggled to find him, even when he was identified and listen among Japan's most wanted men. In the film, a prostitute he met would inform the police of his whereabouts, but it was an 11-year-old girl who notified others about Nishiguchi's presence. He was convicted and hanged in 1970.
Buster (1988)
Two songs, "Groovy Kind of Love" and "Two Hearts," would be hits for Phil Collins, who played the titular role as a petty thief in 1960s England while also trying to stay as a family man to his wife. This rom-com was probably not appropriate since it was seen as glamorizing the Great Train Robbery of 1963. Buster Edwards was part of a gang who successfully robbed £2.6 million (or £55 million in 2020) from a train and fled into the night. Most of the gang, including Edwards, were eventually caught and imprisoned, but more than half of the money had been spent and never recovered. Collins convinced Princess Diana and Prince Charles not to come to the premiere because of the controversy received prior to its release.
Midnight In The Garden Of Good And Evil (1997)
John Berendt's acclaimed nonfiction novel was, in part one, a travelogue about Savannah, Georgia, and the fascinating people who live in the historic city. In part two, a Southern Gothic homicide that people talked about for eight years from crime to acquittal. In real life as in the movie, antique dealer and preservationist Jim Williams (Kevin Spacey) lived in the famed Mercer House and would shoot dead his assistant and lover (Jude Law). Claiming self-defense, he would go on trial four times before he walked out free. Within the lengthy trial, the city slick reporter (John Cusack) moves to Savannah and learns about another type of Southern hospitality that actually raised tourism following the release of the book and film, which was directed by Clint Eastwood.
The Bank Job (2008)
As in the film, in 1971, a gang of people pulled off a daring heist, renting a store two doors down from a bank, dug a tunnel, and came out through the floor of the main vault, raiding 268 deposit boxes and stealing between nearly £3 million. While the robbers get away with it in the movie, the actual gang was captured and given prison terms, but like with the Great Train Robbery, most of the money was never recovered. The movie depicts allegations that are unfounded; one being the gang accidentally found provocative photos of Princess Margaret, sister of Queen Elizabeth II, and two, that the police had long sought after a box owned by Black revolutionary Michael X, who Britain sought to arrest. Also depicted is the debunked belief that newspapers were given an order to not publish the story for national security, but no order was given.
Follow me on Twitter: @brian_cine (Cine-A-Man)