Op-ed: A Brief Journey Through French Poetic Realism
When it comes to the history of film movements around the world, France has been the locale for some of the most notable and influential. In between French Impressionism in the 1920s and the arrival of the French New Wave in the 1950s and 1960s, the country became the site of the Poetic Realism movement in the 1930s. Beginning around the same time that Hitler and the Nazi party took control in neighboring Germany, the films of this style reflected the mood of a nation that felt the pressure of an oncoming war as the decade went on. These films depicted normal individuals (usually men) with fatalistic attitudes in a truly sobering and down-to-earth fashion. The films also took on a noticeably dark and foggy aesthetic to reflect these attitudes. As always, this piece is not designed to be an exhaustive list of influential films from the movement, but these are six notable examples that came from that time. 
L'Atalante (1934, Jean Vigo) 
One of the earliest works of Poetic Realism actually differs quite a bit from the films that would follow. Jean Vigo's film tells the story of Jean and Juliette (Jean Dasté and Dita Parlo, respectively), a newly married couple who embark on his cargo boat, L'Atalante. They are joined by Jean's two shipmates, led by the gruff but lovable Jules (a standout Michel Simon). Though their romantic journey begins well, things become complicated when they land in Paris as their honeymoon destination. Dramatic decisions lead to dire results, and the relationships between all of the characters–not just the two lovers–are threatened. 
This film stands out from other Poetic Realist features largely because of its humor. Though the film presents working-class situations and the difficulties that arise from them (much like other films of the movement), the first half of the film is more of a comedic romance than a dark representation of troubled characters. However, the tonal shift midway through signals a deeply depressive state for our leading male character, creating questions of whether redemption is in the cards. Here, love serves as a source of that redemption. Though the concept would be used in very different ways in later films, love became a heavily recurring theme throughout the movement. While L'Atalante may not have the impact, maturity, or introspection of later films, it does give an idea of what would come later.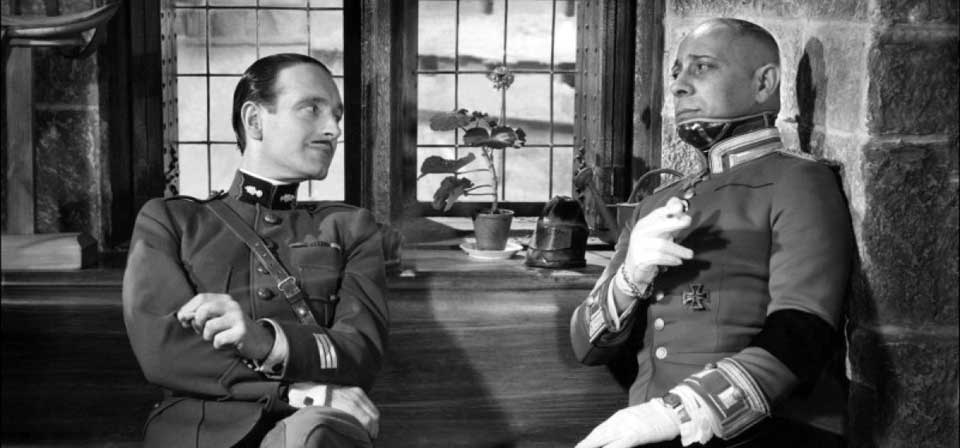 The Grand Illusion (La Grande Illusion, 1937, Jean Renoir)
The best and perhaps most widely recognized film of the Poetic Realism movement came from one of the most celebrated French directors of all time, Jean Renoir. The Grand Illusion took on the sense of the impending war in the country head-on, while also becoming the first film in a language other than English to be nominated for Best Picture at the Oscars. It's a World War I story of a working-class officer (Jean Gabin) and his upper-class superior (Pierre Fresnay) who are shot down by a German officer (Erich von Stroheim) while on a mission. As a result, they are placed in a prisoner-of-war camp alongside other French soldiers captured by German forces. While the two men find a sense of belonging and friendship amongst their fellow soldiers, they continuously seek opportunities for escape as they move from camp to camp. 
Though World War II was still a few years away, this film feels like a reflection of that time in its exploration of war and ethics. An interesting dichotomy emerges from our two main characters, reflecting their socioeconomic backgrounds. While Fresnay's aristocratic character reflects on the vanishing "ethical" way of conducting war, Gabin realizes there is nothing ethical about war at all. The harsh conditions they face puts them on an equal level, and they face a growing sense of despair as time goes on. This despair would become very common in films of the movement, as would the heavy societal themes the film addresses. This was also the beginning of a string of notable films for Gabin, who plays the lead role in four out of the six films covered here. From its somber content to its influence on films like Casablanca, The Grand Illusion earns its distinction as one of the greatest war films of all time. 
Pépé le Moko (1937, Julien Duvivier) 
In the same year The Grand Illusion was released, Jean Gabin traded his military gear for gangster garb in Julien Duvivier's Pepe le Moko. Gabin plays the titular character with a true sense of confidence in this escapist tale with an underlying feeling of dread. Pepe is a fugitive gangster in the Casbah of Algiers. The local police want to put him away for good, but he's intensely protected by those who surround him. In short, Pepe is safe and sound as long as he stays in the Casbah. And just when it seems like nothing will sway him away, a beautiful woman from Paris named Gaby (Mireille Balin) might be the key to changing that. 
This is where the gloomy portrayal of love really took off for Poetic Realist films. It plays a major role in the narrative, though in a much different way than L'Atalante. Rather than serving as Pépé's form of redemption, the prospect of love threatens to be his downfall. The film also uses nostalgia to make us question how true this love is. In one of the film's best scenes, Pépé and Gaby discuss their favorite sites and locales in Paris. It becomes clear that Pépé has become tiresome of his current way of life and longs for his previous residence in the city. The distressing atmosphere created as a result of this, alongside what might be Gabin's best performance, drives home the sense of nostalgia and a craving for a better time. What Pepe is feeling may have been eerily similar to what many in France felt with the threat posed in Europe at the time. 
Port of Shadows (Le Quai des brumes, 1938, Marcel Carné) 
Of all the films released during the era of Poetic Realism, the one that probably reflected the central themes and styles of the movement the most was Marcel Carné's Port of Shadows. By following a lowly, fatalistic man who falls deeply in love and pays the price for it, a number of aspects from other films came into play here. Once again, we have Jean Gabin in the lead role. This time he plays a deserter of the French army named Jean who finds himself in a port city influenced by the local mob. He runs into a young woman named Nelly (a fantastic Michèle Morgan) and the two immediately hit it off. Though they wish to be together, these dreams are hampered by Jean's need to leave France, the gangsters that also vie for Nelly's hand, and Nelly's own godfather. 
The film has the feel of a Poetic Realist picture from the very start, giving us foggy cinematography as we're introduced to Jean and his murky circumstances. He's disillusioned by the war effort – yet another theme of the time – and love is a fantasy to him at first. His affection for Nelly is accented by the camera, which shoots her in a similar way to Ingrid Bergman in Casablanca. And though Gabin has a somber softness to him here, his character cannot escape from moments of brutality. Here there are crimes of passion from men who resort to violence when confronting each other. Despite all of this, the film hits all emotions, not only those that are melancholy in nature. At one point, Jean says, "I've been happy at least once in my life." It's fitting, as the romantic scenes between him and Nelly are quite joyful. The fact that Nelly is only 17 in the film does not hold up well, though the film does capture moments of passion within the fog of despair.  
Le Jour Se Leve (1939, Marcel Carné) 
"A man has committed murder…" Le Jour Se Leve begins with this haunting revelation, setting the stage for the grim situations that will follow. Next, we hear the sound of gunfire and the victim stumbling to his death. We come to learn that the perpetrator is our working-class protagonist François, who is of course played by Jean Gabin. This performance features the most distinct and pointed dichotomy between cheeriness and glum from his character. From the beginning going forward, much of the film is told in flashback in order to display how he ended up in this position. As it turns out, once again, love has become his downfall. We are shown his first interaction with Françoise (Jacqueline Laurent), which leads to a brief romance between the two. It becomes complicated when Françoise longs for the older and more established Valentin (Jules Berry), who audiences will recognize as the victim of François's gunfire. 
While all of this is revealed, we often come back to François in the present, as he stands off against the police who have come to arrest him. Along the way, director Marcel Carné and Gabin deliver perhaps the most intriguing character of all these films. Though we are first introduced to him as a killer, the film pulls the layers back to reveal the instances of lies, deceit, and heartbreak that led to his predicament. We learn more of him from his neighbors, who refer to him as "a good chap." What we are exposed to is a crime of passion that still allows us to decide where the fault lies. Additionally, the film employs an effective noir style to expose the fatalist mindset of François while he waits.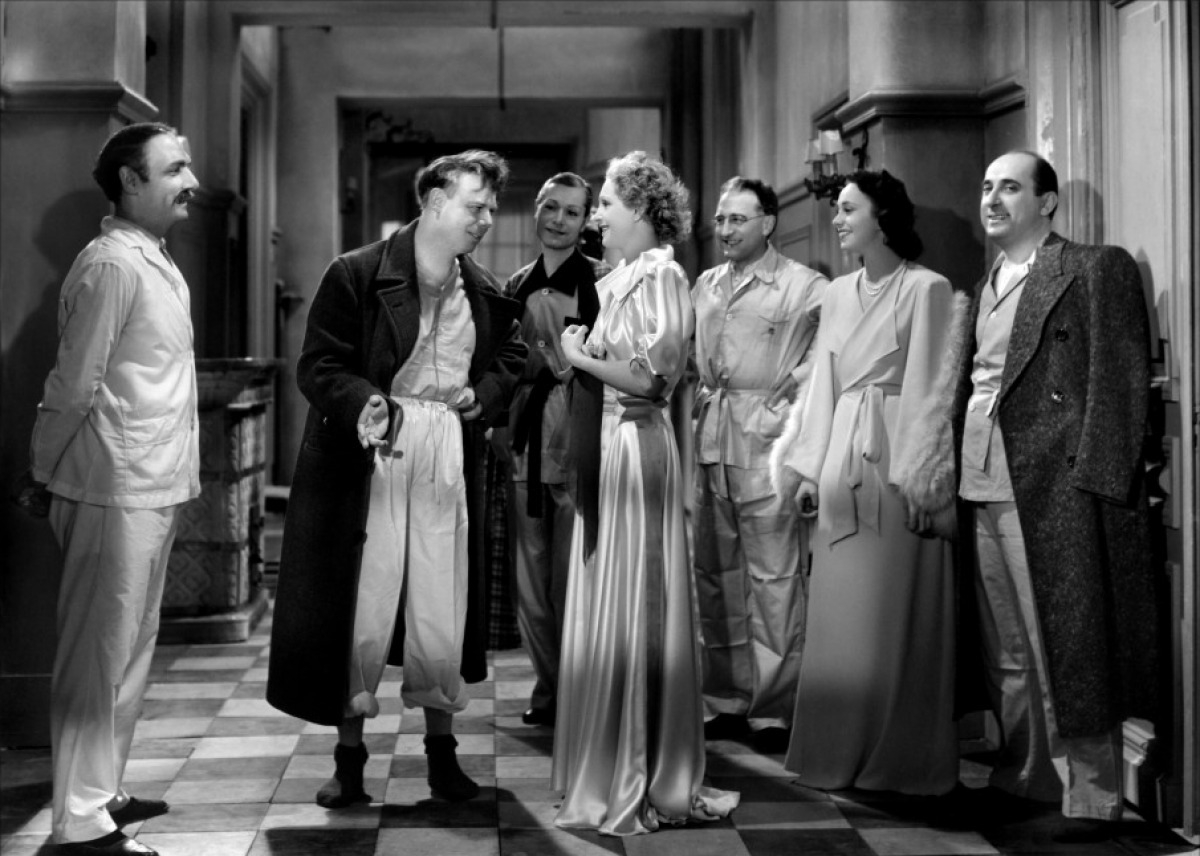 The Rules of the Game (La Règle du Jeu, 1939, Jean Renoir) 
As one of the final films released as part of the main movement, just before the onset of World War II, The Rules of the Game features a rather unique set of characters and a shifted tone. Director Jean Renoir (who also acts in the film) predicted the beginning of the aforementioned war with this film, while also relaying his ideas on the perception of the situation by upper-class individuals. The plot cannot be as easily defined as other films of the movement, partially because there are so many characters at play. Essentially, a group of wealthy individuals come together for a retreat at the country home of Marquis Robert de la Cheyniest (Marcel Dalio). One of the guests is a famous pilot André Jurieux (Roland Toutain) who is in love with Robert's wife Christine (Nora Gregor). Fits of jealousy and chaos ensue, not just between the wealthy acquaintances, but also between their poor servants. 
What's most striking about this film compared to other Poetic Realist films is that it does not present its themes in an outright fashion. Rather than displaying the fatalistic and melancholy attitudes of characters, Renoir is making a statement on a subtextual level. We do not see a group of people that represent a disdain for the oncoming war. Rather, we primarily witness a group of individuals with power who are oblivious to the circumstances around them. Love is the aspect most responsible for the disorder in the film, but it's difficult to tell how to present love really is. Are these people really in love, or are they just playing the titular game? That said, the characters who might actually be in love are the ones who have the clearest collapse. Overall, the film is a satire about the rich that still holds onto realistic qualities, with an ending that signals darkness rather than light. 
The appeal of major film movements is not only their distinct style and form of storytelling but also how they reflect the time period and locations they originate from. That is especially the case with French Poetic Realism. These films feature compelling characters and an authentic aura while also serving as historical markers for the attitudes that persisted when they were released. Though they are engaging for their foggy and realistic style, where they really shine is in the fatalistic themes and motivations behind the plots and characters.