Movie Review: Even with inclusions, 'Ocean's 8' is a keeper of a gem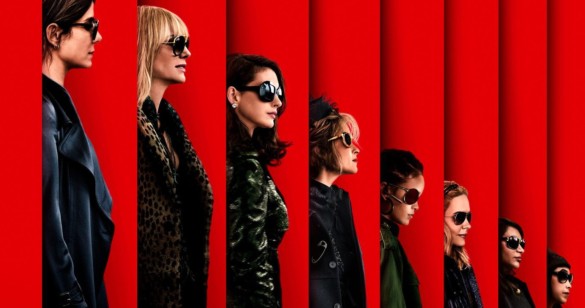 Director: Gary Ross
Writers: Gary Ross, Olivia Milch; George Clayton Johnson, Jack Golden Russell (characters based on)
Stars: Sandra Bullock, Cate Blanchett, Mindy Kaling, Awkwafina, Rihanna, Sarah Paulson, Helena Bonham Carter, Anne Hathaway, James Corden, Richard Armitage
Synopsis: Debbie Ocean gathers an all-female crew to attempt an impossible heist at New York City's yearly Met Gala.
OK, seriously, why is the wholly girl-powered spinoff of Steven Soderbergh's Ocean's Trilogy is still in one piece? Like 2016's Ghostbusters, it has femmes doing what the fellas have done! There are twice more the number of gals here, too! Sandra Bullock is a philanthropist and she's the team leader, so there's a full-blown SJW! Boys, where are you all?!
Actually, just hush. Muzzle that debasing campaign you're thinking of igniting or those litmus tests you're about to host. Everyone in Ocean's 8 aims to impress — not to hear regressive spiel, in other words — and "with zest" plus "with gloss" are the aptest descriptors for how that job went down.
Right after promising that "a simple life" is all that will be pursued after a five-year stint, Debra "Debbie" Ocean (Sandra Bullock) signals her best genes — those that steal — that it's safe to reemerge. New cosmetics? Tell the clerk they're returns. Someone checking out of their hotel suite? She'll re-check in under their names. According to promotional writings, Debbie is an "estranged sister" to (the now-dead) Danny, and yet that banquet-ready look, cool-flame magnetism and purloining prowess, which Bullock depict with built-in spark, has her more like his double. In that spirit, it's time to recruit some folks to loot a loaded target — actress Daphne Kruger (Anne Hathaway), or specifically her neck which is to be wrapped with six pounds of Cartier diamonds for the Met Gala.
The ensemble essence, the backbone of the other Ocean's three heists, is what Ocean's 8 doesn't form as well as it wanted to. As seen in Free State of Jones, that is director Gary Ross' foible: having to manage two-plus number of players, in this case near-10. Unlike that Civil War-set yarn, however, there is more than one cast member — the "Louise" to Debbie's "Thelma" (Cate Blanchett); an Indian jeweler seeking independence from family (Mindy Kaling); a curbside sleight-of-hand mistress (Awkwafina); a non-Russian-and-very-Rastafarian hacker (Rihanna); a skittish fence-turned-mother (Sarah Paulson) and a hapless dresser (Helena Bonham Carter) — who each can easily summon the kind of fizz that eases Ross' trial. It also lets some of the squad members overpower the stereotypes — strictly surface-level, thankfully — that have been woven into their characterization.
But the brightest belle of the break-in? Hathaway. The actress is a firecracker being Daphne, the mark with extra instead of blood in the system (diamonds are acupuncture points pressed rather than a girl's best friend!) and this habit of hunting you down because you haven't pampered her. There's only gold to gather seeing Daphne as the virago who wears designer brands (all those days at Runway finally changed you, huh, Andy?), or the "Anne Hathaway" that the web's wicked-tongued has tirelessly manufactured.
On that note of "gold," the glam-fond fiend among us will have a swell time watching Ocean's 8. "Do not run a job within a job," Lou said to Debbie, and recalled the latter's brother's screen debut, at one point, but that's the game the visual department is playing here. And under the "Ocean"-ship of costume designer Sarah Edwards, they almost steal the film away. Barrier comes in the form of Olivia Milch and Ross' scribing, which devoted a sizable effort to make the getting-even subplot involving Debbie's wanker ex, Claude (Richard Armitage), tick. Though unfold with little carefreeness that is somewhat a discord to the rest of the footage, it installs relevance to the crew's actions, along with this meta bit that Debbie has factored every player into her plan — those she can see and those who can see her.
Wait, does that make Debbie's peers also some sort of "Ocean's Avengers"? Can we think about this, or will it has the bros acting as if the lid of a certain Greek container is ajar? These eyes want to see Debbie and company evolve in their next pilfering, so maybe one will put the thought on hold for now.
Overall Grade: B
Hear our podcast review soon!