Movie Series Review: The Royal Tenenbaums (Wes Anderson)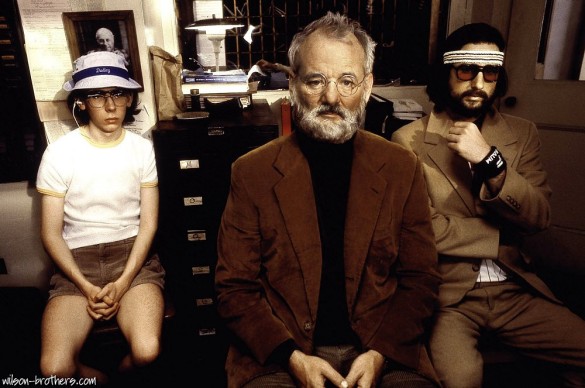 Director: Wes Anderson
Writers: Owen Wilson, Wes Anderson
Stars: Luke Wilson, Owen Wilson, Gene Hackman, Gwyneth Paltrow
Synopsis: An estranged family of former child prodigies reunites when one of their member announces he has a terminal illness.
DIRECTION
This is one of Wes Anderson's best film with a strong start and an even stronger finish. The beginning voice-over narrative from Alec Baldwin is terrific as it sets the tone of the film and lays out our characters extremely well. Anderson's style flourishes in this film with some fantastic camerawork, perfect comedic and dramatic timing and his musical choices solidify every scene. Anderson does a nice job of exploring all of these characters, spending the right amount of time each one and blends the right amount of humor where needed. The framing choices help keep things in perspective and helps keeps things focused, which is something Anderson has done well over the years. The Royal Tenenbaums is just the perfect blend.
Grade: A+
SCRIPT
The story centers around Royal Tenenbaum (Gene Hackman), his wife Etheline, three sons (Richie, Eli, and Chas) and adopted daughter (Margot), and the tragedy of how this family falls apart when a divorce breaks them all up. After the divorce we see rise of Richie, Eli, Chas and Margot in different areas and the fall which lands them all into coping in some unhealthy was. The script not only talks about divorce, but how those consequences can effect a person, and if never dealt with, how it can lead to more destruction. At one point Royal decides to fake that he has cancer to bring his family together to spend some more time with him and while the plan is selfish in nature, we see how the time does work in bringing the family back together in some crazy ways. The brilliance of this script isn't just the depths it goes to in terms of themes, but how deep and thorough each character takes those themes while keeping it engaging and entertaining. And by the end of the film, you realize that perhaps your family isn't as messed up as you thought.
Grade: A+
RELATED: Bottle Rocket Movie Series Review
PERFORMANCES
This is one of Gene Hackman's best performances and his comedic timing is pretty good. He does a fabulous job of making this character unlikable, yet riveting and you understand his motives. Luke and Owen Wilson are wonderful once again and just thrive under Anderson's vision. Gwyneth Paltrow gives on heck of a performance and sells the attitude of her character like none other. Bill Murray gives a subtle performance and given the character, the less he did, the better it was. Murray was perfect. Ben Stiller doesn't have as much to do but there are some sequences in the third act where Stiller shines. Overall, these performances are performed beautifully and they all came together fantastically with solid chemistry.
Grade: A+
SCORE
Mark Mothersbaugh delivers an amazing score that features some great energy and beautiful melodies. Along with the score, Anderson uses some great soundtrack pieces that blanket this film in some great ways as well. Like most Anderson films, the score is almost a character on it's own and is blended extremely well.
Grade: A
FINAL THOUGHTS
The Royal Tenenbaums is one of Wes Anderson's best films and while the film is bleak in some ways, it's never too overbearing as a package. Some scenes will provoke some emotion and others are just arduous, but the film blends in humor at the right time and it's subtle, so it feels natural. The performances are just amazing and this family is just so easy to fall in love with. Love, love this film.
Overall Grade: A+