Movie Series Review: A Beautiful Mind (Recent Historical Figures)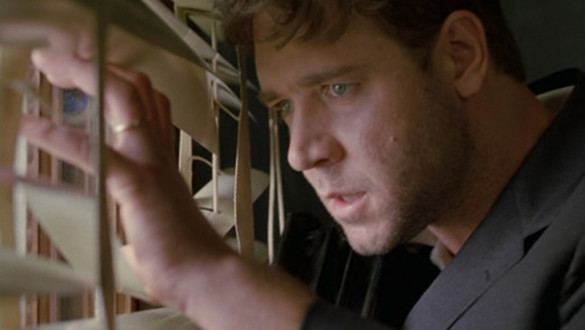 Year Released: 2001
Director: Ron Howard
Writers: Akiva Goldsman, Sylvia Nasar (book)
Stars: Russell Crowe, Jennifer Connelly, Ed Harris, Paul Bettany
Synopsis: After a brilliant but asocial mathematician accepts secret work in cryptography, his life takes a turn to the nightmarish.
DIRECTION
A Beautiful Mind is easily Ron Howard's best directorial effort, earning him Oscars for both Best Director and Best Picture. Howard crafts a fascinating movie, one that can't even be classified under one genre — it's a drama, a mystery, a love story and a spy thriller. He does a great job of blending all of these together to make an extremely engrossing and engaging movie that never becomes too sentimental or too preachy when it comes to mental illness. A Beautiful Mind has a great script, one that is mainstream but isn't formulaic, fantastic acting (not just the leads) and a wonderful score — and Howard does a great job of bringing it all together in one of the best movies of all-time.
Grade: A+
SCRIPT
How is it that the guy who wrote Batman Forever, Batman & Robin and Lost in Space could also write A Beautiful Mind? I don't know but that's exactly what Akiva Goldsman did. Somehow, someway (probably with the help of Howard or the author of the book it's based on), Goldsman wrote what is one of the best stories ever written for the movies. The way he was able to incorporate a bunch of different genres into a character study (which spans about 40 years of mathematician John Nash's life, exploring his college years, his marriage and his Nobel Peace Prize-winning days) while dealing with mental illness and paranoia is a high achievement. And the best part about it is that while it's a movie everyone can enjoy it also doesn't take a by-the-numbers approach. It's a movie that can be watched over and over again because the story is so engaging and always keeps you on your toes and the "twist" is implemented so well and so naturally that it's kind of easy to forget it's a "twist" at all. It's just a truly remarkable story about a truly remarkable person that needs to be watched by anyone and everyone.
Grade: A+
PERFORMANCES
From the supporting roles to the leads, A Beautiful Mind is filled with tremendous performances — but Russell Crowe and Jennifer Connelly are by far the standouts and their chemistry together is insanely good. Crowe is magnificent, earning an Oscar nomination for his portrayal of Nash. The way Crowe is able to bring to life the troubled genius is truly remarkable, bringing fragility and sensitivity to his already brooding intensity from his college years all the way through to his retirement. It's easily one of the best performances he's ever given. And Connelly isn't too far behind, winning the Oscar for her role as Alicia, Nash's wife. She is the heart to Nash's mind, always loving on him and giving him hope as he struggles to deal with his demons. Connelly's emotional depth is quite astounding, as she has some scenes and gives some little speeches that can make even a grown man shed a tear or two. While Crowe and Connelly are the standouts, everybody else is also really good, from Ed Harris to Paul Bettany and so on. A Beautiful Mind is just an all-around tremendously-acted movie.
Grade: A+
SCORE
The score for A Beautiful Mind is simply incredible — which is to be expected considering James Horner composed it. The score is everything you want: haunting (particularly those female chants), thrilling, sweeping, emotional and easy-going. It certainly adds a lot to the movie, helping bring out those emotions, and it's definitely one you can listen to outside of watching the movie (as I'm doing right now). And the original song, "All Love Can Be" by Charlotte Church, is pretty darn good, too.
Grade: A+
Overall Grade: A+