Movie Review: 'Wendell & Wild' Has High Ambitions, But Falls Flat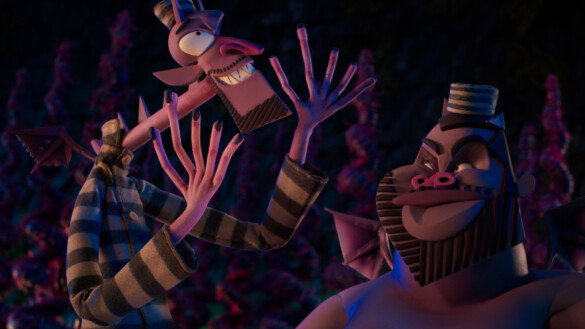 Director: Henry Selick 
Writer: Henry Selick & Jordan Peele
Stars: Keegan Michael-Key, Jordan Peele, Lyric Ross, Angela Bassett, Ving Rhames and James Hong
Synopsis: Two scheming demon brothers, Wendell and Wild, enlist the aid of 13-year-old Kat Elliot to summon them to the Land of the Living.
From the director of your favorite stop-motion animated Christmas film (it's not Tim Burton, dammit!!!) comes Wendell & Wild, a visually dazzling animated production that unfortunately falls flat on its stop-motion-driven ambitions. Keegan Michael-Key and Jordan Peele team up once again to play its titular demons, who work for their father, Buffalo Belzer (Ving Rhames) in trying to grow his hair back again using magic hair cream. 
However, when the two realize that the hair cream brings back the dead, they persuade a teenager named Kat (Lyric Ross) to bring them to the Land of the Living, where they will resurrect their parents (Gary Gatewood & Gabrielle Dennis). The two, unfortunately, get mixed up as they arrive, and reawaken Father Bests (James Hong) in the hopes that he will pay for their funfair. But he tells them that they need to resurrect the old members of the town council who will vote for Rust Bank's demolition by the Klaxons (David Harewood & Maxine Pearke), looking to build a new Klax Korp prison to replace the town. 
One of the most admirable elements of Wendell & Wild is that it doesn't shy away from discussing difficult subjects in front of children. Even with a PG-13 rating, I was impressed at the length Selick and Peele discuss the prison industrial complex, gender identity, and grief in a way that felt thoughtful and mature. When the film focuses on these aspects, it more than soars. The actors give great vocal performances (particularly Lyric Ross who brings a good amount of emotional depth to Kat), and handle the film's difficult material with care, so that everyone understands them clearly and sees the message Peele and Selick try to share. It's a challenging task to pack an animated film with themes that may not resonate to children, but translate it in a way that their understanding of it becomes universal, or that they would at least think of what they had just seen. Wendell & Wild treats those themes admirably, with enough poignancy that will make anyone care about what's on screen. 
The animation is, as expected, dazzling. Selick has always excelled at bringing fully-realized and lived-in stop-motion worlds to bask audiences in, and the town of Rust Bank is no different. Its history is expressed visually, and Selick does an impeccable job at crafting a bleak world where all hope seems to be lost, which gets turned around its head once Wendell and Wild start resurrecting the dead. The "resurrected" embody classic Zombie movements, and the scares feel like they're plucked out of a Universal Monsters picture. The action scenes are playful and kinetic, and the colors are terrifically vibrant. It's the type of movie that would look brilliant on the big screen, but Netflix doesn't seem interested in expanding its theatrical window (here's hoping people go see Glass Onion: A Knives Out Mystery next month). 
That said, it's a shame that the story's core is insanely formulaic. As soon as it begins, you can see everything coming a mile away. With a world that is this expansive and imaginative, you'd think Selick and Peele would infuse wonder and imagination in its plot, and yet it's the safest, least risky option offered to the viewers. It's a shame, because poignant themes like these deserve a story that raises awareness to them. But the story never focuses on one element–at times it's about Wendell and Wild, at others, it solely focuses on Kat and her friend Raúl (Sam Zelaya), without a cohesive focus behind it. What does it ultimately want to say? Or who does it want to focus on? It doesn't necessarily come together in a rewarding, or emotionally fulfilling way by the time it ends, which unfortunately hinders the movie at making a bigger impact than it should. 
Because of this, Wendell & Wild, unfortunately, falls short of its ambitions, even if its themes are handled with care, the animation is as vivid as possible, and the voice cast does a great job at bringing its characters to light. An unfocused and predictable plot sadly undermines the quality of the production and level of maturity Peele and Selick seem to want to focus on. But one thing's for sure, Selick shouldn't wait thirteen years for his follow-up film, especially in an era where dazzling animated works seem rare. 
Grade: C+