Movie Review: Despite being shrouded in tragedy, 'Waves' is gorgeous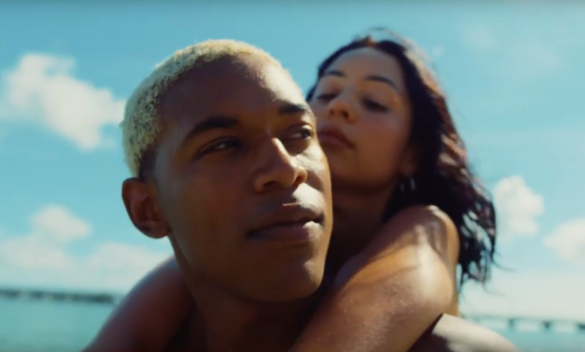 Director: Trey Edward Shults
Writers: Trey Edward Shults
Stars: Sterling K. Brown, Kelvin Harrison Jr., Taylor Russell, Renée Elise Goldsberry
Synopsis: Traces the journey of a suburban African-American family – led by a well-intentioned but domineering father – as they navigate love, forgiveness, and coming together in the aftermath of a loss.
There isn't a film that's come out this year (so far) that has caught up to the standards Waves solicits, stylistically and thematically. Trey Edward Shults set the bar too high, and that should be taken in the best possible connotation. Shults, who peaked his head out of the 2016/2017 Oscar and indie-revolution era, seemed to bubble up out of nowhere; earning this presence from the couple of notable hybrid melodramas under his belt. With Waves he steers even once farther into this void of familial tension and intrigue, which even I thought would eventually run out of gas to fuel the fire. But alas, it doesn't.
In hindsight it makes perfect sense. While not traditionally the most accessible piece of dramatic filmmaking that sets up this portrait of a family at large, there's plenty of self-indulgent freedoms that Shults manipulates into the scope of everything that feels worth it in the end. Frequent aspect ratio changes, visceral flashing/strobe lights of colors, the pulsating soundtrack—there's so many elements thrown into this melting pot that brews together the chaotic and hyperactive sensibilities present in the film—eloquently spilling from every frame. Not to mention the wonders and masterwork that DP Drew Daniels engages in against the backdrop of the South Floridian coastal region and suburbia. It's transcendent, hypnotic, if you will. Hypnotic in instances I never even knew movies could be. Perhaps all of the stunning imagery is what dials up the impact of the film. By painting the initial idyll connectivity of the movie's community, the subsequent demise of the ensuing on-screen events leaves one in a state of shock. Almost feeling as if you were a victim of blunt-force trauma.
Ultimately I think a handful of people are going to walk out of Waves as semi-skeptics. While a definitive argument can be construed about how there's two different movies going on, that's exactly what's so poetic about it. Everything unravels in this deliberately episodic nature. Compartmentalizing the different actions and effects on every character that's relevant to the arc of the story at that time. With the family playing this role of both catalyst and inhibitor in mutual lengths. When introduced to everyone, they're all (virtually) content with their lives at the moment. In reality contentment can be just as chaotic as can an unsatisfactory life. The screenplay does an astonishing job at tackling the mundanity and inner-complacency felt by Tyler (played to his superb capacity by Kelvin Harrison Jr.) that's being pushed on to him from his father (who's also played by the incredibly talented Sterling K. Brown). It all begins to shift once things transition into this deeply melancholic underbelly, arising from all of the repercussions of the film's climax.
It raises lots of questions about life, moreso the aspect of growing up. Despite this, it feels the furthest thing from a coming-of-age movie (at least in my eyes). The sudden pacing and synergistic movement of camera angles along with Shults' needle drop choices, bombards the viewer. Providing this somewhat extended metaphor, dare I say, for how rapid in which our lives can move at times. Yet even at this rate we're still receiving everything. We're feeling and registering all of these emotions, maybe not processing them in the healthiest of ways, but still registering them nonetheless. In this case it precedes and secedes the aftermath of a certain event—which is as much as I'll say about that.
Rounding out some of the best performances of the year, the four main cast members making up the family are nothing short of a marvel, respectively. It's all dubbed so real. When everything or even nothing is inflicted upon these characters, you feel it. The establishment of empathy so adolescent in the film's exposition leans back on to its rawness to enhance so many feelings. Everything about this movie between each department is unequivocally flawless. Everything down to the way people text, to the way people dress, even to how well-utilized and saturated music is incorporated into frame, calibrates you in to the center of this family. All of their psyches and insecurities. Even having a mutual awareness of how greatly each person is suffering from their own problems, not just in the family. It sits on this wavelength throughout the film, perfectly intact, ready to make your heart pound or your eyes water.
It baffles me that Trey Edward Shults was able to achieve such a monstrous feat. As previously said, this movie made me feel something. Something that I didn't even know I had felt yet. It's very rare that a movie, let alone a new movie, can stumble along and do that. Imagine sitting down with a notepad in front of you and jotting down every emotion you've ever felt or could recollect from your life. That's Waves.
Overall Grade: A+