Movie Review: 'Thor: Ragnarok' is one Hel(a) good godly stand-up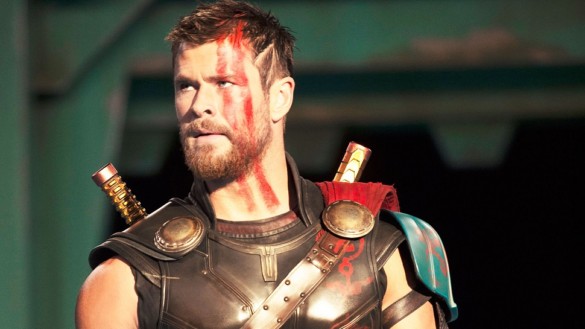 Director: Taika Waititi
Writers: Eric Pearson, Craig Kyle, Christopher Yost, Stan Lee (based on comics by)
Stars: Chris Hemsworth, Tom Hiddleston, Cate Blanchett, Mark Ruffalo, Jeff Goldblum
Synopsis: Imprisoned, the mighty Thor finds himself in a lethal gladiatorial contest against the Hulk, his former ally. Thor must fight for survival and race against time to prevent the all-powerful Hela from destroying his home and the Asgardian civilization.
In the middle of a fight with her younger brother Thor (Chris Hemsworth), Hela (Cate Blanchett) mockingly asks what kind of god is he. Identity was precisely the thing one questioned when the thunderous hammer time in London four years back turned out to be an affair absent of delight or, at the least, fun. As a follow-up, The Dark World was a disheartening one, especially when its predecessor was proof that Marvel can turn its superheroes, no matter how out-there, into enjoyable popcorn-munchers.
Ragnarok, safe to say, is the franchise's redemption; one that is colorful, in all sense of the word. With funnyman Taika Waititi at the helm, replacing the dullness and even the Shakespearean earnestness is humor—surprising, natural, and diaphragm-bruising brand of humor. The funny bone is targeted almost instantly, with a caged Thor explaining why he's so to a skeleton. And it continues when he faces his captor, the towering and fire-scarred Surtur (Clancy Brown), dedicating only half of an ear listening to the imminent and inevitable fulfillment of a prophecy: the apocalypse of Asgard.
And, guess what, it continues—to the point danger and despair become auxiliaries. The "oh no" after Mjolnir's breakage is replaced with all the "hahas" nestled on Sakaar, the interstellar counterpart of plastic-polluted Henderson Island where its flamboyant ruler, Grandmaster (Jeff Goldblum, gloriously nonchalant), hosts gladiator matches against his champion, Hulk (Mark Ruffalo). Revisits to a desperate Asgard in despair do occur, but they move fast to make space for whatever uproarious antics Thor and Hulk will raise alongside liquor-loaded bounty hunter Valkyrie (Tessa Thompson, oozing confidence) plus recurring mischief Loki (Tom Hiddleston). Apologies, almost forgot Korg the cordial (perishable-)rock warrior, who is a trove of witty lines—a result of being voiced and mo-capped by Waititi.
Don't misunderstand: laughing is great, particularly when the times are trying and especially when all the performers surprise at timing their funnies. It's just the hit-after-hit of firecracker gags of sight and of speech undermine Blanchett's efforts to make Hela sensual-yet-deadly, charismatic-yet-wily. But, as it is so visible on the cast's faces, everyone is having absolute fun bouncing off each other that nearly nothing matters; often are occasions proving that Waititi's direction is an improv-encouraged kind. Easter eggs and cameo roles benefit from this as they, say Sam Neill, Matt Damon and Luke Hemsworth, get to (momentarily) blend in as intended rather than a "Hey, that's Stan Lee!" at the first millisecond.  
With a $180 million budget, safe to say the Ragnarok Comedy Troupe has no worries about them being under-dressed or their production being unimpressive. As with Godzilla's Gareth Edwards, Waititi's first large-scale filmmaking brush has zero sign of greenhorn-ery. Action sequences are framed with such mastery from d.o.p. Javier Aguirresarobe that a pause equals a painting for the Louvre—or maybe (insert city)'s hottest roller rink since some of them may be coated with either a perfect needle drop of Led Zeppellin's Immigrant Song or Mark Mothersbaugh's playful synth score. Waititi and crew have used all the measures to muzzle the rogue "why no color" commenter…
Or rightfully subject them to What We Do in the Shadows' really harsh punishment.
So what is Thor the god of again, one may ask—with a jollier tone—when this kaleidoscopic superhero laugh-a-thon is over. Strange things have happened to let the God of Thunder evolve since 2011, and Ragnarok, by presenting the strangest ones thus far, truly move the character forward and keep us from dipping the rest of our toe into superhero fatigue. Villainy continues to be vanilla despite the menacing garb, but one still hopes that it will grow less so. It's the only way for the MCU to secure a high note at its purported end.
Overall Grade: B+
Hear our podcast review on Episode 246.