Movie Review: 'The Wolf of Snow Hollow' is Another Winner From Jim Cummings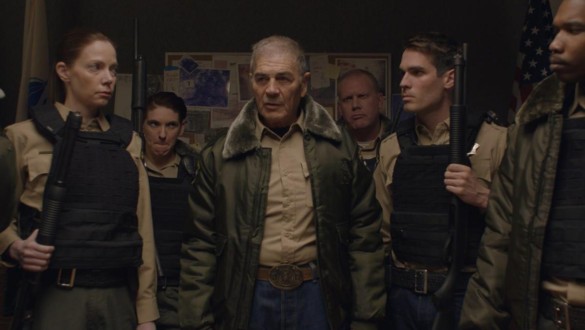 Director: Jim Cummings
Writer: Jim Cummings
Stars: Jim Cummings, Riki Lindhome, Robert Forster
Synopsis: Terror grips a small mountain town as bodies are discovered after each full moon. Losing sleep, raising a teenage daughter, and caring for his ailing father, officer Marshall struggles to remind himself there's no such thing as werewolves.
Jim Cummings is back with his second feature film, The Wolf of Snow Hollow. Like his debut film, Thunder Road (2018), The Wolf of Snow Hollow focuses on a small-town police officer's struggles to balance his family life, performance at work, and personal demons. But where Thunder Road focuses solely on one man and his family, The Wolf of Snow Hollow adds a potentially supernatural murder mystery to the mix.
Jim Cummings stars as John Marshall, an officer in the small town of Snow Hollow and son of the current sheriff. Marshall and his team are tasked with finding who (or what) are responsible for brutal murders that take place in their otherwise quiet town. Cummings wrote and directed this film as he did with his previous one. The Wolf of Snow Hollow also features Riki Lindhome as Officer Robson, Chloe East as Marshall's daughter Jenna, and was the final film for Robert Forster who plays Sheriff Hadley.
After just two movies, Jim Cummings has solidified a style of filmmaking that is instantly recognizable. His sense of humor and the way he makes audiences laugh at things that are not supposed to be funny is a skill that can only compare to Taika Waititi. Both directors are experts at taking situations that are normally not funny, like addiction, a horrific crime scene, or a death in the family and portraying them in a manner that is so ridiculous that it feels okay to laugh. This is not done in a disrespectful way, but more as to encourage one to find humor in any situation.
I have only one negative critique for The Wolf of Snow Hollow and it's that the sense of humor in the film may not work for everyone. But, anyone who's a fan of Cummings' previous film will most likely enjoy The Wolf of Snow Hollow as well. This movie may actually appeal to a broader audience due to the murder mystery and/or horror-comedy element as well as the ridiculousness of whether or not the culprit is a werewolf. Jim Cummings is a standout as Officer Marshall. His character is going through a lot emotionally, while also dealing with his family and stress from work. He shows us that in these situations it's ok to go a little crazy, and not handle everything with grace and poise. Riki Lindhome is a great counterpoint to his character as fellow Officer Julia Robson. She is a no-nonsense, blunt person at work that keeps her emotions in check. The rest of the cast is equally wonderful, especially Robert Forster as the aging but refuses-to-retire Sheriff Hadley. Other positive points for the film are the setting- a beautiful mountain town (filmed in Utah)-, cinematography, and a mystery keeps you guessing until the end of the film.
The Wolf of Snow Hollow is another fantastic film from Jim Cummings. Its quirky sense of humor, surprisingly deep family dynamics, mixed with the murder mystery story make for an entertaining and unpredictable horror-comedy. This movie instantly made it to the top of my ranked list of 2020 films and I think it may make its way to other's top 10's soon. It's made me a dedicated fan of Jim Cummings- I will see any movie he makes in the future. The Wolf of Snow Hollow is available on VOD on multiple platforms and has limited showings in theaters. I cannot recommend it enough
Grade: A+