Movie Review: 'The Trip to Spain' is hysterical and may be the best one yet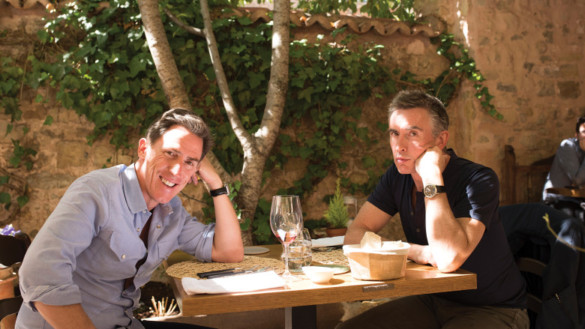 Director: Michael Winterbottom
Stars: Steve Coogan, Rob Brydon
Synopsis: Steve Coogan and Rob Brydon embark on a road trip through Spain, sampling the restaurants, eateries, and sights along the way.
The Trip to Spain is the third film in this Trip series and it may be one of the best franchises we have in modern cinema. The Trip and The Trip to Italy were both very delightful, but Spain may be the best of the bunch. It's the same premise – Steve Coogan and Rob Brydon traveling and eating food – and somehow it's still satisfying to see them riffing and bonding over shellfish. The impressions they bring with them on this particular trip are hysterical, especially the bits on David Bowie, James Bond and Marlon Brando. Like the previous two entries, The Trip to Spain is endlessly enjoyable in seeing how Coogan and Brydon try to out-do one another when it comes to their humor and impressionist work.
However, Spain is more than just silly gags, there is a human element that helps balance out the film's sense of humor. Coogan is grappling with aging and mortality while trying to formulate the narrative of his life through this trip. He's a two-time Oscar nominee that has a struggling career. On a side note, the jokes from Brydon's perspective around Philomena are amazing. Speaking of Brydon, the film is intentional to paint his career in a much different light. He doesn't have the accolades that Coogen possesses, yet the trajectory of his future looks much brighter. Those juxtaposing arcs crystallize in fascinating fashion when we see these two "characters" in vastly different places at the end, both emotionally and literally (in terms of geography).
The conversations between Coogan and Brydon are obviously funny, but they also deal quite heavily with Spanish history. And while that at times is meant for comedic relief, the film's notions of history are mostly tapping into the idea of mortality and identity. How will history define you? We learn a lot about how Spain is defined by its history, which mirrors the emotional progression of these characters as well in terms of how their careers have shaped their identity – both in the short term and the long term.
Michael Winterbottom's direction is also worth noting for how he captures the vast landscapes of Spain and the appetizing food that Coogan and Brydon eat throughout the film. The cinematography is beautiful, even breathtaking at times. Winterbottom does a great job of cuting to the kitchen or other people at these restaurants to help break up the conversation, making the setting feel immersive. The editing isn't perfect, but it's mostly effective. For a film that doesn't need flashy direction, and Winterbottom does show restraint overall, there are nice touches that amplify this experience cinematically.
The Trip and The Trip to Italy have some glorious moments of humor, in particular the way Michael Caine is brought up in those two films. Well, Caine is briefly brought up again in The Trip to Spain and it's fantastic. The timing of it is key. It comes of the heels of another impression, and given the jokes brought up, it was very appropriate to reintroduce Caine. There is a precision to this film that I just find impressive given this set up. The Trip to Spain is funny, smart and very well executed. The movie didn't have to become as thought-provoking as it is, but Coogan and Brydon do a great job of providing great balance to their characters that is attainable. I can't recommend this film enough.
Overall Grade: A-
Hear our podcast review on Extra Film: