Movie Review: The Magnificent Seven wasn't quite so magnificent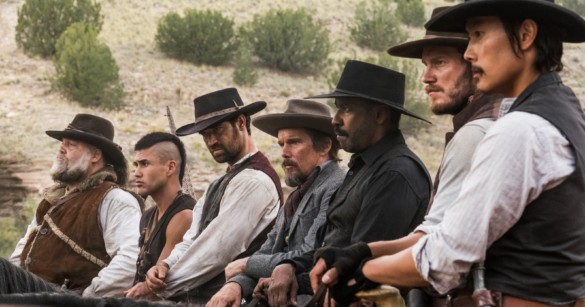 Director: Antoine Fuqua
Writers: Richard Wenk, Nic Pizzolatto
Stars: Denzel Washington, Chris Pratt, Ethan Hawke, Vincent D'Onofrio, Haley Bennett
Synopsis: Seven gun men in the old west gradually come together to help a poor village against savage thieves.
Set in the 1870's, the town of Rose Creek is under siege by industrialist Bartholomew Bogue (Peter Sarsgaard). Emma Cullen (Haley Bennett) enlists the help of The Western Avengers to help them take Bogue and his men. The Western Avengers are bounty hunter Sam Chisolm (Denzel Washington), gambler Josh Faraday (Chris Pratt), sharpshooter Goodnight Robicheaux (Ethan Hawke), tracker Jack Horne (Vincent D'Onofrio), assassin Billy Rocks (Byung-hun Lee), Mexican outlaw Vasquez (Manuel Garcia-Rulfo ) and Comanche warrior Red Harvest (Martin Sensmeier). It takes a good director to handle an Avenger ensemble and Antonie Fuqua, a fantastic action and thriller director, was a perfect choice.
I am not a western fan at all, so this movie was not something on the surface that I would have seen on my own accord, but being a film critic I am willing to give almost any movie a chance. From the jump, this movie wastes no time in diving into the action which prompts the recruitment of the Western Avengers. The leader of the group is Sam Chisolm, played by an excellent Denzel Washington. The Magnificent Seven is the third pairing for Washington and Fuqua (Training Day and The Equalizer), so Washington's strengths are played on very well here. As Chisolm, he has that Training Day attitude.
The action scenes are a plenty in this film and the IMAX sound enhanced the viewing experience, but the issues for me evolve around the supporting characters. The bad mix of personalities at times is awkward, especially when all members of the team are together. However, I do appreciate the diversity of the team ensemble and how they play with that throughout the film. I'm usually a fan of Chris Pratt but his characters' jokes didn't work for me here. The overall dynamic of the team was playful but very disjointed at times.
I don't why Haley Bennett, who plays Emma Cullen, was not given more to do in this film. She holds her own in several parts of the film and is one of the most logical characters in this film. She is also the films MacGuffin, so it doesn't make sense when she more or less disappears in the film's back half. Bennett is great but her character is mostly wasted.
I do not watch many Westerns, and maybe the pacing of the film is typical for films in this genre, but The Magnificent Seven felt much longer than it needed to be, by about 25-30 minutes. There is a reason why I do not like remakes or re-imaginations and this film did not offer anything but a mediocrity of the original.
Overall Grade: C
Hear our podcast review on Episode 188, coming soon.