Movie Review: 'The Inspection' Is Great Art from Terrible Trauma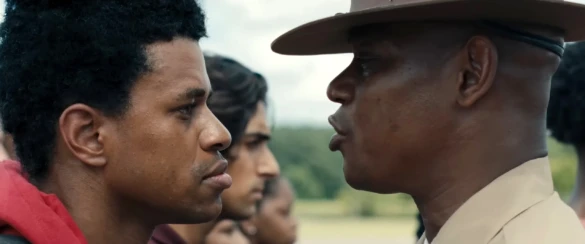 Director: Elegance Bratton
Writer: Elegance Bratton
Stars: Jeremy Pope, Raúl Castillo, Bokeem Woodbine, McCaul Lombardi, and Gabrielle Union
Synopsis: A young, gay Black man, rejected by his mother and with few options for his future, decides to join the Marines, doing whatever it takes to succeed in a system that would cast him aside.
Elegance Bratton's feature directorial debut, The Inspection, is not easy to watch. Partly based on his real-life experiences as a Marine, the movie follows Ellis French (Jeremy Pope), who has recently enlisted in the Marines. His mother (Gabrielle Union) dismissed his son after he came out as gay, and he has little to no opportunities for his future. When French arrives at bootcamp, he is confronted by an aggressive drill sergeant (Bokeem Woodbine), who physically and mentally torments him for his sexual orientation. 
French is also subject to homophobia from his recruits, notably Lawrence Harvey (McCaul Lombardi), who tampers with a cardboard target to make believe that French had not hit any target with his weapon. Meanwhile, French starts to have a bond with another sergeant, Rosales (Raúl Castillo) who teaches him how to toughen up as a marine without the physical and emotional abuse of sergeant Laws (Woodbine), which Rosales thinks he is going too far on French, and the recruits as a whole. 
Seeing Woodbine's Laws torment French like this is deeply gut-wrenching, simply because it was based off of director Elegance Bratton's real life. We've seen many films where the drill sergeant abuses their recruits. It's in every military movie, as a rite of passage if you will. But we've never seen it depicted in the way Bratton does in The Inspection, which feels painful to recreate and revisit for the filmmaker. It's even more painful when the film ends with a dedication to hislate mother, with the audience never knowing if they reconciled before she passed away. 
Pope is superb as French, giving one of the most emotionally impactful performances of the year. He has a hard time hiding his sexuality, developing an erection in the shower by fantasizing himself with Rosales, who may or may not be of the same sexual orientation as French. When the movie goes into French's fantasies, it changes color, and brings a deeper emotional level to the film, and to the character. Cinematographer Lachlan Milne crafts shots with great depth and symmetry to the frame, representing the kind of stature any marine should have. 
And yet, French does not, and will not fit in this oppressive system, as much as he tries to restrain himself from his sexual impulses. Castillo is a great supporting presence to Pope as Rosales, and shares two sequences with him that, in my opinion, are the heart and soul of the film. But the real show-stealer of the picture is Bokeem Woodbine, who continues to prove how big of a force he is in film and TV. Seriously, he has been doing this for more than thirty years, and continues to impress with every single role he takes, even if the film he stars in may be of lesser quality.
Thankfully, The Inspection is a well-written film, and he carries most of the emotional tension between French and Laws through his magnifying, and yet absolutely terrifying portrayal of the drill sergeant. Even when he is at his calmest, you know there's something rummaging in his head that he hides to himself, and then inflicts upon the recruits. It's one of the best performances I've seen in any movie this year, and one that cements Bokeem Woodbine as more than an "underrated" actor, and one of the greatest to have graced the silver screen. 
Unfortunately, the movie does not develop Ellis' relationship with his mother as much as it should. Gabrielle Union's screen time is powerful, but limited, and that's due to how much he spends time at bootcamp, away from his family. The film's 95-minute runtime is short, and could've greatly benefited from an extra ten to twenty minutes to expand a bit more on how Ellis perceives his mother, and how his mother perceives her son, now that he has graduated from the Marines. The final scene between Union and Pope isn't easy to watch, but there's a bit of distance between the two characters that hinders its impact 
Still, The Inspection remains a must-see. With career-defining performances from Pope, Castillo, and Woodbine, the film is one of the most important of the year, born out of someone's personal trauma for the world to see. They're not the easiest films to make, but the catharsis feels real. And you can't help but laud Bratton for putting himself out there and exposing a part of his life on screen. It takes courage to do what he did, and to do it gracefully is even more impressive. 
Grade: A-