Movie Review: 'The House' Doesn't Feel Like A Home At All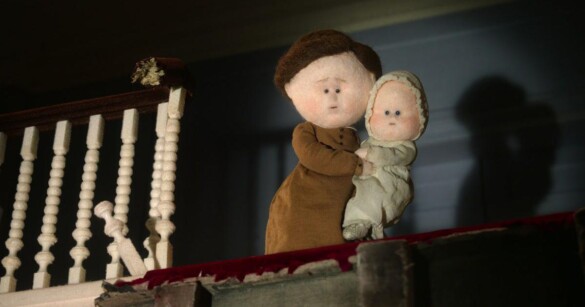 Directors:  Emma de Swaef, Marc Roels, Paloma Baeza, Niki Lindroth vonBahr
Writer: Enda Walsh
Stars: Matthew Goode, Helena Bonham Carter, Mia Goth
Synopsis: Across different eras, a poor family, an anxious developer and a fed-up landlady become tied to the same mysterious house in this animated dark comedy.
Here's a film to spice up your film palate so soon into the new year; an adult stop-motion anthology film that is split into three separate stories, with each story set in the same house during different periods in time. The animation is both creepy and oddly mesmerizing; so, on paper, this sounds like an absolute treat, right? Well, what starts as a perfect blend of bizarreness, with an engaging story, begins to slowly drop off as the film unfolds. The first section is undoubtedly the highlight; a fabulously unsettling and funny story with a spooky twist, the second tries to copy the fundamentals of the first, and then the third forgets everything that the previous chapters tried to establish.
I've always felt that stop-motion films don't need any assistance in making me feel unnerved, without feeling the need for any additional moments of terror. It has something to do with the slowness of the figurines; those jerky little movements and the severe lack of emotion these detailed puppets possess. All these things hold true to the first chapter, but to top it off, there is a very uneasy atmosphere attached to the story, which really does elevate it to the top of this anthology's tree.
The first chapter's creepiness hits you right off the bat (it's those weird-looking figurines with giant heads and mousy features that get you – why are their eyes so close together?) – these puppets are memorable that's for sure. Part one is directed by Emma de Swaef & Marc Roels and is set sometime in the early to mid-20th century. It follows Mabel (Mia Goth) who lives in poverty with her father Raymond (Matthew Goode), mother Penny (Claudie Blakley), and newborn sister Isobel. The family is offered a house of grand proportion by a mysterious benefactor, Mr. Van Schoonbeek, with his butler Mr. Thomas (voiced brilliantly by Mark Heap) walking them through the rules of the house. As you can imagine, things aren't as simple as first thought in this house of mystery, with Mabel taking it upon herself to get to the bottom of the crazy goings-on.
The weirdness of this house is there for all to see (keep looking around corners for those crafty builders), but this chapter also has wonderful humor and some genuine terror. But hold on a second, because aiding that great terror is an exquisite score, created by Gustavo Santaolla, which enhances that already tense atmosphere.
With the first part being so intuitive and engaging, the fact that the following stories are kind of flat and uninteresting is quite disappointing. I can't help but feel they missed a trick here by not following the first's footsteps. Take the second chapter for instance, directed by Niki Lindroth, which sees the house now in the present day, in a world where anthropomorphic rats have become the driving force of humanity since the original story – what on earth happened by the way? Yeah, that is a weird concept I'll admit, but it's not like a certain Wes Anderson hasn't been playing around with humanoid animals for years. One particular rat though (voiced by Jarvis Cocker) is attempting to develop the house but runs into a beetle infestation and some other unwanted guests.
Apart from some cool cinematography (which tries to emulate the feeling of a horror film), more of that great animation, a handful of creepiness towards the end, and some scenes that kind of remind me of something… Oh yeah, that's it, more Wes Anderson, there isn't too much to shout home about. But it is the final chapter that really tosses all the original ideas out of the window; forget about the weirdness and the unsettling nature of the house, chapter three doesn't engage with you on any level.
This third story (now directed by Paloma Baeza) is set in the future, with cats now ruling the roost on this land (so, I'm guessing that the cats ate all the rats then?), a land that has been left in an apocalyptic state due to a flood – cats surrounded by water… how ironic. Rosa (voiced by Susan Wokoma), the self-appointed landlord of the house, attempts to return it to its former glory (which isn't much going off these stories now is it?). Rosa's tenants include Jen and Elias (Helena Bonham Carter and Will Sharpe), with the free-thinking Cosmos (Paul Kaye) also making himself known later.
What the third chapter succeeds at is perfectly capturing the different personalities of real cats; ranging from uptight and stubborn, to hippie cats with relaxed characters (we've all met some of these different feline companions). The film slowly starts to lose its edge as the stories progress, and a film that started so bright with great quirkiness and originality steadily begins to lose all its engagement. The weirdness has disappeared, and we are left thinking, "what could have been".
Grade: C