Movie Review: 'The Greatest Beer Run Ever" is a Film as Flat as the Beer Being Served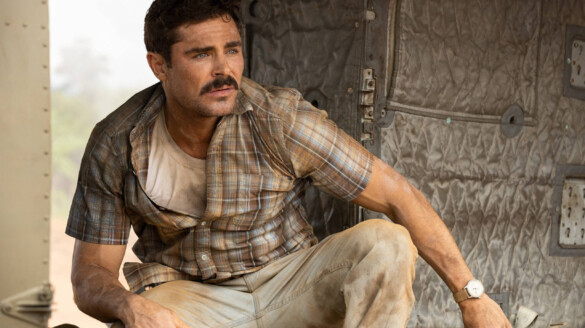 Director: Peter Farrelly
Writers: Peter Farrelly, Brian Hayes Currie, Pete Jones
Stars: Zac Efron, Russell Crowe, Jake Picking
Synopsis: A man's story of leaving New York in 1967 to bring beer to his childhood buddies in the Army while they are fighting in Vietnam.
With the release of The Greatest Beer Run Ever, it means we have officially seen every single type of Vietnam war film imaginable – it's pretty much all been covered now, and this is perhaps the most underwhelming of them all. In recent years, Peter Farrelly has ventured down a very different path with his films, known for crass and quirky comedies either on his own or when partnering with his brother Bobby, Farrelly's filmmaking career has definitely shifted. This latest offering actually shares a relationship with his previous film, the controversial Oscar winner Green Book: a middle-of-the-road "feel good" film featuring a naïve American who ventures on a journey that changes his views and preconceptions. And even though The Greatest Beer Run Ever tastes as flat as warm, three-day-old beer affected by the Vietnamese humidity, its heart at least tries to be in the right place.
The story itself is a brilliant one, and regardless of how unbelievable it may sound, it did happen to some extent. Based on the life of New York local John "Chickie" Donohue (Zac Efron), and his decision to travel to Vietnam in 1968 so he can show support to his army buddies by gifting them some delightful beers. Chickie is soon confronted with the horrors of the war and the mountainous task he has taken on though, which forces his patriotic faith to the brink. A story as quirky as this, one with so much warmth and hope should be represented with great excitement, something that really illuminates your soul with its powerful message. But instead, it turns into something very predictable and incredibly formulaic, with enough Vietnam war film cliches to send you in a spin.
What Peter Farrelly has done here is make an already hard-to-believe story even more unbelievable, everything just falls so perfectly into place; Chickie finds himself in the exact place that he needs to be at the perfect time – this guy gets in where air can't. And although it tries (and you'd better believe it really does try) it just doesn't have that Farrelly brother's comedic charm and likeability that so many previous films have. It also suffers from not having a strong comedic actor to anchor the film and support it through the low points, especially when it really needs one to call upon. Zac Efron tries his best but he's just not as enigmatic enough and he seems to lack a certain something – a little bit of magic – from the character. And it's not like you can call upon Bill Murray to drag you out of the trenches either because he plays such a bit-part role that he's almost pointless, contrary to what his billing might say.
What it does a good job of though (because it's not all bad, you know) is to show how the impact of war can affect a blue-collared, average joe. It feels like your typical patriot film that many Americans might want to watch on a chilled-out Sunday afternoon while sipping on a few cold ones. There's even a change in the wind as well, where it slowly moves away from the" feel-good comedy" aspect and attempts to move through the gears and deliver something more heartfelt – it's just a shame that it happens 30 minutes from the end, but it is what it is. The key moment for this is the reintroduction of Arthur Coates (Russell Crowe) who partakes in an actual adult discussion with Chickie before they then traverse through the burning buildings, the explosions, and the death, you know, all the war stuff. It offers a stark realization of the circumstances, away from all the fun and games, and the beer, of course.
This is far from a terrible film even if it is slightly mistaken about what it actually wants to be. It desperately tries to live up to the quirky and uplifting story that it is based on, with a touch of Farrelly humor sprinkled over the top, but none of the humor really sticks, and for a film that is dubbed as a "comedy" it's severely lacking the crucial ingredient you need to become a success. The Greatest Beer Run Ever is ultimately a very simple film, but a film that does have a very crucial message, nonetheless. The message it successfully relays is that, regardless of how you viewed the Vietnam War or any war in its stead, every soldier needs the support of their friends and family, whether it be spiritually, morally, or in this case, through a brazen but big-hearted neighbor and a sack full of warm beers.
Grade – C