Movie Review: 'Tenet' is Christopher Nolan's Most Complicated Movie to Date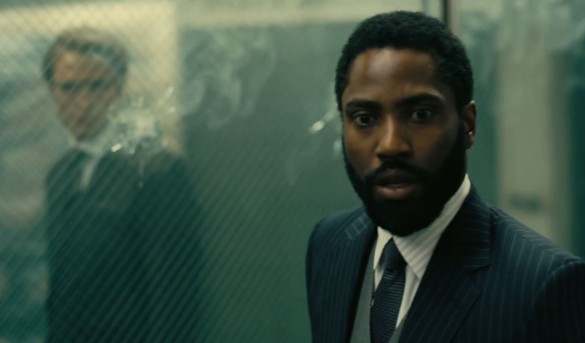 Director: Christopher Nolan
Writer: Christopher Nolan
Stars: John David Washington, Robert Pattinson, Kenneth Branagh, Elizabeth Debicki
Synopsis: An unnamed CIA operative, known as The Protagonist, is recruited by a mysterious organization called Tenet to participate in a global assignment that unfolds beyond real-time.
Christopher Nolan is known for his overly complicated narratives, and his latest film, Tenet, is perhaps his most complex and confusing picture yet. It's hard to discuss Tenet without giving away too many details, but it is one of those films that you feel compelled to discuss with others the moment you have finished it. It's a frustrating puzzle piece of a film that both delights and baffles you at the same time. In terms of its aesthetics, it is perhaps Nolan's most visually accomplished film since Interstellar. However, unlike Interstellar and Inception, it lacks that human connection between the viewer and the main character (known simply as the Protagonist), and as a result, we never feel fully invested in the struggle in the journey of our protagonist. Sure, the stakes may be high, but why should John David Washington care exactly? What does he have to lose? It would appear that Nolan got so caught up in the 'science' of time travel that he forgot to develop the backstory for his main character.
So, what's the easiest way of summing up the plot to Tenet without giving away too much? Well, the film follows an unnamed CIA agent known simply as the Protagonist (Washington) who participates in an undercover operation at a Kyiv opera house, rescuing an exposed spy and capturing a strange artifact. He is saved by a masked soldier who appears to "un-fire" a bullet through a terrorist. After being tortured by some Russian mercenaries, the Protagonist decides to take a cyanide pill rather than disclose any information. This turns out to be a fake pill, and the CIA is so impressed by his level of duty that they inform him of a secret organization called "Tenet" which leads him to Laura (Clémence Poésy), a scientist studying bullets with "inverted" entropy which allows them to move backwards through time.
The Protagonist traces the bullets to Mumbai-based arms dealer Priya Singh (Dimple Kapadia). With the help of a local contact named Neil (Robert Pattinson), the Protagonist infiltrates Priya's compound and learns she is also a member of Tenet. She informs him that her bullets were inverted by Andrei Sator (Kenneth Branagh), who has a means of communicating with the future. Enlisting the help of Sator's estranged wife Kat (Elizabeth Debicki), the Protagonist decides to get close to Sator to discover his master-plan, which may involve the entirety of time being erased.
If the above plot summary leaves you scratching your head, then please accept our apologies. Tenet isn't an easy film to sum up in a couple of paragraphs. As per all of Nolan's films, there are several twists and turns in terms of plot and a dozen or so characters to keep track of. The film is made up of a brilliant main cast with Washington proving to be a compelling leading man, despite the lack of development or background to his character. The chemistry between Washington and Pattinson is another highlight, and they have some really great banter with each other. However, in terms of comedy and light-heartedness, Tenet is perhaps Nolan's most serious film. The efforts at humor and certain one-liners don't exactly work and come across as painfully cheesy.
In terms of supporting cast, Debicki also deserves a special mention, especially in terms of how the female characters in Nolan's films usually feel undeveloped and are often given minor roles. Branagh's Sator is perhaps one of Nolan's most chilling villains, and it's clear that Nolan is far more interested in this character rather than developing his hero. However, other characters such as Michael Cain's Sir Michael Crosby and Poésy's Laura are reduced to merely spouting exposition, and their appearances feel more like glorified cameos.
Visually the film is stunning, with some awe-inspiring action sequences, including a truly "edge-of-your-seat" sequence that takes place at Oslo airport. During this scene and throughout Tenet, the score by Ludwig Göransson and cinematography Hoyte van Hoytema is simply superb. However, the audio and sound-mixing make it very difficult to follow specific plot points. At times, Tenet whizzes by so quickly that you almost wish there was an intermission so you could gather your thoughts or one of the characters would give you a quick recap of what's just happened. Apparently, it took Nolan five years to write the screenplay, and he conceived the concept over twenty years ago. Maybe, it's because he's been developing this story for such a long time that the overall end product feels so bloated. Sometimes, less is more.
Of course, the main question on everyone's mind is whether or not it's worth venturing to the cinema during the COVID-19 pandemic to seek out Tenet? Certainly, you would not be able to replicate the same cinematic experience at home. Tenet is a film that was made for the big screen, it's a full-on spectacle and an action-packed blockbuster that needs to be experienced in a cinema. You need to feel the seats and floor vibrate from Göransson's score, and you need to crane your neck to appreciate the wide-screen shots by van Hoytema. Despite all of its issues in terms of plot and inaudible dialogue, Tenet is a reminder that nothing can quite beat the cinematic experience.
Grade: B-