Movie Review: 'Super Dark Times' is certainly dark, but also quite super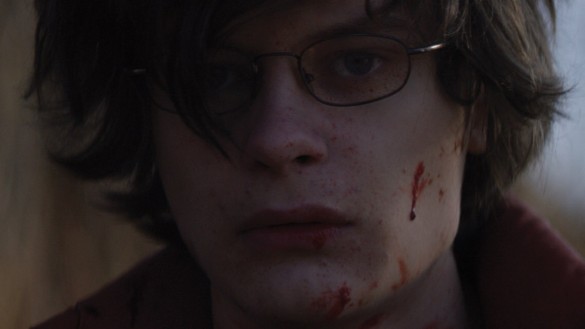 Director: Kevin Phillips
Writers: Ben Collins (co-writer), Luke Piotrowski (co-writer)
Stars: Owen Campbell, Charlie Tahan, Elizabeth Cappuccino
Synopsis: Teenagers Zach and Josh have been best friends their whole lives, but when a gruesome accident leads to a cover-up, the secret drives a wedge between them and propels them down a rabbit hole of escalating paranoia and violence.
First time director Kevin Phillips shows a tremendous amount of vigor in Super Dark Times, interjecting skillful precision in how he paces, edits and shoots this film. The 90's flourishes come alive here, taking me back to my childhood in ways I haven't experienced in a long time. However, nostalgia isn't a friend in Super Dark Times, but rather it allows these characters to experience lossness in a more isolated and truthful way.
The ominous prologue is very cold and suggestive of how bleak things can get, a through-line that wreaks havoc in the film's back half. Phillips opens the film with dark foreshadowing, but the mood quickly shifts to a more light-hearted opening act where we meet friends Zack and Josh. In fact, outside of that prologue, the opening 20 minutes plays more like Stand By Me in how we see the endearing comradery between Zack, Josh, and two other friends – Daryl and Charlie – they meet up with. It's actually quite delightful.
Soon after though, as the young boys are smoking weed and playing with a samurai sword, things become deadly. From there, Super Dark Times lives up to its title as these boys begin to cope with the harsh reality around them. In an instant, childhood innocence is lost and it's in these themes where Kevin Phillips showcases true prowess.
Super Dark Times is a film about the inevitability that innocence will be lost, and it's what you replace with that defines you. It's less concerned with being another "coming of age" film, but instead it's more involved with how teenagers react to the bitter brutality of life. Each character deals with this differently, offering up viewpoints that range from complete despair to anger to clinging to hope.
These themes ring very true in part due to Phillips' aesthetic vision, which couples extremely well with its dramatic overtones. The film looks like it came from Alfonso Cauron's Children of Men. The town is colorless and lived in, giving it a post-apocalyptic ambiance. That visual approach gives this film a mood that evokes a feeling of uneasiness, something that palpably works in its favor as the story unfolds.
As much as I adored the first two-thirds of Super Dark Times, the final act does fizzle out slightly. The film becomes less interested in its vivid visuals and stark symbolism, and instead it becomes too entangled in its thriller components. The narrative feels confused and misguided, leaving loose ends that are dramatically frustrating.
Despite that, Super Dark Times is a fascinating film that tackles important themes that I found nuanced and invigorating. Own Campbell, Charlie Tahan and Elizabeth Cappuccino are really terrific in their respective roles. Phillips' direction is some of the best I've seen in 2017, especially in how he manages tone, visuals and the fallout of this unfortunate tragedy in these characters. The score and sound design is also captivating in this film.
The film is currently available on demand and is streaming on most platforms. Please seek it out.
Overall Grade: B+
Hear our podcast review on Extra Film: