Movie Review (Sundance 2023): 'Fair Play' is a Romance Thriller Not To Be Missed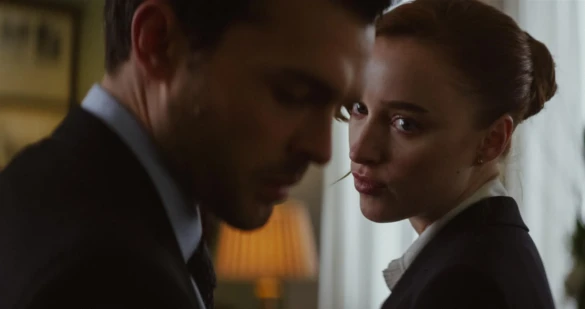 Sundance Movie Review: 'Fair Play' is a Rip-Roaring Romance Thriller Not To Be Missed
Director: Chloe Domont
Writer: Chloe Domont 
Stars: Phoebe Dynevor, Alden Ehrenreich, Eddie Marsan, Rich Sommer, Sebastian De Souza  
Synopsis: An unexpected promotion at a cutthroat hedge fund pushes a young couple's relationship to the brink, threatening to unravel far more than their recent engagement.
When I read that Fair Play sold to Netflix for a whopping twenty million dollars, I was not surprised. The first film I saw at this year's Sundance Film Festival, Fair Play immediately drew me in with a memorably twisted opening scene that sees a young couple get engaged in a bathroom after a sexual mishap. They have chemistry, they're in love, so why don't they tell all their friends and family the good news? Well, as it turns out, Luke (Alden Ehrenreich) and Emily (Phoebe Dynevor) have an unusual relationship in that they both work as analysts at a hedge fund where romantic relationships violate company policy. 
The two keep their relationship a secret behind closed doors, even relish their misconduct as they sneak glances at each other in the work elevator, but their happiness together comes crashing down when Emily becomes the sudden choice to become the hedge fund's new portfolio manager, a high-stakes position at the company she insisted Luke would get. Campbell (Eddie Marsan), the owner of the company, makes it clear Emily is more valuable than Luke ever was, and the balance of power starts to slowly chip away at the love and intimacy between the young couple, eventually to an explosive effect. 
This feature directorial debut of Chloe Domont—she's directed episodes for the television series Billions and Ballers—has an intriguing set-up that makes you care about the characters and features a high-stakes finance company setting that is fascinating from minute one, but it's the ratcheting up of tension in the second half that makes Fair Play a true stunner. Other filmmakers might not have gone for the throat the way Domont does with Luke and Emily, but she never backs down on just how ambitious and, at times, completely insane these characters are when it comes to their work and the images they want to project to everyone else. 
There are scenes of startling chaos, Luke's jealousy for Emily's promotion making him quietly seethe with rage until he finally explodes at her in their condo, Emily unloading on him with even more antipathy, their relationship not only turning sour but shockingly dangerous by the film's third act. Domont has written a brilliant screenplay that manages to make the two leads realistic even when their situation turns scary, mean, and positively Shakespearean toward the end. She understands the finance world, too, the setting always believable and continually adding to the tension, and she never forgets to make the movie entertaining, the narrative eventually bordering on the thriller genre, not a single moment wasted within its running time. 
Of course, none of Domont's astonishing writing and directing would matter if the actors didn't match her talent, and do they ever. Phoebe Dynevor gives an astonishing performance that will be talked about in the months to come; her confidence, sexiness, and intelligence coming through in every scene. I love how she never allows Luke to tear her down, always stays true to her values and self-worth. She's most well-known for Bridgerton, of course, but this project will put her on the map for more juicy modern roles in cinema. Alden Ehrenreich hit a road bump in 2018 with his starring role in the underperforming Solo: A Star Wars Story, but Fair Play should bring him right back to the top as an in-demand dramatic actor, his later scenes emotionally raw and intense as Luke's mental stability begins to crumble.  
The supporting cast is top-notch as well, like Rich Sommer and Sebastian De Souza, and especially Eddie Marsan as a ruthless, intimidating figure at the hedge fund who will pretend to be your friend until you make a decision that loses his company money. He says rotten things to Emily when she makes a bad financial call, he sneers in the face of Luke when he makes a plea to further his career. He's the kind of boss who can make or break you with the snap of his fingers, and Marsan delivers a brilliantly modulated performance that should be remembered come awards-time. 
Fair Play is a harrowing drama that features one mesmerizing scene after another. Just when you think Domont won't go that far, she does, and takes the characters into even deeper realms of Hell. A later scene in a bathroom that slightly emulates the main characters' first scene in a bathroom is ugly and brutal, and the final scene, which I wouldn't dare give away, sticks the landing in the most amazing way. There might be one too many scenes of the characters screaming at each other in the second half, but I loved almost everything about this; it's one of my two favorites from the Sundance Film Festival. If you're a fan of tense romantic thrillers that will challenge you, surprise you, and totally astonish you, Fair Play is a movie not to be missed. 
GRADE: A-