Movie Review: 'Scary Stories to Tell in the Dark' is sufficiently freaky and funky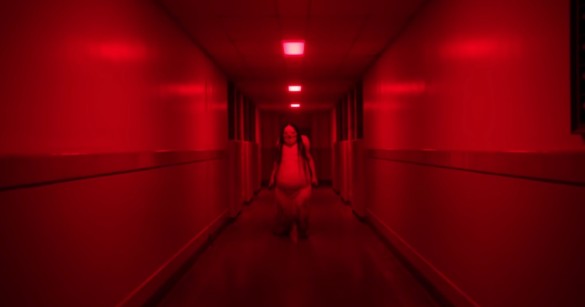 Director: André Øvredal
Writers: Dan and Kevin Hageman & Guillermo del Toro; Marcus Dunstan and Patrick Melton (story); Alvin Schwartz (books)
Stars: Zoe Colletti, Michael Garza, Austin Zajur, Natalie Ganzhorn, Gabriel Rush, Lorraine Touissant, Javier Botet, Troy James, Mark Steger
Synopsis: A group of teens face their fears in order to save their lives.
Death Note smesh note: There's another book on the shelf that is more proficient in doling out demises. It does require the bloodthirsty writer to do more than just jotting down names, however. "Caveat auctor" then?
Not so to Sarah Bellows (Kathleen Pollard), a formerly alive (and not exactly gone) resident of Mill Valley, Pennsylvania, the dreamy-by-day and chilling-by-night setting of André Øvredal's second knock on horror's door. With a pen that leaks crimson "ink," she can construct the final moments of her target in whatever way that pleases her, rendering them the doomed protagonist of a self-contained scary story that is always titled, suspenseful and economical. It's a method that the late author Alvin Schwartz also employed, for 82 times — or three books, but thankfully his writing adhered to the rules of reality and only those i.e. it's dread rather than death that gets to folks.
Kudos to the five writers of Scary Stories to Tell in the Dark, one among them is Guillermo del Toro, who's also producing, for finding the soundest way to translate Schwartz's texts to the big-screen, removing their discreteness and tying them together with the well-acted youthful quintet — Stella (Zoe Colletti), Ramón (Michael Garza), Chuck (Austin Zajur), his sister Ruth (Natalie Ganzhorn) and August (Gabriel Rush) — that stumble upon Sarah Bellows' tome on Halloween. While none of the characters are developed to the point that they can affect, which is unfortunate, they have been given existences that complement the setting to an incredible degree. Mill Valley, despite often bathed in explosive falltime colors through Roman Osin's lensing, is where conservatism thrives. Our young characters are circles among squares (Stephen King says hello), as expected, but the mismatching stems from unrealized wants and needs and not embedded eccentricities. This point is most apparent in Stella and Ramón, the former a horror writer who believes it's wiser to not share her work and the latter a visitor whose Hispanic identity makes him susceptible to racist attacks.
Then there's the presence of Nixon at key points in the film, a name closely attached to one of the scariest — and true — stories there is: The Vietnam War. Take note of this when you watch the film — it might add another layer of context to the effect of Bellows' dangerous words. This is also further proof that the writers' ability to build the background stuff is nothing short of excellent. If only the same applies to the humans in the foreground…
But whether at a distance or in your face, the monstrosities, once 2-D and static as illustrator Stephen Gammell intended, will always be the high point of the film. With Spectral Motion's gorgeous makeup work, talented performance artists and director Øvredal's knack for using space to oppress, Harold, The Red Spot, The Rotting Corpse, The Jangly Man and (especially) The Pale Lady all receive an impressive upgrade, bringing to Scary Stories to Tell in the Dark an unprecedented level of terror. Gruesomeness, too, at times. Don't be surprised if you too find yourself trapped in a red room with an advancing bulbous, grinning lassie at bedtime. That said, viewer beware: There will be some undercooked character beats to contend with before the surprisingly nerve-fraying encounters, so have patience and don't forget that there is goodness to gather in the well-realized environs of 1960s U.S.A.
Overall Grade: B