Movie Review: 'Rough Night' is, well, pretty rough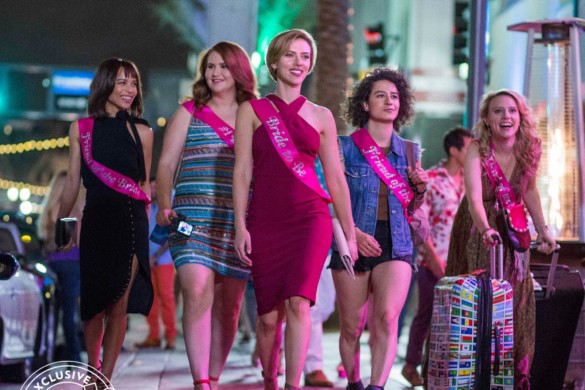 Director: Lucia Aniello
Writers: Lucia Aniello, Paul W. Downs
Stars: Rachel Weisz, Sam Claflin, Holliday Grainger, Iain Glen
Synopsis: Scarlett Johansson, Kate McKinnon, Zoë Kravitz
Watching Rough Night will probably render a rough night for a lot of audiences. Lucia Aniello's directorial debut is overly clichéd with dry characters and a tedious narrative. If you are waiting for a movie that will match the caliber of Kate McKinnon's comedic abilities, you will unfortunately have to wait a little bit longer.
2017, in particular, looks very promising for women directors with several shattering genre expectations. Aniello – of Broad City fame – is still able to demonstrate her comedic strengths in similar ways that makes Broad City such a great and funny show. For example, Broad City is great in how it spreads its humor around, which Rough Night was able to achieve, but it lacks a consistency that stifles the overall experience.
As stated above, the plot really kicks in when a male stripper becomes involved, and if you've seen the trailer, you know bad things happen quickly. Let us backtrack, however, to how the girls get to this point. Jess (Scarlett Johansson) reunites with four of her best friends (Jillian Bell, Zoë Kravitz, Ilana Glazer, Kate McKinnon) reunite ten years later for a wild bachelorette weekend in Miami. The first 25 minutes is the same Ctrl-C, Ctrl-V of things we have seen many times before. I am all for flipping the script and showing that men are not, the only ones allowed to have this type of fun but will not defend poor execution.
The stripper scene itself, while some humor is to be had, it overall feels demeaning and is somewhat mean-spirited. Once the chaos unfolds, the movie takes a huge nose dive and tries its hardest to keep you entertained but merely does not work. There is side plot with Jess' fiance, Peter, that involves diapers and sexual activity that does not work. The stripper essentially becomes a prop for most of the film and the way Aniello uses it comedically is hit or miss.
Rough Night is a comedy that relies heavily on dirty jokes that become excessive and tedious by the end. The film's screenplay – written by Aniello and her partner Paul W. Downs – deploys some of its jokes in a way that feels rather regressive socially. Aniello is more than capable of making a pure comedy without the overuse of dirty comedy as a punchline. In the few moments where the film focuses on the camaraderie between the characters and tackles this idea about living in the past, that's when the film is at its best, it just comes too late to make a difference.
Scarlet Johannsson does not have the same comedic chops as the other woman, and is outclassed in almost every way. Kate McKinnon and Ilana Glazer deliver the best two performances and show that you do not need crass humor all the time to be funny. Jillian Bell plays the same sex-driven, drug-snorting character she always does.
I expected much more from Aniello than this snooze fest. Broad City showcases her potential and hopefully she can find her voice in a more streamlined manner in the future.
Overall Grade: C