Movie Review: 'Relic' houses a magnificent horror tale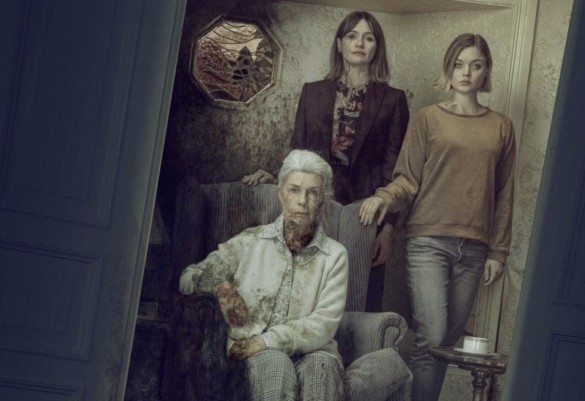 Director: Natalie Erika James
Writers: Natalie Erika James, Christian White
Stars: Robyn Nevin, Emily Mortimer, Bella Heathcote, Chris Bunton, Jeremy Stanford
Synopsis: A daughter, mother and grandmother are haunted by a manifestation of dementia that consumes their family's home.
Who are you — the person who would describe a house as "well-constructed" or "has good bones?" Yours truly won't be a part of the "good bones" club, that's for sure, having been effectively unnerved by cinematic yarns where the abode is alive, both as a vessel and as its entire self, such as Poltergeist, The Changeling, original Amityville, Crimson Peak, mother!, et cetera. Monster House, too; chandeliers have been blacklisted ever since the film morphed it into an uvula…
Without a doubt, then, watching Natalie Erika James' Relic is identical to reentering the fray, to again inspect creepy corridors and go up the scary stairs (and meet someone who wasn't there). Just as soon as the film starts, the elderly Edna (Robyn Nevin, exuding The Visit vibes even with the more-restrained screen time) discovers that an unknown plus-one is in her home — a darkened, unmerry humanoid gift on Christmas night. This is also the only sequence where colors, borne out of the Yuletide lights, don't want to escape the frame. Shortly after, Edna disappears. When her daughter Kay (Emily Mortimer, captivating) and granddaughter Sam (Bella Heathcote, reactive and thankfully being a character with more agency than the governess in Dark Shadows) pay a visit and no one returns their "hello"s, they carry out a search. Then, Edna reappears. Big Question time: Is the family matriarch still who she is, or is she now under the influence of the plus-one that is still playing resident (and is breathing moldy life into the residence)?
Kudos to James for making the "d" in the film she directed and co-wrote not (another) demon but dementia. It'd also be correct to say that the demon is dementia. No matter the thought, though, entertained is the notion that Relic will at one point transform, specifically from the conventional to the conceptual, or from the familiar kind of horror to one that is the stuff of fever dreams (but is the heart of the matter). Think Hereditary or Midsommar, with the major difference being James manages to hide when and where the transition happened. As a result, all that is proven when the setting that Edna, Kay and Sam are in mutates from a haunted dwelling into a rotting mind — testament of Steven Jones-Evans' inspired production design — the unpleasantries stay charged in impact and relatable in nature. Also key in securing this outcome are Mortimer and Heathcote's performances, particularly Mortimer who stays authentic as, initially, the as-designed prey for fear and, ultimately, a person whose eyes are now open to the burdens of caretaking (remember this, Edna is fine with Sam but frayed with Kay). The actress is why the ending shot of Relic is beautifully devastating and devastatingly beautiful; it's been a while since a horror film draws a tear.
But let's just assume you are the "heartless horror hound" type, and the reason you've knocked on Relic's door is to — firstly — experience the scares. Although James doesn't opt for loudness or tinker with the elements that often, her stealthy approach is the better, and best, call. Using patience, and with it, the moments that give the film its horror designation evoke a tangible sinister energy, at times to the point where its spikes or drops dictate the behavior of d.p. Charlie Sarroff's camera. The choice is a smart nod to, and therefore an extension of, the black mold that is used to denote menace in the frame. And since this remains the choice until the end, there's little difficulty in opening yourself up and validating the newer, truer and more human meaning behind the house that James has built.
"Decay is a certainty for all" is not a new subject matter in films, or horror films, but it's rare to see it coming through successfully via tact. Relic is horrific and poetic, and for a debut it is simply a stunning one. And for people who have seen what dementia can do — in a brief phone call last Februrary, my 90-year-old grandmother did not recognize me — it may offer some comfort for what is to come. What a construction with great bones!
(And, yes, all the moldy and moldy-mentality symbolism provide more reason to not grant human properties to a house. Those are studs, not bones, OK?)
Overall Grade: A-