Movie Review: Redford glistens in All is Lost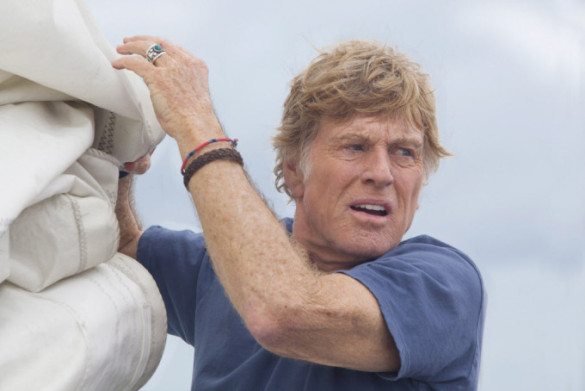 Director: J.C. Chandor
Writer: J.C. Chandor
Starring: Robert Redford
Synopsis: After a collision with a shipping container at sea, a resourceful sailor finds himself, despite all efforts to the contrary, staring his mortality in the face.
DIRECTION
Writer and director J.C. Chandor's first feature film was Margin Call, a then-topical investment bank crisis story with an all-star lineup. Now, in his sophomore effort he casts Robert Redford out to sea on his own, where the Hollywood veteran proves that his star still shines bright even on a sailboat in the middle of nowhere with no one else to interact with. Not only is this one of the better films of 2013, but a film that will outlast most other films from this era due to the recognition it will acquire for being an instance in which someone who is thought to be well past their prime proves that he can still turn it on when the situation arises. Sometimes with new or unknown directors it takes time to recognize what their real strengths are. Well, after two films, I'd say Chandor's strength is pulling performances out of proven talent, and making them look, sound, and seem brilliant. In Margin Call it was Kevin Spacey who benefited from Chandor's talent, and in All is Lost it's Robert Redford who's plucked from the starry sky of Hollywood's elite to a small movie about an expert sailor who is shipwrecked and determined to survive. Chandor jars us with rich emotion that is earned every step of the way. He makes even the most menial chores entertaining in All is Lost, and I can't wait to see what's next for him.
Grade: A
SCRIPT
I think the "written & directed by" phrase doesn't get as much respect as it should, and Chandor shows what cohesion between story and director can enable. The lack of spoken words took nothing away from the film and in fact added a great level of realism from my point of view. This script would have only worked with a great actor, and arguably only an elderly one. The messages and themes of All Is Lost are many, but most will agree that perseverance, self-discipline, and ageing are all addressed and explored through various shots and scenes. Key scenes involving set changes were dealt with very well from the script and direction sides, and the methods Chandor uses to tell the story of this man are timely and well-executed. The ending will throw some folks off I am sure, but it felt natural and correct to me.
Grade: A+
PERFORMANCE
Robert Redford is breathtaking and engages the material and camera like the expert talent that he is. Now I know why my grandmother's generation was so in love with this man. Even at an age that is getting close to 80, Redford maintains the poise and charisma necessary to keep the viewer interested and fascinated by what is happening. Scenes which on paper would seem as exciting as watching someone watch paint dry are electrified by Redford and lead to a character which we care about and seem to empathize with. He takes us on the journey with him, and has many highlights throughout the film. For me, the best scenes in this film got us closer to knowing the character, even if we never really know his name. This is the kind of performance that trophies are made for.
Grade: A+
SCORE
The score here played vital to the film's accessibility at times, and grew stronger and more intense as the film progressed. Specifically, keep your ears focused on the homage to the Jaws score. This was a great score.
Grade: A+
Final Thoughts:
Now that I've seen 12 Years a Slave and All is Lost, I don't think I've ever been more torn on who I will be rooting for come Oscar Sunday in the Best Actor category. On one hand, Chiwetel Ejiofor gave one heck of a performance as Solomon Northup, and on the other you have Redford's spectacular performance here as our captain. Either way, this film is not one to miss, and if you appreciate film as a medium which can make you feel and think but also as one to keep you entertained at the edge of your seat, you'll love All is Lost.
Overall Grade: A+