Movie Review: The Lawrences keep "Red Sparrow" above flawed ground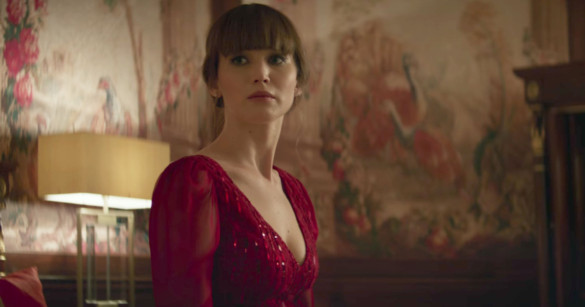 Director: Francis Lawrence
Writers: Justin Haythe, Jason Matthews (based on the book by)
Stars: Jennifer Lawrence, Joel Edgerton, Matthias Schoenaerts, Charlotte Rampling, Jeremy Irons
Synopsis: Ballerina Dominika Egorova is recruited to 'Sparrow School,' a Russian intelligence service where she is forced to use her body as a weapon. Her first mission, targeting a C.I.A. agent, threatens to unravel the security of both nations.
In Russia, birds watch you—some may also shadow you, influence you then terminate you. This is the skill set of a "Sparrow," a sect of the Russian intelligence community with personnel intensely trained to entice marks and peck them—until death, if necessary—to obtain nation-debilitating info. They were real (and could still be in existence) if we are to put stock in the experience and experiences of former CIA operatives Jonna Hiestand Mendez and Jason Matthews.
Matthews is also the spotlighter of this particular breed of spy; his field journal being the award-winning, CIA-approved (!) book that director Francis Lawrence's latest derived from. And somewhat unsurprisingly, accompanying Mr. Lawrence into the (cold) warzone for information is again Ms. Lawrence, Jennifer Lawrence, here as Dominika Egorova, the prima ballerina who unfortunately meets every dancer's kryptonite—a leg snap—in front of a full house. Since not having the means to tend her ailing mother (Joely Richardson) can't be an option, Dominika, at the suggestion of her eldritch uncle Vanya (Matthias Schoenaerts), agrees to grow wings of ultimate manipulation at a school headlined by the icy Matron (Charlotte Rampling). The task of the bird? Snuff out codename MARBLE, the Kremlin mole who has been making CIA's business in Russia a breeze through frequent interactions with CIA agent Nate Nash (Joel Edgerton).
Although Red Sparrow places Lawrence the performer at the forefront of its promos—the way she has Dominika declaring either loyalty or humanity as "baggage" or "soul-saving,"  depending on who is in the room, renders the actress at her most magnetic yet—this is more a showcase for Lawrence the director. As most who lives in the MTV-still-loves-music era ought to know, the Austrian-American filmmaker kept style on speed dial when his forte was exclusively visualizing chart-toppers, same goes during the making of his pre-Hunger Games features. Turns out all is well, maybe even improved, when the glitziness and poppiness coursing those Damita Jo, J-Lo or Britney B music videos aren't out to play. It's hard to believe that Red Sparrow's helmer and that of Constant-reeves and I Am Legend are the same; the man whose flair is fuel is also a deft practitioner of artful simplicity. Methodical camera placements, a gentle push or pull, and where the leads occupy the frame—the efficiency-favored aesthetic disarms those spoiled by the swankiness of today's spies—like the later Bonds, Kingsmen, or Lorraine Broughton of Atomic Blonde—and reminds them that, as Matthews' writings show, being a spy isn't living out a blockbuster. Case in point: After an exchange between Nash and the mole turned sour, Nash sprints to the U.S. Embassy rather than hops into an Aston that can autopilot to "RZ Alpha Zulu 22."
And Lawrence's change-up saves Red Sparrow more often than it has to. Once again, it's the direction that offsets writer Justin Haythe's confusion of bloat for world-building (thought The Lone Ranger and A Cure for Wellness would have provided great notes), which over-stretches the telling of the tale to 140 minutes and is strange for a film that has subtle tricks to depict long stretches of time passing. It also distracts fans of the screen's coolest players of imposing figures, physically and vocally—Schoenaerts, Jeremy Irons, and Ciarán Hinds—from the disappointment that comes when such a glorious union is made solely to add gloss to the frame. It, too, has us looking out for both Dominika and Nate (despite an interpersonal connection that never grows beyond an outline), especially when failures come to see them. Speaking of failures, while the uncompromising nature in portraying brutality serves the oppressive mood well, they do tease the specter of exploitation when the film, as if aware of its two-plus hours of life, really takes it time before moving on to the next scene (or, gulp, to the next part of the punishment).
Those issues aside, both Lawrences go to battle with the right vision and exercise it to the fullest. In building a world where redactions thrive, they go in hiding nothing—he behind the camera and she in front. Each person makes up a wing preventing Red Sparrow from becoming one with the bumpy terrain right underneath.
Overall Grade: B
Hear our podcast review on Episode 263!