Movie Review: 'Pacific Rim Uprising' dives straight for the scrapyard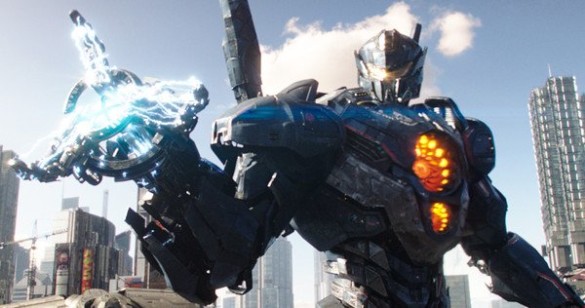 Director: Steven S. DeKnight
Writers: Steven S. DeKnight, Emily Carmichael, Kira Snyder, T.S. Nowlin, Travis Beacham (characters)
Stars: John Boyega, Scott Eastwood, Jing Tian, Charlie Day, Cailee Spaeny, Burn Gorman, Rinko Kikuchi
Synopsis: Jake Pentecost, son of Stacker Pentecost, reunites with Mako Mori to lead a new generation of Jaeger pilots, including rival Lambert and 15-year-old hacker Amara, against a new Kaiju threat.
Beware, all who consider Guillermo del Toro's film as a valentine to mecha anime shows or pop culture's love to host gladiator matches between titanic objects, for here is the shredding of it. With the dismantling of all that give Pacific Rim the thrust to stay above its follies, Uprising is less a follow-up and more, maybe even completely, an effortful attempt to be chummy with (the more recent, offensive and eager-to-pander entries of) Bayformers.
"I'm not my father," said Jake Pentecost (John Boyega) while showing off the moves at a seaside mansion party and conducting semi-legal exchanges of valuables for food, among them a car for a Sriracha bottle. It's been 10 years of peace since the last battle at the Breach, so partying and freeloading around Kaiju carcasses sound all right. As if taking that quote to heart, Uprising wastes little time flashing its youth-driven colors — the opener hops along to the booming reggae beats of Wizkid's Daddy Yo and the music video-friendly editing give everything a Fast & Furious vibe. Goodness, let's hope Universal, now assuming producing duties in Warner Bros.' stead, won't consider this film as a sizzle reel to potentially have mechas rolling with Toretto's family. It's a pure recipe for angina to just think about this.
"I'm not my father" also seeps into the film's main conflict, which is now more between humans and humans. To its credit, Uprising's choice to not quite re-granting the blue-blooded trans-dimensional critters prominence is gutsy in that it spotlights us as monsters — after all, we are the other monster-makers — but the divergence can't shine at all because the film doesn't let it. Unsure if it wants it. Where the chance for the idea to rise lies in further polishing the threat toward Pentercost Sr.'s legacy in those assembly-lined drones from Shao Industries, designed and supervised by Milan-wardrobed Liwen (Jing Tian) and the original's Newt (Charlie Day), the script believes it also has to follow a league of vaguely outlined angsty kids, here at the Shatterdome to be trained by Jake and an embodiment of blasé he called bestie (Scott Eastwood). Greed isn't good, folks: The film's belief that it must own both storylines sabotages itself as everyone and everything emerge as a haze. Even worse, this namby-pamby trait erodes the reservoir of goodwill Pacific Rim has built, and what leaves a giant mark after 111 minutes is the dishonoring of the past rather than evolution.
And so, what's there to celebrate? Boyega's re-channeling of the wisecrack and startlingly charismatic Moses from Attack the Block could have been a reason to, slightly chattier attribute aside, had we not been lured into believing that his presence will be primary. "I'm not my father" indeed. What Amana (Cailee Spaeny) is, a survivor and Jaeger pilot wunderkind, could have gotten us elbow-rocketed our fist into the sky, but in a tragic repeat of what happened to Transformers 5's Izabella she too is tricked by the film's promise of letting her character and her journey outgrow their frames. The usually solid d.p. Dan Mindel and composer Lorne Balfe couldn't even salvage any ounce of excitement since their works, unlike Guillermo Navarro and Ramin Djawadi, aren't used to weave art into the bombast, or to eclipse the expectations of "it's just a big robot movie." Spartacus' director Steven S. DeKnight, who also has a hand in the writing, is fine with "it's just big robot movie," though. Or is it "big Transformers movie" since also in Uprising is an adamant-yet-erroneous belief that quick cutting equals to increased energy?
For all of its demoting and de-specializing of del Toro's print, at least Uprising will still please its friends from across the Pacific. Tian, in a way their representative, thankfully gets to inhabit a proper role again after whatever that was in Kong Skull Island. Her turn as Liwen is free from The Great Wall-kind of dilution, too; Newt is actually forced to know her language to converse with her. But like the lonely Gundam statue seen in the climactic battle at a notably sunny (yeah!) Tokyo (sigh), there's no perceiving the respectful gesture as artistic when its inclusion, in alignment with the film's spirit, evokes repeated-business first and identity-building never.
Overall Grade: D
Hear our podcast review on Episode 266, coming soon.