Movie Review: 'Outlaw King' is an vindication of Scottish history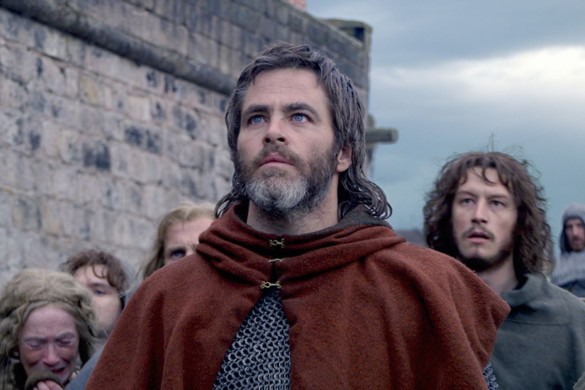 Director: David Mackenzie
Writers: Bathsheba Doran, David Mackenzie
Stars: Chris Pine, Stephen Dillane, Rebecca Robin
Synopsis: A true David v Goliath story of how the great 14th Century Scottish 'Outlaw King' Robert The Bruce used cunning and bravery to defeat and repel the much larger and better equipped occupying English army.
"They may take our lives, but they'll never take our freedom."
That line from director Mel Gibson's Best Picture winning film Braveheart is one of the most memorable, iconic lines in film history. But what many people don't know about that film is that it is one of the most historically inaccurate films of all time. Braveheart is a film that takes so many liberties that once you know about them, it's very hard to watch that movie and take its story seriously upon rewatch. The history of the Scottish Rebellion has been tarnished by the ghost of a bad Mel Gibson accent and his yells for "FREEDOM". But that is all about to change with David Mackenzie's new film Outlaw King, a film that takes the story that we are familiar with and makes its surprisingly fresh and heartbreaking and truthful to the actual historical events.
The film follows Robert the Bruce (Chris Pine), a leader within the country of Scotland who, after the death of his father, decides to break off their promise to England and fight for the independence of Scotland from English rule. But while Robert has a right to the throne of Scotland, many don't trust him for actions shown in the movies, and thus can't support him to lead them past the English. So with a small band of Scottish rebels and freedom fighters, led by James Douglas (Aaron Taylor Johnson), Robert commanded one of the most important rebellions in all of history against an enemy no one thought they would beat. While this movie is about Robert's Rebellion, it's also a love story about Robert and his second wife Elizabeth (Florence Pugh) and how complicated their love is due to her connections to the English throne. There are mentions of William Wallace throughout the first thirty minutes of the film, but make no mistake, this is Roberts's story, and thus we never see someone portray that infamous character and the focus is on Robert at all times.
The scope of this film is impressively massive but considering it is coming from Netflix, it's highly impressive that they were able to allow Mackenzie to make a film like this knowing that it would never stand a chance of making it on the big screen. The set pieces of each action sequence seem to be detailed to the max, with camera shots focused just enough amongst the chaos so we don't lose track of the characters that we are following from the beginning to the end of the film. The violence is gruesome and it's no harsher than anything I've seen from films like this before, setting up some memorable moments on the battle field but the film, like stated before, isn't just about the action sequences, it's also about the loving tender moments between its two main leads. When Robert and Elizabeth meet, it is understandable that the two of them aren't going to get along, nor want to be married because they are both from different world. But as the film continues, tender displays of respectful admiration shows each other that they can trust one another and it's the performances of Pine and Pugh that carry these characters beyond two people stuck in an arranged marriage. They become loves of each other's lives, and her allegiance to him isn't because she is obligated by the bonds of marriage, it's becomes of the love she has for him and these actors do a great job at making this relationship work. If this bond between Robert and Elizabeth doesn't work on screen, the film would become just another action film lost in the mud but their scenes of quiet passion and love carry out to the end of the film, even the final shot.
Like stated before, Pine is fantastic in this film, making Robert the Bruce a quiet, understanding yet charming leader that you feel for throughout the film. In this film and Mackenzie's last film Hell or High Water, Pine has given the two best performances in his career and has rightfully earn his spot of my favorite "Chris" in Hollywood right now, showing that he can do so much range just within one single performance and do it on such a consistent basis. Pugh is the other MVP of this film and I didn't even know she was going to be in this film. Following her breakthrough performance in Lady Macbeth, she takes a role that can be very generic and simple and give it so much life and grace that every time she is on scene by herself or with Pine, she can't take your eyes off of her. Aaron Taylor Johnson is good as Robert's sort of right hand man, in a performance that was originally for Ben Foster but he dropped out of the role before shooting, which wasn't a bad thing because Johnson is right for the role. I've never been a big fan of his but even I must admit that this might be my favorite role I've seen him in since his turn as John Lennon in Nowhere Boy. The rest of the cast are very serviceable, with Stephen Dillane and Billy Howle playing the King of England and the Prince of Wales, roles that are usually thankless but are done with just enough villainy to not be over the top and to be taken seriously.
Mackenzie's direction is really impressive in this film, following his quieter films like High Water and Starred Up, it's amazing to see that this is that same director. He put all of his chips on the table and directs the hell out of this film, while still nailing those tender character moments in the same style and grace that he did before with those previous films stated above. His script is the weak link in his work here and there are some pacing issues in the middle but the performances and the direction lift the film beyond some of its little problematic parts. The editing during the battle sequences are fantastic but for the rest of the film, the film could have felt a little crisper. Overall, the films isn't trying to reinvent the wheel, it's just trying to tell a fairly accurate story with good performances and decent production design and camera work. But the film lifts itself and has great technical and production design, great lead performances, and a story that while familiar, is a much better representation of the same story we have gotten before.
Overall Grade: B+