Movie Review: 'Onward' is an affecting film about brotherhood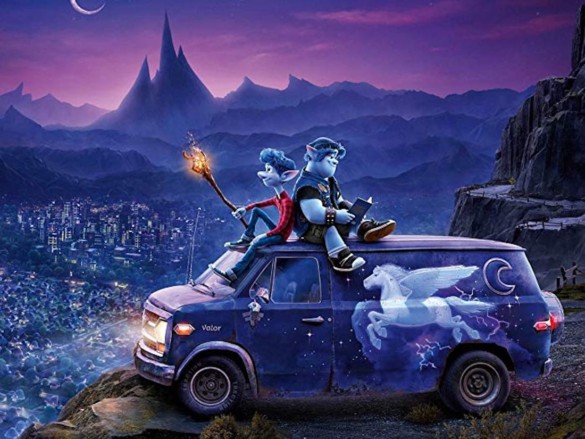 Director: Dan Scanlon
Writer: Dan Scanlon, Jason Headley, Keith Bunin
Stars: Tom Holland, Chris Pratt, Julia Louis-Dreyfus, Octavia Spencer
Synopsis: Set in a suburban fantasy world, two teenage elf brothers embark on a quest to discover if there is still magic out there.
Dan Scanlon is back in the director's chair at Pixar after his debut in 2013 with Monsters University, a fine film even if lesser than its predecessor. Onward is his latest, and the inspiration for it is actually quite the heartwarming story. If you haven't heard the story, do yourself a favor and look it up, it's well worth your time. Long story short, it involves Scanlon, his brother and their father, who unfortunately passed away when they were young. I won't give the rest of it away, but when you hear it and how it tethers to Onward itself, it's enough to make a grown man cry. Or maybe just me, but you guys know me.
Onward tells the tale of two brothers in Ian (Tom Holland) and Barley (Chris Pratt), who live in a suburban fantasy world that used to be ruled my magic. However, due to modern technology, magic of old is now obsolete. The film opens on Ian's 16th birthday, but instead of being happy for himself, he's still thinking about his late father, who he has no memories of since he unfortunately passed away when Ian was just a baby boy. To his surprise, though, Ian's mother offers him up a gift from his father that he and Barley were supposed to receive once both reached the age of 16. It turns out to be a magical staff that would bring their father back for a 24-hour period. Once Ian figures out how to use the staff, there's an error, and only his father's legs are brought back via the spell. From there, Onward is an enthralling journey as Ian and Barley embark on a quest to discover a way to finish the spell before their father disappears forever.
Perhaps what's most intriguing about Onward, however, is that its central premise is kind of a red herring. As Ian and Barley set off on their quest together, the film cogently demonstrates their motivation and urgency as they are desperate to see their father again. A notion that slyly leads you to believe one thing, but really, at its core, the film is really more about brotherhood and how sibling love can fill the void of a missing parent. Up until his 16th birthday, all Ian had was stories that others told him about his father. And he clutched on to those stories as if they were gold. Eventually though, Ian realizes that his life hasn't been as empty as he thought, and the dynamic between Ian and Barley inside those notions is quite affecting. In one specific moment in the film's climax, it heavily subverts expectation as we see Ian make a bold choice regarding Barley and his father, crystallizing the film's themes and springing the water works.
Where Onward stumbles slightly, is in its editing and execution. Particularly, the side plot involving Laurel and The Manticore, and their escapades throughout the film. Scanlon and company do a great job of building momentum, emotionally and dramatically, only to then undermine that progression by cutting away from Ian and Barley, and in most cases for a silly gag or unnecessary meandering. Julia Louis-Dreyfus and Octavia Spencer give great vocal performances respectfully, though.
As is the case with all Pixar film's, the animation here is great. Its use of colors and shadows, the way this world is rendered, the distinct ideas around magic, it's all vivid and imaginative. On the same token, it wouldn't be a Pixar film either without a great score, and Mychael and Jeff Danna do not disappoint. It may be be the most memorable in Pixar's cannon, but it's a worthy entry.
Where Onward thrives the most is in its emotion. Shocking, I know. But that is what Disney/Pixar does best and when the film is focused on that, and reveling in that inspiration I mentioned earlier, you can sense Dan Scanlon's passion for this story. The relationship between Ian and Barley, and how that evolves, is nothing short of sublime. In fact, it's so tender that even a van sacrifice is oddly poignant. And it ends in a way, that's not only bold, but it ebulliently evokes the wonder of magic in our lives, and how that can come in the most unexpected of ways.
It's not perfect, but I still admire what its aiming for and the challenges its taking on when it comes to death, grief and coping with it at a young age. Give me that any day of the week.
Overall Grade: B+
Hear our podcast review on Episode 368: