Movie Review: New thriller 'Ma' is a decent film with no surprises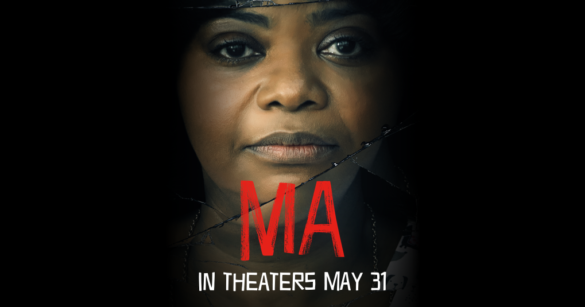 Director: Tate Taylor
Writers: Scotty Landes
Stars: Octavia Spencer, Diana Silvers, Juliette Lewis, McKaley Miller, Corey Fogelmanis
Synopsis: A lonely woman befriends a group of teenagers and decides to let them party at her house. Just when the kids think their luck couldn't get any better, things start happening that make them question the intention of their host.
I ended up catching the new thriller Ma in theaters despite my inner voice telling me otherwise. Octavia Spencer is amazing as usual and director Tate Taylor can tell a good tale. Overall it turned out to be a good movie-going experience but the film still felt stale in certain areas. Taylor offers up a spin on revenge and bullying but, with the exception of Spencer's Sue Ann, I found the characters to be lacking depth and not enough care given to parts of the story, specifically the final act. It is not a film that's going to turn heads but Ma makes for a good at home popcorn flick.
Ma actually surprised me in that it turned out to be more entertaining than what I went in expecting. The trailer didn't do much in grabbing my attention and I had planned to catch it during its online streaming rounds. And although not a film I would recommend catching in theaters it is worth catching at home as it is a decent viewing experience. Don't expect any jump scares or anything of that sort but there are some good "What the…" moments and Taylor does a good job with giving us just enough bits and pieces of the whole story to keep your interest. The films main problems are the lack of character development, a disappointing final act and just not enough overall suspense or emotion. Its one of those films that you find yourself continuing to watch mainly to finally get some answers to the questions the story generates. As I mentioned before with the exception of Sue Ann, and to a degree Maggie (Diana Silvers), most of the characters and their relationships feel superficial, almost like bots in a video game there simply to fill a void and keep things somewhat interesting. This also makes for an unsatisfying final act in that some of the consequences for the side characters don't really hit home. I imagine Taylor meant for there to be some significance in their treatment but because we don't get enough substantial time with the characters it never really lands.
When talking about performances in Ma, Octavia Spencer is doing all the heavy lifting here. Although not her best performance she still delivers as Sue Ann both in creepiness and wounded-soul. There are moments in the film where I genuinely felt for Sue Ann despite her character flaws and emotionally abusive relationship with her daughter, Genie (Tanyell Waivers). This is all due to Spencer's delivery. The remainder of the cast's performance is fine but unfortunately, nothing noteworthy. Juliette Lewis as Erica, Maggie's mother, isn't really given much to do but she still pulls out a fair performance. Fairly recently I mentioned to a friend that I have always been impressed with Luke Evans work and that goes for Ma as well but his screen time is minimal. The batch of young faces that rounded out the small clique of high school friends were all new to me and each held their own on-screen. I didn't care so much for some of the interaction between them but that has more to do with the script than their performance.
Ma is an interesting take on the consequences of high school bullying. It is great at allowing the viewers to see it through the eyes of the victim, Sue Ann, and even understand how it deeply affected her growth into an adult and mother. However, the film doesn't bring anything fresh and its conclusion didn't feel like a worthy reward for the build up. Although entertaining there is not enough suspense, the story simply unravels layer by layer with very few surprises. What will keep your interest is just the story itself which is heartbreaking, there are numerous victims and each is being mistreated for no real reason other than their existence. Ma is a worthy film for a lazy evening at home to relax and kill time, it actually would have been a perfect film for a Netflix or Amazon Prime release. If you haven't had a chance to catch it yet definitely wait for streaming.
Overall Grade: C+