Movie Review: Natalie Portman stunning in Jackie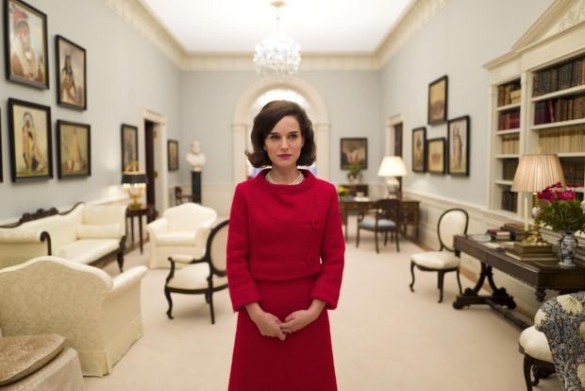 Director: Pablo Larraín
Writers: Noah Oppenheim
Stars: Natalie Portman, Peter Sarsgaard, Greta Gerwig, Billy Crudup, John Hurt
Synopsis: Following the assassination of President John F. Kennedy, First Lady Jacqueline Kennedy fights through grief and trauma to regain her faith, console her children, and define her husband's historic legacy.
Review by Vince Leo from Qwipster.net
Jackie is a speculative historical drama that seeks to give us a peek into the hypothetical goings on of Jacqueline Bouvier Kennedy in the week following the assassination of John F. Kennedy in Dallas on November 22, 1963.  The First Lady has taken up temporary residence at the Kennedy family compound in Hyannis Port, MA, where she is visited and interviewed by a journalist working for Life Magazine for an exclusive exposé.  Keenly aware of how perception dictates reality, Jackie consents for the interview on the hope that her words will assist the nation in the healing process, but still talks only on condition that she has final say on what gets published and what he must leave out of the article.
Directed by Chilean filmmaker Pablo Larraín, working in the English language for the first time from an original screenplay by Noah Oppenheim, the events that transpire are delivered in nonlinear fashion, separating from the grief-ridden feelings for occasional flashbacks, offering us occasional glimpses into the past for such memorable public appearances from Mrs. Kennedy, such as the highly viewed CBS television special in 1962, in which she hosts a tour of the White House after making some significant, highly publicized renovations to the interior decor.
A significant portion of the narrative involves Jackie's exploration in trying to bolster the historical and cultural legacy of her husband's presidency. After realizing that other presidents that were assassinated while in office, James Garfield and William McKinley, are scarcely remembered by many Americans, she looks toward the one that is most famous, enough to land his visage on two major forms of American currency and more than one national monument, Abraham Lincoln. Using the revered former president as the template, Jackie decides to draw upon the funeral procession for Abraham Lincoln through the capital as the template for what she wants done for Jack.  If the American people are touched by what they see, perhaps he will be remembered warmly and fondly by those moved by the fairy tale story that has become their narrative: 'Camelot' — a term for JFK's presidency first used by Jackie after in her post-assassination interview with Life Magazine's Theodore H. White, inspired from a 1960 Tony Award-winning Broadway musical borne from Arthurian legend.
Not everyone sees it this way, including John's brother, then Attorney General, Robert Kennedy, who thinks that the country couldn't endure another tragedy befalling them, and thinks Jackie should shield herself and the kids as much as possible from wide open public spaces.  Heedless, she thinks it is important to preserve the dream for the country that her husband had been trying to achieve; Bobby thinks Jack had been killed too soon in his presidency for anyone to remember his accomplishments, especially since many of them (the space program and civil rights progression) will be credited to someone else, now that he's no longer there.  Even such things as the Cuban Missile Crisis and the Bay of Pigs may be seen as mishandled endeavors if Kennedy's public image is less than positively idealized in the eyes of American people.
Many of the themes within Jackie deal with such things as the need for having a public persona, even managing and maintaining the illusion for how she deals with her public appearances during her time of grief.  For years, she has been groomed for the public spotlight, fully understanding that all of her life, outside of any room she would be in with her family or closest of advisers, would be a veritable theatre stage, where she would be required to give the demure but dedicated performance as the First Lady of the United States.  But that role had been, from inception, meant to be a satellite to the main star of the show, President John F. Kennedy, and when that star is no longer available to finish out his role, Jackie decides to do the best she can in giving the production a grand finale worthy of her husband's memory, and one that will please the audience looking for some shred of a happy ending on which to cling.
A seemingly dauntless Natalie Portman is fantastic in the lead role, offering a breathy voice akin to Marilyn Monroe when speaking for cameras (one may muse about the irony of that), and more assured, less affectatious in her private moments.  It does take a scene or two to get used to Portman's portrayal and accent, which some viewers could initially confuse for a hammy, at least until they go back to watch clips of the real-life Jackie Kennedy, where one can see that Portman has done a remarkable job capturing her speech patterns and demeanor. If it still comes across as artificial, that's because it's meant to be — a woman, untrained in dramatic performance, thrust into the public spotlight, having to play a role for a ravenous public that follows her every utterance.  Another Oscar nomination for the actress seems a given, raising the level of the performance from one that could have been more of a caricature in lesser hands to one that is ultimately richly presented and emotionally resonant.  The multifaceted but enigmatic Jacqueline Kennedy is indeed a challenging role, and Portman rises to the occasion and then some.
Nearly as influential in the overall effect of the piece is the eerie but gripping score from Mica Levi, who came to prominence for her mesmerizing debut score to Under the Skin, striking somber and displaced chords to capture the sad and off-putting mood of the period within the mindset of a grieving widow who sees the need to soldier on in public for the sake of the country.  The film is at its best in its off-center presentation of the enigmatic figure as presented by Larraín, only descending back to Earth when narrative devices are used to draw out Jackie's story, such as the Life Magazine interview, or a visit with a priest in which a good deal of her inner thoughts on the state of her marriage to Jack, are drawn out to piece it all together.
Also striking is the look of the film, featuring a grainy, intimate veneer from Stephane Fontaine, favoring hand-held camerawork and close-ups, with an aspect ratio and soft-edged film stock appropriate for its era.  A particular highlight is the recreation of events that utilize the real-life Jackie, such as the tour and the funeral, where we see the authentic Mrs. Kennedy in the long-shots, while replacement recreations are woven seamlessly in featuring Portman for the closer shots.  The unnatural effect of the score and photography may prove distancing for some viewers, mainly those unaccustomed to indie film production pedigree, that they might find the presentation disengaging, but for those open to it, they do provide a hypnotic element that can't be denied, capturing the disorienting effect of Jackie's internalized, unresolved psychological trauma.
Jackie was also known for her elegant, fashionable look, and that's certainly a key consideration here, as we see Jackie in her pillbox hat and (now) vintage Chanel.  This is important in terms of addressing the public on television, as well as during the aftermath, and is capped off with a symbolic scene in which Jackie's fashions are in storefront windows everywhere, with the public not only embracing Jackie as a public figure to admire, but also, in its own way, wishing to be more like her.
With more emphasis on impressionism than in faithful recreation, letting the mood and psyche of the Mrs. Kennedy spill out into the mood and psyche of the narrative film itself, Larraín employs a good deal of dramatic license in order to tell his story in order to paint one of the most unknown of widely known figures of the 20th Century in a complex and fascinating light.  While the presidency of her husband is seen as a fairy tale come to life, albeit with a very unhappy ending, it is in good part because Jacqueline Kennedy dutifully and faithfully provided one more loving act for her husband, and bestowed upon a shocked and grieving country a potent bit of mythmaking to get them through the darkest of hours.
Overall Grade: A-
Hear our podcast review on a previous Episode 198: