Movie Review: 'Mowgli: Legend of the Jungle' is a familiar story with more questions than answers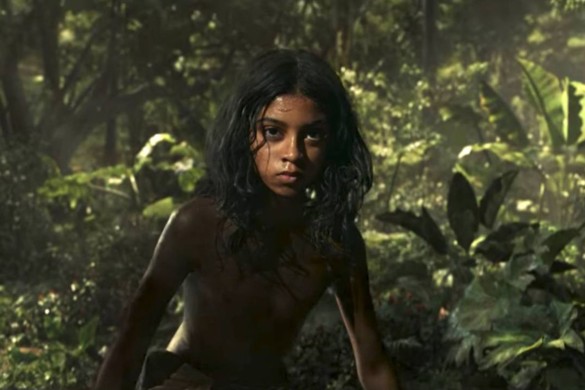 Director: Andy Serkis
Writer: Callie Kloves (screenplay by), Rudyard Kipling (based on the stories of)
Stars: Christian Bale, Cate Blanchett, Benedict Cumberbatch
Synopsis: A human child raised by wolves must face off against a menacing tiger named Shere Khan, as well as his own origins.
Things get complicated when one is stuck between two worlds. Much like the title character of Mowgli: Legend of the Jungle, the film itself seems to be trapped between two worlds: the world of men and the jungle. With the film, on one side it's the source material, Rudyard Kipling's 1894 collection of stories known as The Jungle Book, and on the other side is the duality of Disney's animated film (1967) and a live action version (2016). Also allowing this film to be caught between two worlds is the fact that while Mowgli has all the names attached that would make it a blockbuster theater release, it instead drops on Netflix with only slight fanfare. So, somewhere between the darker source material and a lively sing-a-long as well as a Hollywood spectacle debuting on the small screen, Mowgli: Legend of the Jungle sits in no-man's land, and no-man's land is not a great place to be.
The story is familiar enough. Mowgli, an orphaned boy, grows up among wolves and other jungle creatures to one day battle the threats of a deadly tiger who killed his parents and the existential dangers of an encroaching man village. There is true power in this story, a story of identity, belonging, and change. However, the story gets muddled and lost among deep plot holes and unanswered questions. The familiarity of this story is a weight this film cannot handle. In trying to be different, it fails at almost every turn. Mowgli tries to be darker more realistic than the Disney version, but why? The 'why do we need this' question hangs over the whole film. Is it needed to work as a tentpole for future Mowgli films?  Is it needed to present and new side to the story (which it does not)? Is it needed because all that singing gets in the way? Seemingly, there are no answers to these riddles. This film has no point; if it did, it probably would have been a theatrical release.
So, what could be the point? Perhaps it's the use of motion capture technology for which director Andy Serkis is best known. So, if you have big-name actors like Cate Blanchett, Benedict Cumberbatch, and Christian Bale, then what better way to showcase their talent then letting them act their performance instead of merely lending a voice.  The problem with this is it creates an image that is exceedingly creepy. A panther's face with the characteristics of Christian Bale seems like an excellent idea on paper. However, in execution it is disturbing at best. Sometimes it feels as though the floating, talking heads are unattached to bodies, making the images seem disconnected and eerie. Nothing about these images conveys the heart and soul needed to disseminate this story. Instead, the viewer is left distracted by the anthropomorphic depictions and unable to invest oneself into the film completely. If I had paid money to see this on the big screen, I would have been deeply disappointed. However, on Netflix, alongside much more quality entertainment, Mowgli: Legend of the Jungle just seems like another juxtaposition of moving images to watch when all other options are exhausted.
Overall Grade: C-