Movie Review: 'Lean on Pete' is powerful work of understated storytelling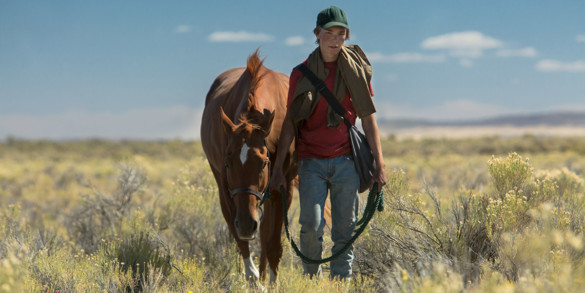 Director: Andrew Haigh
Writers: Andrew Haigh, Willy Vlautin (novel)
Stars: Travis Fimmel, Charlie Plummer, Steve Buscemi, Steve Zahn
Synopsis: A teenager gets a summer job working for a horse trainer and befriends the fading racehorse, Lean on Pete.
Andrew Haigh is one of those unique filmmakers who somehow manages to fully realized his characters in a way that feels tangible. It's almost as if you're experiencing the same dilemma they are on screen. The way he draws you in and engages the emotion of his characters, the internal conflict on display, the intimacy that comes about in them, it's all very palpable. His latest film, Lean on Pete, is perhaps the best example of that yet in his robust career.
Charley (Charlie Plummer) is living with his dad, Ray (Travis Fimmel), who is doing his best to look after him after his mom left some years ago. As a way to help out, Charley finds a summer job working for Del (Steve Buscemi), a race horse trainer who may not have the best of ethics. One of Del's horses, Pete, gains the attention of Charley and the two form a bond that is endearing, while also youthfully ignorant. After some traumatic turns in Charley's life, he decides to go on a journey with Pete, one that ends up being an awakening for him.
The narrative beats in Haigh's screenplay (based on the novel by Willy Vlautin) are not going to surprise you in any way. But while predictable in its plot mechanics, Lean on Pete is a powerful work of understated storytelling in characterization and theme. With the same emotional vigor as 45 Years, while teetering in more surface-level poignancy, the film channels Kelly Reichardt's Wendy & Lucy and never relishes in sentimentality. Lean on Pete is a more dour film, but its emotion sneaks up on you. Haigh unfolds Charley's story naturally and builds so precisely that you never have the opportunity to (ahem) lean into the visceral emotion that comes about. In fact, it wasn't until the end credits when Charley's journey hit me the hardest.
Without spoilers, his situation becomes increasingly desperate as he encounters one heartbreaking event after another. However, it never feels melodramatic and thematically it's very potent to see Charley cope with his circumstances by diving into something human. He simply longs for connection. And in the case of Lean on Pete, it happens to be a race horse who was abused by its owner. Where the film could have been manipulative, Haigh instead offers subtlety and lets Charlie Plummer render organic reasons for why Charley reacts to his devastation in the ways he does. There's an adolescent innocence to it that's charming, yet simultaneously it borders on maturity and adulthood.
Lean on Pete is a film that will be too introspective for some audiences, and arguably too saddening to witness for others, but there's genuine catharsis that is earned due to great performances and technical filmmaking. Plummer is excellent in how he demonstrates Charley's emotional progression, giving one of the best performances of the year so far. Buscemi, Fimmel, Steve Zhan and Chloe Sevigny have something to offer as well in terms of helping (or motivating) Charley gain some sort of new perspective. The true star of the film though is Andrew Haigh. His direction and pacing gives Lean on Pete a poetic quality that will simmer with me for a long time. This isn't an easy film to sit through, but it's the antithesis to most animal movies (especially horse movies) in that it never engineers artificiality. Steven Spielberg's War Horse, for example, could not be more different than Lean on Pete. This is a film that's more real. It's more guttural. Charley is someone who you could know in real life. And if you do see him, do me a favor and buy him a horse to look after. The kid deserves it.
Overall Grade: A
Hear our podcast review on an upcoming Extra Film!