Movie Review: 'Hustlers' dazzles with complexity and great performances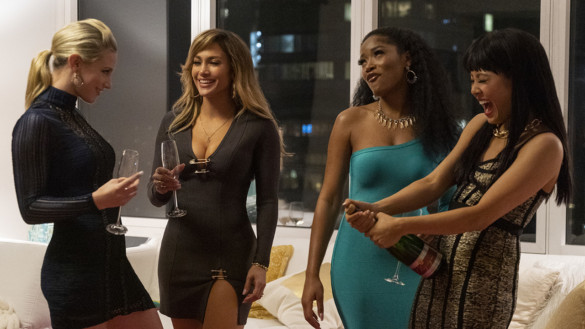 Director: Lorene Scafaria
Writers: Lorene Scafaria (screenplay), Jessica Pressler (magazine article)
Stars: Constance Wu, Jennifer Lopez, Julia Stiles, Keke Palmer, Lili Reinhart, Wai Ching Ho, Trace Lysette, Cardi B
Synopsis: Inspired by the viral New York Magazine article, "Hustlers" follows a crew of savvy former strip club employees who band together to turn the tables on their Wall Street clients.
Hustlers has been, by far, the biggest surprise for me at the movies this year. I went in with high expectations- but only for an entertaining, girl-power, crime flick starring JLo and Constance Wu. What I got instead was a powerful female-driven, crime drama, telling a new perspective of the 2008 financial crisis. It's based on an article by Jessica Pressler entitled "The Hustlers at Scores" published in New York Magazine in 2015. The names have been changed and the story has been embellished, but it is based on real events. Hustlers had way more substance to it than I expected. This is writer/director Lorene Scafaria's third film for the big screen; her first two being Seeking a Friend for the End of the World (2012) and The Meddler (2015). There's been lots of talk and rumors about a big shot male director, known for his crime movies, turning down the opportunity to direct this film. I can't confirm any of that, but what I can say is that Hustlers was better off in the hands of Lorene Scafaria. This film was meant to be made by women and I truly believe it would have been a completely different (and terrible) movie if it was directed by a man.
Hustlers follows main character Destiny (Constance Wu) as she navigates her career as an exotic dancer in the mid 2000's. She is enamored with veteran dancer and superstar of the club Ramona (Jennifer Lopez). After befriending her during a rooftop smoke break, Ramona decides to take Destiny under her wing (or in this case, luxurious fur coat) and show her how to play the game- how to identify wealthy clients and how to make them spend their money. Just as things start looking up for the girls, the 2008 financial crisis hits and most of their wealthy Wall Street regulars stop coming to the club. It's during this time the women band together and come up with a scheme to make money again.
I have so many good things to say about this movie I don't know where to begin… Jennifer Lopez is as fantastic as everyone is saying. She's clearly meant for portraying powerful women and deserves more screen time and more roles. I'm not hearing enough about Constance Wu though. She was mostly unknown to the general public before starring in Crazy Rich Asians (2018) and Hustlers proves she has more in her than rom-coms. Her character Destiny is complex, damaged, and equally powerful, but in a subtle way compared to Ramona. Wu has a presence that makes it hard to take your eyes off her; even when sharing the screen with Jennifer Lopez, Cardi B, and Lizzo. I expect great dramatic roles from her in the future. The only place I think "Hustlers" is lacking is in developing its supporting cast. There were so many interesting women in the cast, but we don't get any development or backstory with their characters. The club dancers are nothing but cameos; including Cardi B, Lizzo, Trace Lysette, Marcy Richardson, and Mette Towley. The two larger supporting roles are filled by Keke Palmer and Lili Reinhart. They are also former dancers that join in on Ramona and Destiny's scheme to take money from wealthy men. Julia Stiles also makes an appearance as the journalist writing a story about the former dancers and their method of survival during the financial crisis.
My favorite things about this film were the music, the editing, and how it portrayed the female characters as real women instead of objects or gimmicks. Just to give you an idea of how well the music was done in the film- we first see Ramona, who is obviously the crowd favorite, dancing to "Criminal" by Fiona Apple while being showered with money. Another track heard in the film is "Control" by Janet Jackson. Alternatively, during less intense scenes, like when Ramona is teaching Destiny some dance moves, you'll hear lovely Chopin etudes. It sounds like an odd mix, but it works. They also did interesting things with sound; such as killing the sound completely when a character shuts off a recording device, and only hearing the dialogue through a police wire. It was unexpected and an interesting surprise included in the film.
The best thing about Hustlers is how it tells the women's stories and how it's not afraid to show the good and the bad. It covers issues like unwanted male attention, single motherhood, the desire for independence, abusive relationships, working as a stripper, etc. One scene that stuck with me was one featured in the trailers- where Jennifer Lopez is teaching Constance Wu pole dancing. In that scene JLo dances and goofs around, Constance Wu bends over lounging, and their stomachs, thighs, arms, etc were not digitally edited to be flat, smooth, and "perfect". It was something I really appreciated and made the characters that much more realistic. The film also has some great writing. One of my favorite lines to date, delivered expertly by Lopez: "This city, this whole country, is a strip club. You've got people tossing the money, and people doing the dance." Lines like that throughout the film reinforce that the movie is not about strippers; it's about money and how having money gives you power over yourself and others.
Hustlers made its way into my top ten films of the year (so far). It surprised me with a much more complex story than advertised and impressive performances from its leading ladies. It's not "just a stripper movie", it's a crime drama that I think will appeal to a wide audience. It's an achievement to have a woman lead film, both in front and behind the camera, about a subject as taboo as exotic dancers, be taken seriously. I hope others enjoy this film as much as I did, and I'm curious to see what happens come awards season.
Overall Grade: B+
Hear our podcast review on Episode 343: