Movie Review: 'Good Luck To You, Leo Grande' is Funny and Fearless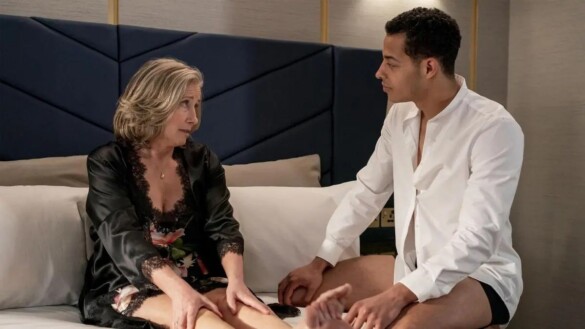 Director: Sophie Hyde
Writer: Katy Brand
Stars: Emma Thompson and Daryl McCormack
Synopsis: Nancy Stokes, a 55-year-old widow, is yearning for some adventure, human connection and some sex–some good sex.
It's a particularly British thing to be squeamish around the topics of sex and sexuality. Such things aren't meant for polite discussion. It calls to mind the old farce written by Alastair Foot and Anthony Marriott; No Sex Please, We're British, in which a couple accidently receives pornography and must quickly get rid of the evidence before a mark on their social credibility appears.
It's something that still prevails today, at least in some forms. A hint of skin in a mainstream movie often garners attention in tabloids for being too provocative. Little surprise, then, that Sophie Hyde's sophomore effort Good Luck To You, Leo Grande has caused something of a stir in British media for its depiction of a fully nude Emma Thompson at the age of 62. Underneath the skin of this 'provocative' movie, though, lies an exquisitely told tale of sex positivity, loving oneself, and making the most of life.
Good Luck To You, Leo Grande presents itself as something of a stage play: it comes in 4 parts, or rather, 4 meetings between Nancy (Thompson) and a young gigolo named Leo Grande (Daryl McCormack). Each meeting, except the last one, takes place entirely in the hotel room which Nancy has booked out especially for an evening with Leo. Nancy is a retired Religious Education teacher, a woman who has, by her own account, followed the rules her whole life and, subsequently, has been left feeling unfulfilled. She sheepishly admits to Leo during their first meeting that she has never had an orgasm, viewing sex as more of an obligation to her husband Robert – her only sexual partner – than something to be enjoyed on its own terms. Nancy is of the typical British middle-class who keep their distance from anything close to illicit behaviour, and, as such, the entire spectrum of her knowledge about sex work comes from the essays she asks her students to write, about whether sex work should be legalized. 
Now, though, Robert has passed on and Nancy is at a stage in her life where she is more unsure of herself than ever. Her plan is to achieve 'attainable goals' through Leo, such as giving and receiving oral sex (neither of which she has ever done), to tick off the bucket list and find out what she's been missing her whole life. As she engages with the effortlessly charismatic Leo, though, Nancy begins to develop an appreciation for herself and her own body, in a way that she never had before.
It should come as a surprise to no one that Emma Thompson is perfect here. The script, by Katy Brand, was written with her in mind and it shows. Her effortless ability to portray the many layers of an anxious woman in the late stages of her life is a marvel; her comic ability comes to the fore as she deadpans lines like "I'm a seedy old pervert like Rolf Harris" or "there are nuns out there with more sexual experience than me" with perfect timing, and mines emotional depths when discussing Nancy's dislike for her children or her fear that life has passed her by. Each meeting between the two peels back more layers and Thompson handles all of it with aplomb.
McCormack too deserves praise for his portrayal of Grande. The gigolo, of course, has his own family drama courtesy of an absent mother, which creates a pleasing symmetry with Nancy's family dynamic. There are shades of Richard Gere's Julian from American Gigolo in McCormack's performance. He is smooth, reassuring, and calm for the most part. Several times during their meetings he displays the same techniques and skills one would associate with a therapist. It's enjoyable to watch a worldly young man discuss the merits of sex work with a neurotic older woman who projects her own experiences onto him. You feel most would pale against the acting might of someone like Thompson, but McCormack more than holds his own; the chemistry between them is obvious.
There is, of course, an additional, and unaddressed, layer: Grande is mid-to-late 20s at most, while Nancy is three times that age. Had genders been reversed and the story focused on an older man soliciting sex from a young woman, would the same result have occurred? It is an interesting question, but one that Hyde isn't interested in positing. Rather, the focus is on sex-and-body positivity as Nancy explores herself through her interactions with Leo.
Ultimately, Good Luck To You, Leo Grande is a subversive dramady focusing on that seldom discussed issue: the sexuality of older women. It is fresh, fearless, and both laugh out loud comedy and teary drama at the same time. With great chemistry between the leads, a clever script and a very subtle cinematography which evolves with every meeting between them, Good Luck To You, Leo Grande is a delight and likely one of the best comedies we're going to see in 2022. 
Grade – A