Movie Review: 'Extremely Wicked, Shockingly Evil and Vile' is most certainly not another "Zodiac"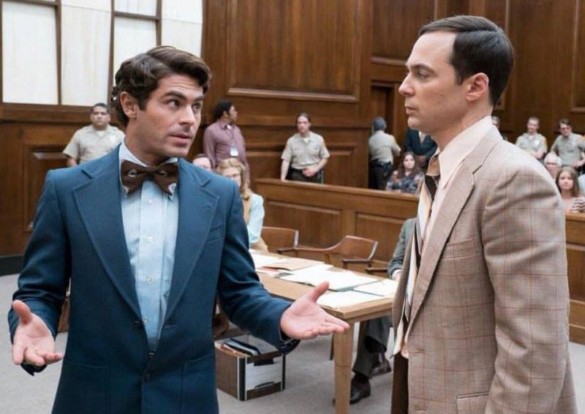 Director: Joe Berlinger
Writers: Elizabeth Kendall (based on the book "The Phantom Prince: My Life with Ted Bundy" by), Michael Werwie
Stars: Lily Collins, Zac Efron, Angela Sarafyan
Synopsis: A courtroom frenzy ensues and sweeps 1970s America when a young single mother reluctantly tips the attention of a widespread manhunt toward her longtime boyfriend, Ted Bundy.
When I went to Netflix to watch Joe Berlinger's new film about America's most notorious serial killer, Ted Bundy, it came after starting but never finishing his documentary about Bundy (Confessions of a Serial Killer) that also aired on Netflix. I felt there was something "off" about putting the direct video of interviews with Bundy on such a platform. It didn't feel right. But I came to this feature film looking for a different treatment of the story.
I didn't get one.
Though Bundy himself is obviously not around to play the role having been sent to the electric chair for his crimes, the film is completely obsessed with him and with the decision to cast Zac Efron in the lead role. You don't even have to see the film to know this, as all the marketing leading up to its release focused on Efron inhabiting the "vile" character to which the title refers.
There have been great films about serial killers, most notably David Fincher's incredible 2007 film, Zodiac. Where that film succeeded was that it realized that everyone watching the film knew the story of its serial killer (there it was the Zodiac killer). So, it instead focused on the people around the case and left the killer on the periphery of its narrative, giving us glimpses of his crimes before jumping back to its real story.
There's a good film in that vein somewhere inside Extremely Wicked, but the film simply can't let itself get there. It is constantly sidetracked by the shocking allure that has built the reality TV, true crime industry – that people are intrigued by pure evil.
What I found most appalling was that this film even attempted to depict the ways that the media was complicit in Bundy's celebrity. But that storyline falls completely flat when you realize that this film – and its accompanying documentary – does exactly the same thing!
There are scenes depicting the media circus around Bundy's trial that seem to cast some aspersion on the media's role in all of this – something that would certainly have relevance to our current discussions about the role of media in society. But, again, when Berlinger himself basically did exactly what the media did by devoting an entire documentary to the words of Bundy himself, that storyline loses most, if not all, of its power.
I wasn't even really impressed by Efron's performance, though it is probably a career-defining turn for him. Try as he might, I really don't think he's been able to shake the High School Musical vibe. If there's a former child star performance to note here, it is most certainly from Haley Joel Osment as Jerry, the co-worker of Bundy's fiancé, Liz Kendall (Lily Collins).
Collins should have been the star of this film. That she isn't says nothing about her performance, which is a strong one. But if this film would have taken the Zodiac route and decided to focus on the ways this evil individual affected the lives of the people around the case, I think this would have been a strong film. The opening title card makes it seem like that is the type of story this film wants to reach for, but it clearly never gets there. Again, it is too distracted by Bundy to unearth a cautionary tale about the people who continued to believe him long after evidence began mounting against him.
Emily Yoshida, a wonderful writer for New York Magazine and other outlets, recently wrote a piece about post-film real-life photos and videos and how they often undercut the narrative story. Extremely Wicked contains some of the documentary footage that Berlinger used in Confessions in its post-credits sequence. Yoshida rightly points out the sheer ludicrousness of making both the documentary and the feature film but then deciding to let the documentary merge into the feature film. What's the point? The point is that Berlinger was not able to find the powerful story at the heart of all this because he was too busy being distracted by the seedy tale. Maybe the overlong title of the movie should have clued us all in.
There are bits and pieces here (including another fine performance from John Malkovich), but none of them are allowed to merge into anything worthwhile. You're better off watching one of those true crime docuseries on TruTV or simply firing up Zodiac again.
Overall Grade: D-
Listen to our podcast review on Extra Film, coming soon!