Movie Review: 'El Camino' doesn't have the bite of its predecessor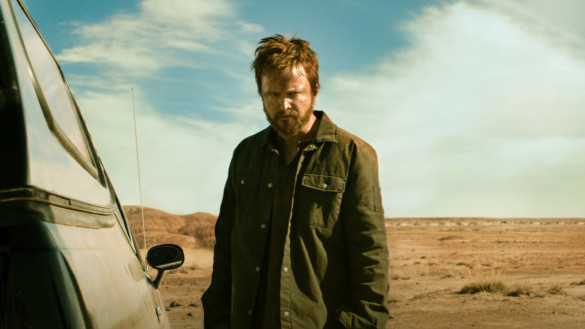 Director: Vince Gilligan
Writers: Vince Gilligan, Vince Gilligan (based on "Breaking Bad" by)
Stars: Aaron Paul, Jonathan Banks, Matt Jones, Charles Baker
Synopsis: A sequel, of sorts, to Breaking Bad following Jesse Pinkman after the events captured in the finale of Breaking Bad. Jesse is now on the run, as a massive police manhunt for him is in operation.
Let's begin by dispensing with the elephant in the room – you can watch El Camino: A Breaking Bad Movie without having seen Breaking Bad. The new Netflix film from writer/director Vince Gilligan certainly is a worthy follow-up to the groundbreaking TV show, but the story is its own. And, in any case, there is an intro to the film that gives you all the catch-up info you might need from the TV series. I myself only made it through season 2 of Breaking Bad and never finished. Do I regret it? Sure, but we all have regrets. Maybe someday I can make it right.
Ok, with that out of the way, on to the story at hand. This time the focus is on Jesse Pinkman (Aaron Paul) This is the role that made Paul a household name. But can Jesse Pinkman really carry his own film, or is he just a sidekick?
He's no sidekick in this film, that's for sure. This is his story. Pinkman gets himself in and out of trouble as the film continually flashes back to show us how he got here. Working in a massive meth operation is bound to get you some enemies, and Pinkman has his own. He's constantly on the run and looking for money that will keep him going. Where, you ask? The answer for most of the film simply seems to be – away.
The main reason for that is, as you might imagine, that Pinkman is being chased by every police officer in a large radius. His face is on the news. Even his parents are being interviewed and pleading for him to turn himself in. What I found most compelling, though, is that it always seems that there is something else that Pinkman is more worried about than everyone chasing him. He's constantly trying to come to grips with his own past and the criminal history that haunts him. Can there be any hope for him to shake everything and start new?
Though this is Pinkman's story, that doesn't mean there aren't other interesting characters. Jesse Plemons and the late Robert Forster both show up as scene stealers – Plemons as Todd, one of Pinkman's captors, and Forster as Ed, an enigmatic vacuum store owner. Seeing Forster's face on screen brought a tinge of sadness, as his loss is still fresh for movie lovers of all stripes. He made each one of the many, many films he appeared in over the years better just by his presence, and this film is no different. Plemons, too, makes an impact. Paul is locked in to a role he has long since sunk his teeth into, but Plemons and Forster gave my favorite performances of the film.
Vince Gilligan can write tension, and he does it again here. "The Past" looms large over this story, and it is that overall tension that really drives the film. Can Pinkman shake his past to get himself into a new future? This makes for an interesting film, but this story doesn't have the bite that Breaking Bad did. They are different pieces, but one cannot help but compare them. For one thing, there's no Walter White here – though he does make a small cameo appearance through flashback. White is one of the great characters of recent memory. He dominates the story of Breaking Bad like few characters. Pinkman doesn't carry this story in quite the same way.
That's not to say that this is a poor film. It's not. You will be intrigued and even captivated at times by the repeated setups and payoffs that Gilligan is able to execute here. But I couldn't shake the feeling that this was a sequel in search of a story. There wasn't an overly-compelling undercurrent here. For Breaking Bad fans, it will surely give a semblance of closure. Maybe that's enough purpose for this film. But while those of us who haven't watched the show completely can still watch this film and find it enjoyable, in the end, there's just not a whole lot to it.
Overall Grade: C
Hear our podcast review on Extra Film: