Movie Review: 'Crazy Rich Asians' tells a rollicking, ravishing & red-enveloped Cinderella story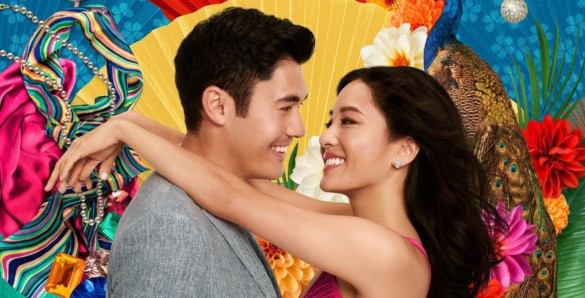 Director: Jon M. Chu
Writers: Adele Lim & Peter Chiarelli; Kevin Kwan (novel)
Stars: Constance Wu, Henry Golding, Michelle Yeoh, Awkwafina, Ken Jeong, Lisa Lu, Ronny Chieng, Nico Santos, Gemma Chan, Sonoya Mizuno, Harry Shum Jr.
Synopsis: This contemporary romantic comedy, based on a global bestseller, follows native New Yorker Rachel Chu to Singapore to meet her boyfriend's family.
They have always existed — the Asians who indulge, with looks fitting for a life-long GQ photoshoot, live in homes that turn 90210 into random digits and have pockets deep enough to buy deeper pockets — but it's their foil that has the higher profile. You know, the Asians who tirelessly work or study, know a kick or two, low in physical appeal, Airbnb-rized their cultural attributes, and don't mind being evergreen sponges for is-that-even humor? You know, the usual Asians whose presence ironically contributes to this ethnic-specific drought? This is a picture in need of an update, and what Crazy Rich Asians brings is exactly that, even if the patch notes can be summed up as "new hand" more than "reinvented game."
The cards won't underwhelm, however. Taking what NYU economics professor Rachel Chu (Constance Wu, both tender and sharp) advises to her game theory class to heart, director Jon M. Chu and company adapt Kevin Kwan's bestseller, which is loosely based on the author's charmed upbringing, with the winner mentality. Every move everyone makes, as a result, is an attention-getter, all designed to inspirit the inner tourist, foodie, interior designer and fashionista. It seems fair to warn that the film shouldn't be seen on an empty stomach or after an itinerary-less month, unless you find it all right to have the renowned street eats of Singapore and handmade dumplings make you misbehave, or have the beaches and architectural marvels rouse the wanderlust bug. By default, d.p. Vanja Cernjul and editor Myron Kerstein like to gaze and not peek at all the tasty exhibits. Traveling does wonders, and so a major thank-you should be given to Rachel's beau Nick Young (Henry Golding, with an infectious smile) for suggesting a journey farther east than Queens — his childhood friend is about to become a husband and has asked Nick to be the best man — and authoring a wondrous, eye-opening and mind-broadening travel zine. Art also gets to imitate life as prior to acting Golding is a travel host for BBC (nice touch if intended, casting department, though for sure it still can't sit with the purists).
Yet, all eyes should (and will) be on Rachel more often. "All" refers to the populace awaiting her arrival on the island country, scrutinizer mode preemptively activated — including Nick's mother Eleanor (Michelle Yeoh, entrancing), her mother (Joy Luck Club's Lisa Lu), Eleanor's entourage, and every yet-spoken-for belle — and the viewers. Rachel is Chinese-American, and it's the latter that Eleanor disapproves. For the matriarch, the western world's hands-off lifestyle that has been ingrained in Rachel contrasts, and thus threatens, the harmony of class and of family that Eleanor determines to preserve. To eternally accentuate. Wu delights as she maintains a delectable sense of control throughout, going from (unknowingly) being an anchovy in barracuda-infested waters to one with better armor/dress (principal costumes or not, the wardrobe Mary E. Vogt provided is the bee's knees). Crazy Rich Asians is no wuxia film, that's a certain, but the argument can be raised; verbal exchanges between Rachel and Eleanor have power and poetry in them akin to swords, and where the exchanges happen are in places appropriate for battle (they are just palaces and gardens with a modern touch!)
Success doesn't come knocking on the daily, expectedly — in a mahjong-driven moment with Yeoh at one point — though we will never cease to desert Team Rach day or night, in Newton Food Centre or on a private island (the site of a gutting, pun intended, bachelorette party). Not unlike reality and not exclusive to Asians, her idea of "home" or "roots" will buckle when tested; her sense of purpose, since it isn't so dependent on the past or future, will be alien; her search for the aforementioned two will be beleaguered by prying eyes and acidic lips. Worry not, however, since she's not alone in this trial-by-culture: Rachel's Ellen-esque college mate, Peik Lin (Awkwafina, most spirited), and eventual ally, Oliver T'sien (Nico Santos, to the teeth with fire retorts) also tag along, sharing what they have seen and done on the moneyed theater so our fresh-off-the-Big Apple lead can survive (and, when able, offer some gut-busting respites).
It can be apparent where the script exerts more force than others, mainly to keep a particular joke afloat or a value anchored. What gets traded are the smoothness of the pacing and the space for certain roles. But our writers always manage to recapture our attention at a moment's notice with their illustrating of visited dynamics through new voices and navigating well-worn avenues using new maneuvers. The best example of this has to be the London prologue where the Youngs and their relatives checking into a hotel drenched and adorned in Louis Vuitton suitcases. There, they meet prejudice. Then, they emerge with pride. This also marks the last time someone else controls the destinies of foreigners in this film. Mother doing that to her son, on the other hand…
Chu also deserves kudos for letting the sets from Nelson Coates be the production's more pronounced aspect; the toning down of the noise and glitz amplified in two Step Up sequels and Now You See Me 2 pushes Crazy Rich Asians away from the Baz's "Singaporean Gatsby" banner and closer to a world of its own. Not quite there yet, of course, but let's not force baby steps to be giant leaps on their first day. Be glad they are here at last, and with enough power to ignite something more.
Overall Grade: A
Check out our podcast review on Episode 287, coming soon!