Movie Review: 'C'mon C'mon' Reflects on the Struggles of Parenthood in the Most Beautiful Way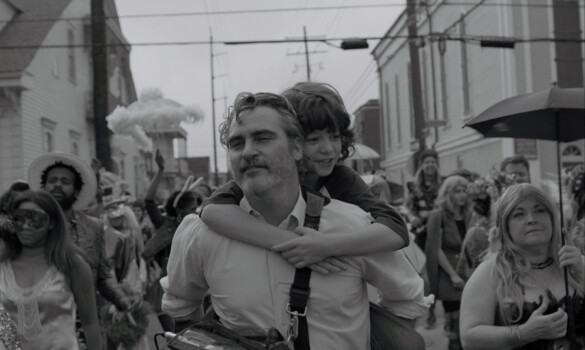 Director: Mike Mills

Writer: Mike Mills

Stars: Joaquin Phoenix, Woody Norman, Gaby Hoffmann
Synopsis: Johnny (Phoenix) and his young nephew (Norman) forge a tenuous but transformational relationship when they are unexpectedly thrown together in this delicate and deeply moving story about the connections between adults and children, the past and the future.
Mike Mills is one of those screenwriters that I am fascinated by, due to his ability to capture human emotion. His previous film, 20th Century Women, was one that was easy to connect with because of how authentic those characters were. Here, Mills has managed to do the same as he spends a majority of the runtime delving into the main characters and focusing on the development of their relationship, something that many parents will be able to relate to. The situation may be a little more drastic than what most parents have to experience, but the connections and feelings are completely real as Uncle Johnny (Joaquin Phoenix) must warm up to looking after his nephew, Jesse (Woody Norman), for an unknown period of time.
What brings these emotions to the forefront of the film are the little moments that Mills includes in his screenplay. Mills highlights not only the best moments of parenthood, but also the stress and fear that comes from it. One scene in particular, which takes place in a supermarket, manages to build up fear and tension in a way that no parent ever wants to imagine. Mills is able to to show the story from both Johnny and Jesse's perspectives and to create something that will always stick with any parent who watches this film.
It is no surprise that Phoenix gives a wonderful performance as Johnny, and yet it is the complete opposite to his previous role as the titular character in Joker. The versatility that he provides no matter what is on the page shows the passion he has for every role he takes on, and how he is more than what he may have been perceived as over the past few years. However, it is young Woody Norman who surprises and manages to go toe-to-toe with Phoenix and co-star Gaby Hoffmann. This 11-year-old boy is somehow able to pull off an American accent better than most other British actors can and still gives an incredibly strong performance. He is certainly one to look out for in the next few years. 
Alongside the main storyline of Johnny and Jesse's relationship, the film follows a subplot in which Johnny is a radio journalist who is traveling around the country speaking to children about the issues they face in the world today. There seems to be no script for these sequences as the children that Johnny, or rather Joaquin, interviews are brutally honest in the best way possible. These children are talking about the future, their hopes and fears, and their current living situations. There is a mix of gender, religion, and race to give the wide scope of how the youth feel right now and it creates some powerful moments that help further explore the themes of parenthood. It creates a sense of urgency to have a connection and conversation with children to perhaps create a better world for them in the future.
If there is one stylistic choice that feels unnecessary, it may be the decision to make this film in black-and-white. While the cinematography is gorgeous, the film may have benefited from having some color within it. There is no real reason for this film to be in black-and-white and a stylistic choice which may have worked better would be to just have the radio journalism scenes in black-and-white, perhaps initially separating the two aspects of Johnny's life to begin and then blending the radio scenes with Jesse's storyline gradually throughout. With the backdrops that this film has and the story that it is telling, there is no reason to apply a color filter and separate the viewer from the characters in this way.
It has been over two months since I was first able to see C'mon C'mon and I am still thinking about it to this day. Mike Mills is able to focus on the everyday moments that may be hard to appreciate immediately, but are worthy of reflecting on and being shown from a different perspective. Experiencing stories like this on the big screen is a reminder of the power of storytelling and why these voices need to have a place in today's cinematic space. In a year filled with epic sci-fi stories, major musical productions, large-budget superhero flicks and historical tales, this quiet yet beautiful film is one of the best of the year.
Grade: A-