Movie Review: 'Black Country, New Road: Live at Bush Hall' Explores the Next Stage of Modern Musical Talents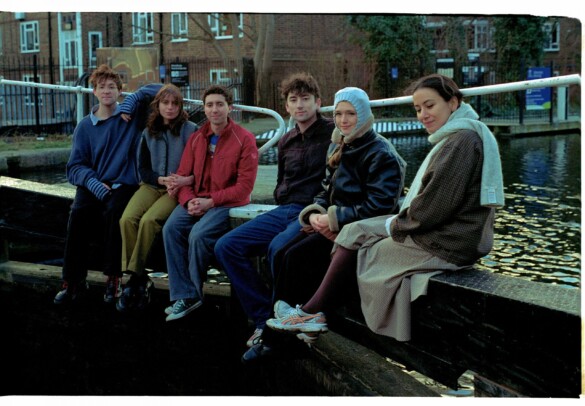 Director: Greg Barnes
Stars: Tyler Hyde, May Kershaw, Lewis Evans
Synopsis: In place of a third studio album, the band  shares the music they've been playing live for the past year.
Black Country, New Road: Live at Bush Hall alluringly explores the next stage of one of the best modern bands out there. Their latest material contains their usual personal and expressionistic lyrics, despair, and bliss being ever-present, yet with a sharper melancholic undertone that goes back to the departure of their former frontman, Isaac Wood. 
What else can be said of the English rock band from Cambridgeshire, Black Country, New Road? For starters, I think they are one of the best groups working today, even though they have only released two records – 'For the First Time' in 2021 and 'Ants from Up There' in 2022. Every music publication has written about them and their young masterful artistry, raving about their newly-forged discography, multi-instrumental variations, and genre-crossing records. It's a thing of beauty; at a time when the majority of mainstream music (and art, in general) is filled with mediocrity and lackluster emotionless dribble, Black Country, New Road is creating some of the most exciting, unique, and outright ravishing pieces of work I have seen in quite some time by a recent act. Their records speak to many listeners, even though the lyrics are written from a deep emotional space inside the minds of their respective writers. The music editor of Now Then Magazine, Sam Gregory, even called their last record "the best album of my adult lifetime" in a loving piece dedicated to sincerity and romanticism in it. 
Four days before the release of their second album, BC,NR's frontman, Isaac Wood, announced his affable, yet unforeseen, departure from the band due to his struggles with his mental well-being. Everything felt like it was crashing down; everyone started worrying about their future. I thought they would break up entirely and become another group with immense talent that stayed together for less than a handful of years. However, the members (Georgia Ellery, Tyler Hyde, Charlie Wayne, Luke Mark, May Kershaw, and Lewis Evans) voiced their support for Wood's decision to leave. Because of that, they abandoned their plans to tour with material from that record. Instead, they started from scratch with their new six-piece composition, sharing vocal roles and implementing new techniques to appear like that band we all love, albeit in a new direction and perspective. Whatever they do next would be a bold choice, as they had to see where their sound would be after their lead's withdrawal. 
They thought out their next steps, thinking and curating carefully, and concluded with a post-Isaac Wood "reintroduction" tour showcasing new tracks. During that tour, Black Country, New Road did three shows in December at London's classic venue, Bush Hall. The group decided to record the performances there instead of doing another studio album with that new material, hence creating the concert film (and documentary, narrowly) Black Country, New Road: Live at Bush Hall, directed by Greg Barnes and mixed by the legendary John Parish. Each of those shows has a different visual theme inspired by high-school theatrical productions – When the Whistle Thins (pastoral settings), The Taming of the School (80s-themed prom night), and I Ain't Alfredo No Ghost (which is an eye-rolling, yet funny title) – that the band members wrote minor lore off. As a result, each stage looks purposefully corny, and the bandmates know it (as they dress for the part); the audience is also in on the gag. 
The group invites them to join the special event in style, and indeed they do, going all out, particularly from the prom-night-inspired show. These preparations and costume-filled festivities encapsulate Black Country, New Road's ingenuity and dedication to reinvention. The first few seconds of the film focus on why people care about the band and what their music means to them. But, this is cut off immediately because the introductory song for the shows at Bush Hall, titled 'Up Song', captures those feelings from the perspective of the band and their appreciation toward Isaac Wood, singing: "Look at what we did together, BC,NR friends forever". For this song, cinematographer Jack Maddison gives us glimpses of the audience welcoming the lyrics – dancing and singing along – all with an emotional tie to their love for them. There are also audience members who are recording the show with classic VHS cameras, whose footage is added onto the concert film so the viewer (us watching at home) can feel immersed in the show and make the fans feel special.
The editing team, consisting of director Greg Barnes and Kev Corry, is savvy in seamlessly intercutting the different performances. They consider the lyrics when playing with the footage shot at Bush Hall, making sure that the lighting also ties to them as well. However, one brilliant element manages to jump right off the screen. Throughout the short fifty-two-minute runtime of Live at Bush Hall, Greg Barnes concocts not only a unique experience that showcases the following stages of modern musical talents but an intimate one. It feels like a reunion of close-knit friends, all joining hands, embracing the expressive and stirring wonders of young masterful artistry. The quick glances of the audience's faces mirror ours, watching at home. And after each song ends, the rupture of cheers from them brings a smile to the band member's faces. 
Black Country, New Road's new material featured at the Bush Hall concerts is just astonishing and spell-binding, to the point where you can't just stick it into one specific genre. Pop punk, art rock, post-rock, and jazz influences are all scattered from track to track, often implementing most (if not all) of them in the same track. Black Country, New Road just delivers one beautiful song after the other, all covered in melancholy and bliss, adjoined by 'A Moon Shaped Pool'-like instrumental breakdowns that add to those emotions in their tracks. However, a specific song would make any fan shed a tear due to the intimate and personal notes adjoined by May Kershaw's smooth voice: 'Turbines'. May repeatedly sings, "Don't waste your pearls on me; I'm only a pig", rewording the English phrase "pearls before swine", meaning offering something valuable to someone who does not comprehend its worth. 
Although May's interpretation of the lyrics remains unexplained, we might attach it to many things that have caused emotional wounds. Since the release of this concert film, I have been listening to their new material repeatedly. And each time, I get something new from it – a different feeling, a different emotion. There are layers in their personal and deft writing, as well as in May and Tyler's haunting vocalizations backed by somber piano notes. If Live at Bush Hall is the next stage, or a glimpse of what's to come, for one of the best bands in the world right now, then we are in for a magical and awe-inspiring journey. It may not be technically the best concert film out there. But, Live at Bush Hall definitely leaves a big emotional impression on every person who watches, whether you are a fan of BC,NR or not. 
Grade: A+