Movie Review: 'Band Aid' is a witty and funny comedy from first-time helmer Lister-Jones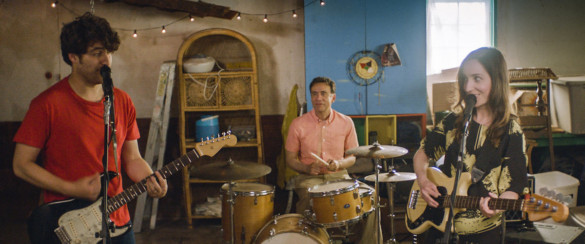 Director: Zoe Lister-Jones
Writers: Zoe Lister-Jones
Stars: Zoe Lister-Jones, Adam Pally, Fred Armisen
Synopsis: A couple who can't stop fighting embark on a last-ditch effort to save their marriage: turning their fights into songs and starting a band.
Zoe Lister-Jones, taking the director's chair for the first time, has created one of the most charming and surprising films of 2017 so far in Band Aid. This is also Jones' first solo effort as a writer and she has uniquely tapped into a very human struggle that many couples deal with on a daily basis. The experience that follows is funny, endearing and emotionally moving creating a very satisfying experience.
Anna (Lister-Jones) and Ben (Adam Pally) are having a rough patch as the film opens and in a creative rut. Once a therapist suggest that they do something unique together, Anna opens up about how the two of them should start a band and create songs based off of their arguments. Ben agrees and this action leads to some fascinating sequences where we see Anna and Ben bond over music that you probably haven't heard before.
Narratively, Band Aid does circulate some familiar territory, but Lister-Jones is diligent to never fall into any traps that suffocate the film. She does a wonderful job of breathing life into this story by letting its charm and wit produce something refreshing in seeing these characters struggle. As a result, there is a genuine honesty to how Anna and Ben connect through the songs they create together.
The true heart of Band Aid though lies in what's underneath those songs. We come to find out about the mid-way point that this couple had experienced a tragedy some months prior to the events of this film, which has caused both Anna and Ben to hide from the pain of said tragedy. At one point, as these songs are producing positive energy, Ben decides to provoke Anna into talking about their pain. The resulting scene is one of the best of the year, where Anna cathardically reveals how she feels like a failure – especially as a women – who is unable to create anything of value. It's a devastating moment that both Lister-Jones and Pally perform masterfully. Creating art – of any kind – has a healing power and Band Aid highlights this in ways that is interesting and new.
The film also stands upon the chemistry between Pally and Lister-Jones. They have a palpable connection that render laugh-out-loud funny moments, some heartfelt dramatic feels and music that is very singular. Simply, they are both very good and many scenes could have easily have fallen apart if not for their dynamic together. However, Lister-Jones does a great job in her direction of letting those performances linger and carry the weight of the film.
Where Band Aid slightly falters is in some of its more extreme humor and (sadly) with the neighbor Dave (Fred Armisen) character. Most of Band Aid finds itself in natural territory that most couples can relate with on an emotional level, which doesn't blend well with cartoon characters such as Dave. Armisen is great, but his character is a mixed bag overall.
Despite a few blemishes, Band Aid is a tightly controlled delight that features fun music, engaging characters and authentic emotion. Lister-Jones has already proven herself as a writer with Breaking Upwards, and now she's confidently tackled the director's chair with this film. I, for one, can't wait to see her voice her vision in later projects.
Overall Grade: A-
Hear our podcast review on Extra Film: